Following news that a new independent distillery is set to be built on the banks of theClyde, Tennent's brand-owner C&C and craft brewer William Bros. have announced they are teaming up on a new craft brewing venture near the former's Wellpark Brewery. Planning applications for both facilities have been submitted.
If granted permission, the £10m Scotch Whisky distillery and visitor centre on the banks of the River Clyde would be the first in the centre ofGlasgowin over 100 years.
The application lays out plans for the transformation of the iconic "pump house" building, which sits between theRiversideMuseumand the new Hydro arena in the city. The plans include an interactive and education-focused visitor attraction and small batch single malt Scotch Whisky distillery complete with bar, café, tasting rooms and retail outlet.
The project, supported by Scottish Enterprise, has been developed by a small group of industry experts, led by Tim Morrison – formerly of Morrison Bowmore Distillers and current proprietor of the AD Rattray Scotch Whisky Company.
Subject to planning approval, work on the first phase of the project is due to get underway with immediate effect. The second phase will be complete by mid-2015.
Commenting on the planning application, Tim Morrison said: "We see this project as having huge potential – not only forGlasgow, but for the tourism industry, the Scotch Whisky trade and the whole Scottish economy. Our vision for the new distillery and educational visitor centre is that it becomes a part ofGlasgow's busy tourist trail – we anticipate it will attract more than 50,000 visitors each year.
The collaboration between Williams Bros. Brewing Co. and C&C Group will look to develop a centre of brewing excellence as well as a destination for tourists and craft beer aficionados. The Drygate Brewing Company will be situated on a site adjacent to the Wellpark brewery – which previously housed a box factory – and is owned by C&C Group.
The development is a response to the unprecedented growth of craft beer in recent years. Craft beer – which is brewed by relatively small commercial breweries using traditional methods and an emphasis on flavour and quality – has grown by over 40% in the Scottish off-trade in the last two years.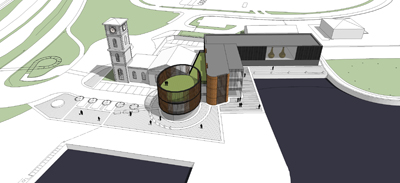 Scott Williams, co-owner of Williams Bros. Brewing Company, and Managing Director of the Drygate Brewing Company, said: "The interest in craft brewing, both domestically and worldwide, is growing fast, as we know from our own experience, and we are confident that as a city-based microbrewery, the Drygate Brewing Company will be a big success. The Drygate Brewing Company will be a celebration of craft beer, of brewing excellence and, most importantly, of great tasting beer.
"We are grateful to C&C Group for their support in this exciting new venture, which sees them continue to invest in businesses connected to the licensed trade inScotland. This new development will also be complementary to the successful Tennent'sTrainingAcademy."
The brewery is set to open in spring 2014.