Forecourts are very much back in fashion in local retailing with many of the leading players working hard to evolve their offering to cater for the modern forecourt shopper looking for the best of all worlds.
---
The forecourt market is arguably more competitive than it has been in a long time with more and more of the key players upping the ante in terms of their offering to forecourt retailers across Scotland. Gone are the days when the fuel side and retail side were two separate parts of the business: these days the two elements have merged to provide a high quality, seamless experience to an increasingly sophisticated and demanding shopper.
Nisa Format Manager Janine Abbott explains: "With the ever-evolving design concepts within the market place, stores should have suitable equipment and the right look and feel to enhance the customer shopping experience.
"Good flooring and lighting play a key part and the correct energy saving lighting and lighting level give the store the required atmosphere. Adding feature lighting in the food-to-go and counter areas enhance these parts of the store and give a more premium feel."
But it's not just the look and feel that matter these days, believes Abbott. Shoppers are used to the experience of shopping a well laid out convenience store and expect the same experienced in a forecourt store.
"It is more than likely that the consumer's shopping mission will be pre-determined before they enter the store, for instance," she says. "So it is important the flow of the store enables the consumer to navigate and find what they are looking for quickly and easily. By doing this and having the correct range, in the correct location there should be no lost sales."
The pressure to drive up basket spend and impulse sales is just as prevalent in the forecourt sector as it is in the mainstream local retailing sector.
"It is important to tempt the consumer into purchasing other items they didn't come in for and drive additional sales," says Abbott. "Implementing bespoke or off-the-shelf impulse units in the right place enables this."
With more than 40 years of experience at giving independent retailers the tools they need to compete and profit in the retail landscape, Nisa is well equipped to deliver solutions that deliver.
Abbott again: "Retailers can rely on a strong retail-focused team of specialised managers to support them and help grow their business. When it comes to forecourts Nisa has supported many fantastic new developments over recent months with a raft of impressive stores being launched.
"At Nisa we recognise the importance of working closely with retailers when discussing the overall look in terms of finishes and colours within a store, and feel it is important to let them bring their own personality to their store. Our Format and Development team works closely with every retailer to discuss ideas that work for them and bring them into reality.
"It is important to first establish the format and location that the forecourt trades within, as this will establish what the focal points will be."
Gulf growth
Certas Energy, the UK's largest fuel supplier to independent forecourts, continues to grow its Gulf network in Scotland. The company recently added Ballinluig Services and Grill, a petrol station and truck stop off the A9 at Pitlochry, to its portfolio.
The site moved to Gulf in February after 49 years with BP.
Ballinluig proprietor Claire Bridges explained: "We prefer continuity but moving to Gulf is good for the business and our customers as it allows us to deliver a more competitive offering, along with a vibrant new look and feel."
Claire felt that after almost five decades with BP it was important that her new partner also had a strong and respected brand with quality products.
She said: "Gulf's strengths include a proactive retail team that understands the values of a rural filling station serving its community. That's of huge significance as we look to future-proof our operation and strengthen revenues. In addition, Gulf's cross-acceptance card offer means that we now accept Shell's Fuel Card and the BP Routex Cards along with all major credit, debit and fuel cards including Key Fuels and UK Fuels."
Located 20 miles north of Perth, Ballinluig Services has been serving truckers and the haulage industry since March 1970 when Claire's father, Clive Bridges, opened the business with three pumps and a recovery workshop to fix HGVs.
When a bypass was built in 1983, he then established the Motor Grill to meet a growing need for a rest stop on the main trunk road to the Highlands.
A forecourt, canopy and mini supermarket were also added and today the 2ml forecourt is a popular one-stop shop for motorists and shoppers with coffee and food to go, an ATM and full convenience range. To coincide with the re-branding, new LED forecourt canopy lighting was installed to improve illumination and reduce costs.
Certas Energy's Retail Director Richard Billington admits to being delighted at securing such a high-profile site as vindication of the company's investment in all aspects of the Gulf brand.
"We are adding real substance and innovation to our offering, allowing us to further differentiate Gulf from its competitors as we strive to protect and grow the revenues of our dealers," says Billington.
"We anticipate further network expansion in 2019 as we unveil a range of exciting initiatives over the coming months. We currently have a network of 109 sites across Scotland from the Borders to the Isles, most of which are situated across the central belt. These enable us to use our size and scale to offer options to our dealers to help them grow their profitability through tried and tested initiatives, run on our own sites.
"The Dealer market is our core business and we believe we have the right solution to future-proof the business of almost any dealer in Scotland. That could be through a competitive supply arrangement, buying the site or by way of a lease arrangement where we take on the business and provide the owner with a regular income. Nothing is off the table and we have the funds, the flexibility and agility to move quickly."
Success is at hand with GripHero
With fuel pumps being 11,000 times dirtier than toilet seats and petrol containing the Group 1 human carcinogen, benzene, it's vital that forecourt operators offer their shoppers protection when dispensing fuel.
Data from GripHero suggests that 82% of drivers still struggle to find forecourt hand-protection, but an innovative solution from the company offers an eco-friendly, ultra-practical solution to that problem that offers a wide range of benefits for both retailers and shoppers.
GripHero's range of solutions build disposable gloves into the fuel pump handle itself, making them unmissable and exceptionally convenient for the shopper. The solution can be built into every nozzle on the forecourt and the clever solution helps reduce waste by dispensing a single unit at a time.
The company says GripHero efficiently and effectively helps prevent driver exposure to notifiable diseases and organisms while the materials used are 100% recyclable, oxo-biodegradable and compostable.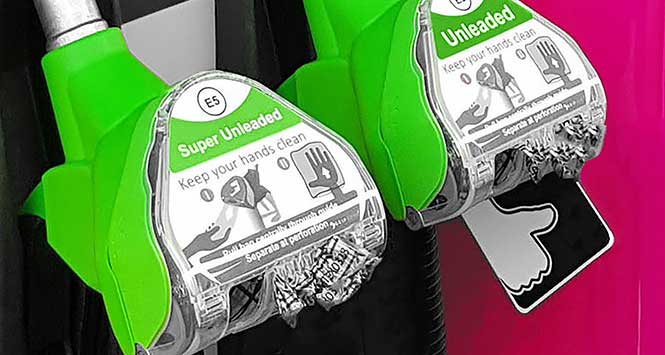 "In the UK, an average fuel nozzle can be handled by over 200 people each week, each gripping it solidly for up to 3 minutes," says a GripHero spokesperson. "So if you fill up weekly, it's like giving a long hand shake to 200 people who haven't washed their hands."
The company cites research carried out in 2011 by Kimberley Clark Professional and similar research by travel company Busbud in 2016 into the most unhygienic surfaces that people can touch.
Right at the top of the list is the fuel pump handle (along with the fuel pump ATM-style buttons used to select fuel and pay at the pump) with over 70% of handles carrying the germs which pose a high risk of developing a serious illness.
For this level of risk to health, prevention is far better than attempting to cure, making forecourt hand-protection an important issue.
GripHero also highlights how research has shown that if a customer has sticky, dirty and smelly hands as a result of filling up, they are less inclined to buy food and drinks when they subsequently enter your store.
In 2017, GripHero commissioned a survey of 1,000 drivers throughout the UK to understand their opinions on the use, availability and impact forecourt hand-protection has on their experience:
82% of people struggle to find disposable hand-protection at garages and forecourts
74% of drivers actively hunt for hand-protection or ask forecourt attendants for hand-protection or a wet-wipe
Nearly two-thirds of drivers are unaware that fuel nozzle handles pose a risk to health that could lead to the transmission of serious illness
Just under three-fifths of drivers are unaware that petrol contains Group 1 carcinogens in it
Almost identical numbers of drivers would wear hand protection for petrol as they would for diesel
When asked if drivers would use hand-protection if it were located directly on each and every fuel nozzle handle, 91% would use it always or occasionally
41% would travel up to 2 miles further to use a forecourt with hand-protection and a further 25% would be willing to pay 1p extra per litre for this
72% of vehicle owners would be more likely to make impromptu purchases – like snacks and coffee – than they currently do, if they knew they could keep their hands clean while filling up