After a few years in the doldrums with seemingly diminished interested in them, forecourts are now very much back in fashion as retailers embrace the opportunities that come with running a modern c-store alongside a high footfall petrol forecourt.
by Émer O'Toole
---
The attractions and challenges of the petrol forecourt are diverse and unique, and are often very different from those of a standard convenience store. The forecourt market has evolved signifiantly in the last few years but just how buoyant is the market and what lies ahead for the forecourt operator?
With forecourt stores increasingly seen as destination shops, there is an enormous opportunity for the forecourt retailer. Forecourts are unique in that they are able to appeal to a broader range of customers and capitalise on not only fuel but many different products, services and shopper missions that the fuel customer then wants to use.
Before a forecourt can expand its services and range, it needs to ensure that it gets the basics right. It's easy to overlook the fundamentals such as having clean fuel pump handles, visible rubbish bins, fully stocked hand towels and gloves — small things that can make a big difference to a consumers' perception of the site and the retail offer, particularly if they are visiting the site for the first time.
Small features can make a difference, including clean and fault free water, air, vacuuming and car washing equipment, and ensures the forecourt becomes a destination for these services which in itself can encourage additional sales across the site as a whole. A customer is never going to trust a retailer for their fresh food if the retailer can't even keep the pump island clean or provide good value with forecourt basics like free water and functioning air services.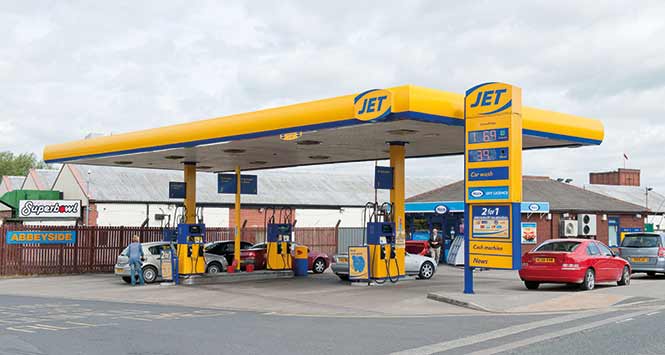 Over the years forecourts have evolved significantly — gone are the days of the small forecourt kiosk full of cigarettes, chocolate, crisps, fizzy drinks and car accessories — now we have modern forecourts incorporating 2,500 sq. ft. convenience stores with fantastic fresh food offers, full grocery offerings, food to go and a wide range of additional services.
"One of the challenges of running a forecourt is the historical consumer perception of what they used to be as opposed to what they could become; that they are a necessity rather than a destination shop for fresh food, meal solutions or a broader range of services and products that are seen much more commonly now," says Nigel Gray, Business Unit Director for Symbol.
To change this misconception, retailers need to drive the fresh agenda and to help the consumer recognise the varied fresh meal missions available to them be it at breakfast, lunchtime or evening meal.
According to CCE, sales of soft drinks have grown by 0.3% in forecourts. Choice is a key driver behind the category, particularly with the rise of health conscious consumers who are looking for more options to suit their individual lifestyles. CCE has invested £15m on reformulation since 2012, helping to reduce the average calorie content in its sparkling drinks by 5.3%. Retailers should consider their best-selling drinks, and stock a low or zero sugar equivalent. It's also advisable to monitor for new products, or those being backed by marketing campaigns, in order to make the most of consumer interest.
JET goes the 'eggstra' mile with 'cluck and collect' egg vending unit
Click and collect services are on the increase across UK forecourts, but JET's Border Cards forecourt in Dumfries has taken it to the next level by introducing a collection service with a difference — an egg vending machine called 'cluck and collect'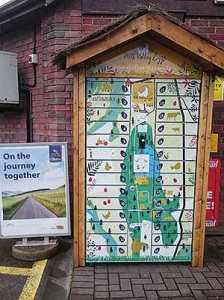 Border Cars believes it is the first forecourt in Scotland to introduce this 'cluck and collect' service — but it predicts growing popularity since it is already attracting forecourt footfall.
Customers insert five pound coins and one of the 28 doors pops open to reveal a carton of 30 fresh, free range medium eggs supplied by Nith Valley Eggs. The computer controlled vending machine is located on the forecourt so Border Cars' consumers can buy fresh eggs even when the store is closed. The eggs are delivered from the farm to the refrigerated vending machine within 48 hours, and are stamped with the best before date.
Stuart Rutherford, owner of Nith Valley Eggs, says: "I came up with the idea for the egg vending machine when I saw something similar on a business trip to Ireland. I invested in a bespoke machine that looks like a hen house and has an illustration of our local egg farm on the front of it. It's another outlet for us to sell our eggs and we think it could really take off."
Alison Johnstone, Forecourt Manager at JET Border Cars, adds: "Excuse the pun but our customers are scrambling to try out the egg vending machine! The fact that they can get fresh, free range eggs whenever they pass the forecourt seems to really appeal to our regular customers, but also some new customers who've heard about it. Children in particular love helping their parents to use the machine. It's just a bit quirky and fun, and at less than £2 per dozen, it's also good value for high quality eggs."
Bottled water is performing well in forecourts, with Nielsen data calculating an 11.9% growth to £736.2m. The sector will remain a key focus area for retailers during the summer, as consumers look for fast rehydration in warmer weather.
CCE says energy drinks continue to perform well in forecourts and this growth looks set to continue as further innovation in low or no sugar variants are introduced to the sector. Monster Energy has grown by 10.8% over the past year.
The new Monster Energy Ultra range brings a range of three different flavours with no calories. The Ultra White variant leads the line-up, and is joined by Ultra Sunrise, which brings a citrus and orange twist with a sophisticated dry flavour, and Ultra Red.
With the growing importance of convenience and forecourt stores providing a great fresh food to go offer, forecourts can now also offer the convenience customer access to a strong fresh range of product be it fresh produce, protein or meal solutions supported by a wide grocery range that caters therefore to their everyday needs. This in particular presents a real opportunity for forecourt retailers to drive overall spend, footfall and attract a much broader consumer profile.
There is a huge opportunity for independent forecourts in an increasingly competitive market place by using fuel as a key footfall driving element to their proposition, and to then expand their offering to ensure that it caters for the wide range of customers that could potentially use the site. To do this successfully, however, forecourts have to get the basics right first and build on the reputation that arises from that.
Coca-Cola's tips for merchandising soft drinks in forecourts
Get your range right. Look to best-sellers that are being backed by marketing investments, with a range of variants and pack formats.
Keep your soft drinks cold. Last summer's immediate consumption growth proved that people are looking for instant refreshment during hot spells.
Stay up-to-date with innovation. New products, variants or packaging formats are an ideal way to achieve incremental growth.
Ensure your soft drinks fixture is easy to shop. Group different sectors together, for example, colas, flavours, energy drinks, waters, juice and juice drinks, and store your best-sellers in the most prominent display locations.
Stock price-marked packs. Shoppers are always looking for value for money, and convenience stores are in the ideal position to use price marked packs (PMPs) as a tool for growing sales."