More and more shoppers want healthier products but aren't prepared to sacrifice taste, so are reformulated lines the key to unlocking bigger sales around the indulgent Big Night In occasion?
---
There's only one thing better than a big night out for many Scottish consumers – and that's a Big Night In. With so many great sporting or cultural events, the massive growth of Netflix and other streaming services and that great British fascination with binge-watching box sets, there are more reasons than ever for friends and family to gather for a night in.
According to research from Mars Wrigley, 47% of consumers are spending less money on out-of-home entertainment and 50% are eating out less.
That of course presents local retailers with a wonderful sales opportunity that cuts across most of the key convenience categories from beer and confectionery to crisps and soft drinks, and a whole lot more besides.
SLR looks at some of the key categories and picks out some great products and promotions to get the tills ringing this autumn.
Beer
One category sure to be found on most Scottish big nights in is beer and the beer of choice for many will be the Scottish icon that is Tennent's Lager.
The brand is available in a number of larger format pack sizes ideal for the sharing Big Night In occasion, including the popular 8 x 440ml pack format. Tennent's is set to boost sales of that particular pack with the launch later this month of a new promotion that gives shoppers the opportunity to win one of 10 luxury fridges. Even better, the fridges will be delivered chock full of Tennent's Lager – perfect for a Big Night In.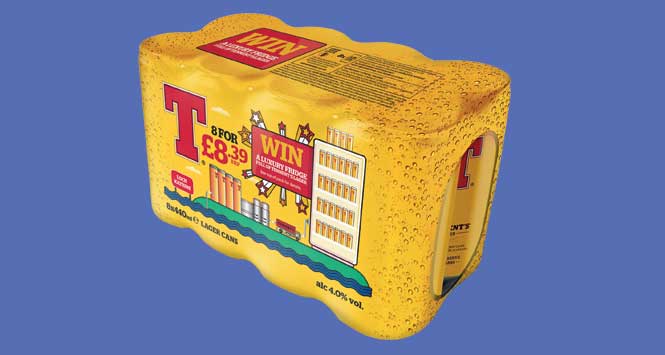 Tennent's drinkers simply need to purchase a promotional 8-pack before entering a code from the base of their can at tennents.com/win to find out instantly if they've won. Nine fridges will be won during the promotional period, with the 10th and final fridge up for grabs through a free prize draw at the end of the promotional period.
The promotion launches on September 24 and closes on January 20, giving consumers lots of opportunities to enter. Promotional packs will be available across independent retailers in Scotland.
Chocolate
As the biggest food and drink category in convenience and the most impulsive, confectionery is a must for a good night in.
Susan Nash, Trade Communications Manager at Mondelez International, comments: "Evening snacking is worth over £6.5bn and is growing [Kantar, Sep 2016]. Chocolate is still the number one choice for those settling down for a night in with friends and loved ones, followed by candy, biscuits and crisps – so there are plenty of opportunities for cross-category selling to create the perfect night in. What's more, 52% of all confectionery occasions take place with other people present, so having a range of sharing formats is key to maximising this opportunity."
Sound advice, which makes confectionery the key to unlocking sales from the night in shopping mission.
Nash says tablets play a big role in the Big Night In trend and are in growth (up 2.4% YTD). "As category leader [IRI, Jan 2018], Mondelez is driving growth through its Cadbury, Cadbury Dairy Milk and Green & Black's brands."
In spring, the company launched Green & Black's Velvet Fruits, meaning chocolate lovers can now enjoy a bitesize product from the brand in three flavours: raspberry, orange and blueberry.
At the same time, the company introduced new size £1 promotional price-marked packs within its chocolate bags range, helping retailers to improve price perception among their shoppers and increase speed of sales and customer trust. The new £1 95g promotional PMPs are available across some of its bestselling bags: Cadbury Dairy Milk Giant Buttons, Cadbury Dairy Milk Caramel Nibbles, Cadbury Twirl Bites, Cadbury Bitsa Wispa and Terry's Chocolate Orange Minis.
Another Mondelez brand partnership headed into bitesize in February; Cadbury and Oreo launched Cadbury Oreo Bites, which include small Cadbury bitesize pieces filled with a creamy and crunchy Oreo filling, building on the winning Cadbury and Oreo power co-brand which continues to grow (+25%) and is worth £35m [IRI, Dec 2017].
Soft drinks
The way to drive soft drinks sales as part of the Big Night In is simply to stock the top-performing brands, according to Adrian Troy, Marketing Director at Barr Soft Drinks.
"Brands such as Irn-Bru, Rubicon, and the Barr flavours range provide the choice, quality and value to serve the Big Night In market," he says. "Larger format take home products are hugely important as they are higher-value items which encourage footfall and loyalty. Retailers should ensure they stock sharing size bottles of trusted, well-loved soft drinks brands to drive purchase and restock regularly, as availability is key."
With 75% of purchase decisions made at fixture, sharing-sized bottles should be dual-sited with other Big Night In essentials to create a range of eye-catching deals including price-marked packs and multi-buys, advises Troy.
"Value is a key priority for shoppers and an off-fixture branded display with complementary items e.g. soft drinks, crisps and snacks featuring a cross-category promotional deal will encourage increased basket spend", he comments. "Shoppers are also increasingly looking for greater choice at the fixture and retailers should ensure that their Big Night In offering includes a good choice of low and zero sugar variants to cater for everyone's needs.
"Consumers are not prepared to compromise on taste and a growing number are looking for low and zero calorie options featuring the full-on flavour they get from regular products such as Irn-Bru Xtra."
BNI – Trends to watch
As in many other categories in convenience, the key trends to looks out for when it comes to building a solid range to meet the demands of modern shoppers include:
Healthier eating & drinking
The growth in demand for products seen as healthier has been a major trend in recent years, with shoppers seeking out products that are lower in sugar, calories, alcohol, saturated fats and artificial additives. Even the indulgent Big Night In is not to immune to the development, so stocking a range of options could help unlock sales growth.
No sacrifice on taste
While health is very important to shoppers, taste remains the number one driver. Shoppers may indeed be looking for healthier options but they are not prepared to sacrifice on taste. Fortunately, a lot of the latest NPD in relevant Big Night In categories has succeeded in squaring the circle of improving the health credentials of new or reformulated lines but without losing any of the taste that is so important to consumers.
Ed Jones, Senior Customer Marketing Manager at Vimto Soft Drinks, agrees that the health agenda is helping to shape the category, but that taste remains the key driver.
He comments: "Shoppers aren't just looking for any old drink to serve when hosting friends and family at home, they're conscious of what they are putting in their bodies. Retailers can capitalise on this with brands like Vimto that offer no added sugar variants. Stocking both low and no added sugar drinks, as well as those with sugar allows consumers to have the choice whether to pay slightly more for a full-sugar version or less for a healthier version.
"But while health is important, taste remains at the forefront of the category. There is an ever-growing appetite for more exotic flavours, and 61% of teens and 50% of mums like to try new drinks [IRI, Aug 2018]. The Nichols portfolio is built around taste, not only with our unique recipe, but our Vimto Remix sub-brand."
Jones suggests that Vimto and Vimto Remix 2-ltr formats are must-stocks for Big Night In occasion.
Trystan Farnworth, Commercial Director, Convenience & Impulse at Britvic, asks retailers not to miss the multi-pack opportunity. He says: "Multipack carbonate cans such as Pepsi, 7Up and Tango are perfect for sharing and these brands all offer consumers a choice in formats for different occasions.
"It's also worth noting that at home occasions can take a variety of forms including with kids, with friends and family or with partners. Carbonated and adult soft drinks such as J2O are the ideal soft drinks when having people over. Larger sharing formats, such as 1.5-ltr or 2-ltr bottles of brands like Pepsi Max, are often bought as an alternative to alcohol and also make great mixers, while multi-pack products of drinks such as Fruit Shoot are great for kids' occasions."
Candy
Candy is big business and no more so than on a Big Night In. The UK candy market is worth a huge £1.2bn with the biggest adult candy bag [Nielsen, Dec 2017] being Maynards Bassetts Wine Gums.
August saw the launch of Maynards Bassetts Soft Jellies Wild Safari, a new 160g bag of soft jellies with flavours of lemon, raspberry, orange, blackcurrant and lime in a variety of safari animal shapes. The new jellies are made with natural colours and mark the first medium-sized Maynards Bassetts bag featuring a new window design.
"The launch was intended as an incremental purchase for consumers already loyal to Maynards Bassetts, whilst also recruiting younger adults to the brand to drive category growth," says Mondelez International's Nash.
"Recent additions to the UK's number one adult candy bag range, including Tangy, Tropical and Merry Mix candy bags, have brought extra shoppers to the market with Merry Mix bringing in more than 300,000 additional shoppers [Kantar, Dec 2016]."
Wine Gums Mocktails joined the portfolio in March this year, further broadening the brand's appeal to younger adults. The product features non-alcoholic Strawberry Daiquiri, Pina Colada and Cuba Libre flavours added to the range of Wine Gum-shaped jelly sweets.
Another candy brand that's a must-stock for a Big Night In is Mars Wrigley Confectionery's Skittles. Dan Newell, Confections Marketing Director, Mars Wrigley Confectionery, comments: "Some 60% of Skittles are consumed as an evening snack, over-indexing against the Total Sugar Confectionery category."
Newell urges retailers to create a clear display that communicates the 'Big Night In' occasion to draw shoppers into the fixture.
"Cross-category promotions will also certainly encourage incremental purchases," he says. "And remember to focus the display on products that are ideal for sharing such as Starburst 'Tear and Share' Pouches, which are great as they are individually wrapped and offer a variety of flavours for everyone to enjoy."
Meat snacking
An increasingly important element of many big nights in is the meat snacking category, dominated by Peperami. Pavan Chandra, Peperami Marketing Manager, comments: "In the past five years, there's been a dramatic shift in the snacking world that reflects wider trends toward healthy living and shifting preferences around protein and sugar consumption. Protein is widely seen as healthy, with its role having evolved from niche muscle building to having a broader everyday appeal where energy and vitality feature. As a result, there has been an evolution of the snacks consumers are purchasing, with shoppers currently seeking healthier alternatives to confectionery and crisps and this is just as true for the Big Night In occasion."
Peperami is the leading brand in the meat snacking category [Nielsen, March 2018], driven largely by the fact that product is provided in convenient formats. Peperami launched a 100% Classic Beef variant last year and this has already proven to be a natural fit to both channel and shopper, filling a gap in the market for convenient beef snack products, according to Chandra.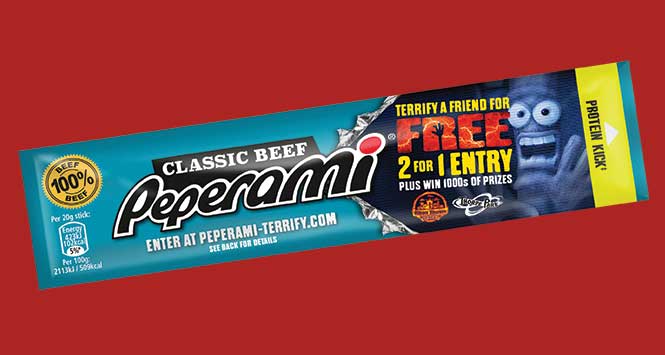 It's also worth noting that meat snacking products like Peperami and Jack Link's Beef Jerky have an average price per serving close to three times that of crisps.
Chandra encourages retailers to ensure that protein-rich snacks are predominantly stored at front of store while clip strips and display units within the Big Night In fixture and beyond are a great solution to drive visibility and cross-category purchasing.
Additionally, Peperami is running a nationwide on-pack promotion with Merlin Entertainments, across the Beef and Pork ranges, in Single, Mini, Snack Pack, and Multipack formats – including Original, Hot Firestick, Tex Mex and Classic Beef – until the end of 2018.
Teaming up with Thorpe Park and Alton Towers Resorts, Peperami is offering thrill seekers and families 2 for 1 entry tickets to the popular theme parks (at the value saving figure of £27) through the combined partnership.
Ice cream
No Big Night In is complete without some ice cream. The UK ice cream market is a billion pound category with value up 2.8% year-on-year [IRI, Jun 2018]. Ice cream tubs alone are now worth £484m according to the same data, representing 44% of all ice cream sales. Wrapped handheld ice creams is the largest segment worth £615m and the Mars Ice Cream bar is the UK's top ranking ice cream bar followed by Snickers.
Research carried out by Mars Ice Cream in May this year revealed that a third of UK consumers are entertaining at home more than they did 10 years ago and that 75% of respondents would offer ice cream as a dessert to their guests. One in three said that they always keep ice cream at home for impromptu entertaining – second only to crisps, nuts, dips and cheese.
The research also revealed a clear winner when it comes to ice cream for entertaining: 68% of hosts opt for ice cream sharing tubs, with one in three (36%) preferring to serve ice cream on a stick and one in five (22%) an ice cream bar.
Earlier this year Mars Ice Cream announced a new addition to its singles ice cream range, M&M's Peanut Ice Cream.
Creating the perfect Big Night In offer
Mondelez International offers the following top tips for cashing in on the Big Night In opportunity:
Focus on the bestselling lines
Have a range that covers all need states: self-eat, sharing and gifting confectionery.
Place best sellers in the bestselling area ('central point of vision').
Use manufacturers' POS material
Make the most of brand investment – have displays in store when consumers will be most aware of products as a result of advertising or media investment.
Don't forget the basics – keep fully stocked and keep the display tidy
Group products with similar attributes adjacent to each other (e.g. 'containing nuts').
For more information on how to maximise your Big Night In sales, go to deliciousdisplay.co.uk.