Premier, the UK's biggest symbol group, recently opened its first 'Store of the Future', a concept store that offers an invaluable insight into how Premier views the future of independent retail. SLR visited Victoria Dock in Hull to find out what that future looks like.
by Antony Begley
---
There have been lots of concept stores over the years. They can be interesting and informative but often they are little more than exercises in left field future-gazing, packed with the latest cool tech and next-gen ideas, 95% of which are destined never to make it into a real store. This is not an accusation that can be levelled at Premier's new 'Store of the Future' in Hull.
Premier got to be the biggest symbol group in the UK not by leftfield future-gazing but by having an obsessive focus on the basics of retail. Under the stewardship of the uniquely gifted Charles Wilson, Booker's mantra of 'choice, price, service' was what guided every decision the group made. And it was those three little words that took Booker from the edge of bankruptcy – with crippling debt in 2007 when Wilson took over – to a £3.7bn merger with Tesco in little over a decade. It's one of the most remarkable stories ever to unfold in retail.
That focus on getting the basics right time and again also sits at the heart of Premier's 2,200sq ft Store of the Future at Victoria Dock in Hull. In essence, creating the store was an opportunity for Premier to bring together all of its learnings, experience and expertise in a single store. This is store-wide best practice brought to life.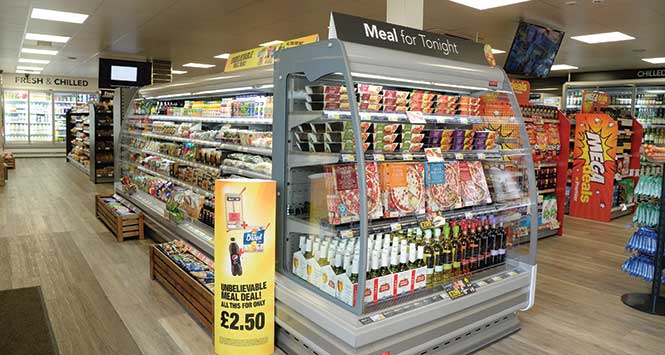 Creating a store like this required the not insignificant support of an independent retailer who was willing to effectively hand over the keys of his store to Premier. In Jatinder Singh Punian they found just the man. Jatinder and his wife Kuldeep bought the store in October 2017 and had been planning a full refit of what had been a derelict building. He was understandably intrigued when Premier got in touch to propose using his store to turn their vision for the future into reality.
"I spoke to Premier over a period of time and the more I heard about the idea, the more I liked it," says Jatinder. But wasn't he nervous about giving full control of the refit to some-one else? "No, not really," he says. "We talked through what we were going to do and why, and I was completely comfortable with all of it. And it turned out amazing!"
It did indeed. The store officially opened in February after what was more of a rebuild than a refit. It takes all of Premier's best practice advice and executes it to a very high standard, but in a way that Premier believes other members of the symbol group can learn from and replicate. It is a practical blueprint for the next evolution of the Premier brand.
For a concept store, the overall layout will be familiar to most retailers. It is clear however that Premier Victoria Dock is a turbo-charged version of the modern convenience store.
The flow of the store has been planned carefully. The first thing greeting shoppers is a seated breakfast bar area complete with free charging points and wi-fi.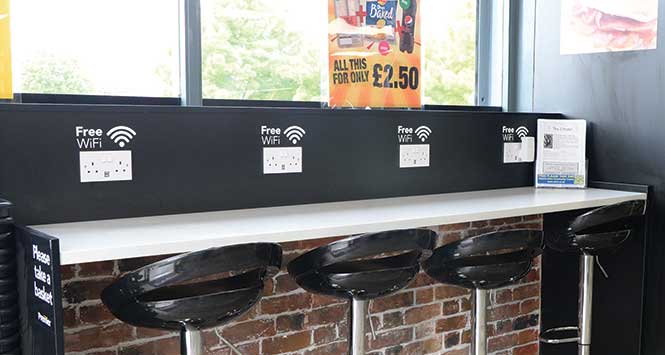 Shoppers progress into a comprehensive breakfast and lunch food-to-go zone that includes a 'goalpost' style food-to-go station complete with a self-serve Douwe Egberts coffee machine and a hot cabinet. Within weeks of opening the store was already selling 600 cups of coffee a week.
Soups and noodle pots can be prepared with the coffee machine's hot water, while cakes and sweet treats drive impulse sales.
Across the aisle is a dedicated chiller for Premier's Meal For Tonight Meal Deal, while a breakfast and lunch food-to-go chiller offers a strong range of freshly-made rolls, Snax To Go sandwiches, wraps and salads, as well as soft drinks, yoghurts and confectionery. A lunch time Meal Deal also helps drive basket spend from this chiller.
Victoria Dock is split into dedicated shopping mission zones, and the food-to-go chilled lines are sited in the food-to-go zone – not, as in many stores, in the main chilled section.
'Less is more' is a clear guiding principle in the store. The grocery fixture has been trimmed to just six metres and includes only core lines identified by Booker as must-stocks in every store. Similarly, the main confectionery fixture carries only a very tight range of countlines, with the emphasis on the larger format packs and multipacks currently driving growth. A new five metre kids confectionery section with self-serve slush machine adds appeal for younger shoppers while an American candy bay has been a huge hit.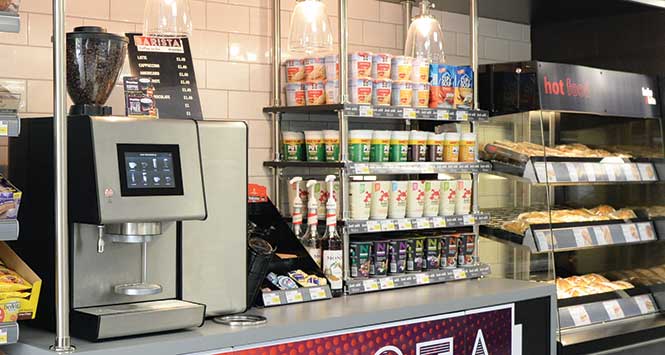 Even soft drinks has been approached differently, with a reduced range of flavoured carbonates and a greater focus on waters and low and no sugar lines.
This trend towards healthier products explains dedicated 'free-from' and protein aisle ends, popular with local gym users. This section includes bulk 2kg tubs of whey protein and specialist high protein shakes.
Another noticeable strand of the store's strategy is a focus on local produce with everything from craft beers to cakes sourced from Yorkshire producers.
An eye-catching vape station behind the counter offers a full range of e-liquids and accessories, including the high end 'mods' popular with experienced vapers.
However shoppers won't see a tobacco gantry behind the till. Tobacco is stocked in drawers under the counter, freeing up the tillpoint for a range of high value spirits including 34 gins and an extensive range of fractionals.
The off-licence section has distinct flooring and feature lighting solutions. It offers an extensive range of national and regional craft ales as well as a large selection of wines.
Another great idea in the store is a dedicated section for seasonal activities and events.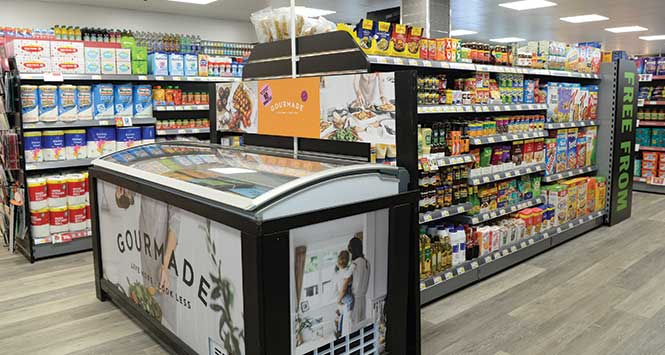 The frozen section combines a pared-down range of fast-moving lines and features the Premier Frozen Meal Deals while a standalone Gourmade chest freezer carries a range of premium ready meals and desserts.
An active Facebook presence and loyalty club help keep shoppers engaged, while the store is also trialling a new Premier app with the learnings helping to inform Premier's future strategies.
All in all, Jatinder has had the courage to take all of Premier's advice then ruthlessly distil the offer down to a range of products that will enjoy very high rates of sale and tap into the latest consumer trends.
Victoria Dock is a store that aims to set new standards in modern day, real world independent retailing and will provide great lessons for Premier and its retailers – but there's a lot the rest of us can learn from it too.