As the Scottish Grocers' Federation reveals that 92% of retailers are the victims of shop theft, and launches a Standards Charter for Safer Business, SLR says enough is enough; it's time for retailers, their staff and shoppers to feel safe in their place of business.
by Kevin Scott
---
From horrific attacks, such as that on Naser Hussain, who was shot in his Glasgow store last month, to vile, threatening behaviour and verbal assaults on staff, and visits from habitual shoplifters, retailers serving their local communities unfortunately have to live with the prospect of being the victims of crime on any given day.
It sounds like an impossible task: putting an end to retail crime in the convenience sector. However, there is no reason why this shouldn't be the end objective for the industry, and while it may well be impossible to stop shrinkage or the occasional customer becoming aggressive when they've been refused that alcohol sale, it is possible to ensure that all criminals – no matter the scale of the crime – are reported and prosecuted. In addition, providing shopworkers with the same rights as emergency workers will act as a greater deterrent for would-be criminals.
In launching The Standards Charter for Safer Business, the SGF is beginning to set out a framework for just that. The Charter was launched at the Federation's first ever Retail Crime Seminar – and was published in conjunction with The Scottish Crime Report and The Scottish Safer Business Guide.
The Standards Charter for Safer Business is a document that every retailer should have at their disposal. Everyone should work their way through the 43 points in the guide and ask if they meet these standards. Taking in seven different aspects of business (see sidebar on p16), the charter aims to reduce crime, and reduce the effects of crime in-store.
The Retail Crime Seminar was held at RBS' Gogarburn HQ, with retailers from across the country gathering to look at the impact of crime on their business. The morning featured an exhibition of 18 companies who offered products and services that can help retailers reduce crime in their stores.
Mainstream coverage as SGF Seminar draws TV cameras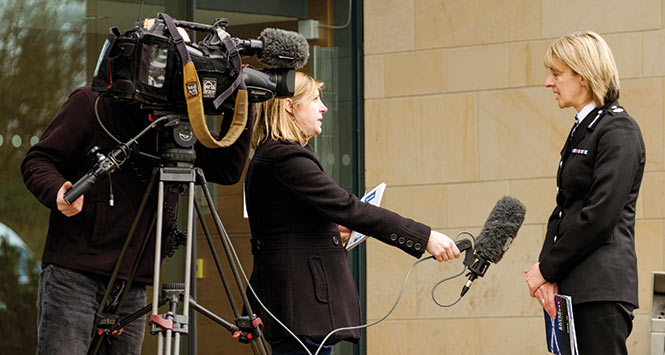 The SGF Crime Survey's results were certainly newsworthy to the industry, but also to the wider media. In addition to receiving widespread newspaper coverage the day of the Seminar, both BBC and STV were present, leading to news items on the evening news across Scotland. With this coverage it can only be hoped that shoppers will become more aware of the threat that shop workers face, and that politicians will begin to understand why shop workers need the same legal protection as emergency service workers.
The afternoon was divided into conference-style presentations and a series of four breakout sessions. The presentations focused on the work currently being carried out to reduce retail crime. The keynote was delivered by Police Scotland Assistant Chief Constable Kate Thomson, who said her job was to better understand the challenges the industry faces, and admitted that the SGF publications helped her to do that.
"Shoplifting is not a victimless crime," she said, admitting that under-reporting of crime is a concern. "I know there are reasons [for not reporting a crime in-store] and that one of them is a lack of confidence in the police service," she said. "That is a concern to me and so we are looking at ways to engage with business communities and groups like SGF."
A recent internal evaluation showed that Police Scotland needed to understand more about communities, and be more inclusive. Thomson revealed that on 1st April a new public consultation process will launch looking at what's important to retailers and their communities.
She assured delegates that police officers would have access to best practice guidance on dealing with retail crime. "For that to be relevant the under-reporting needs to stop and I need your help to do that," she said.
Thomson said there were are a number of reasons why people don't report crime. For one, it can take a long time to go through the legal process and for others, there are times where the police have charged someone, have them in the system but don't communicate that back to the retailers. "We asked victims 'were you kept reasonably updated with progress?' and the percentage who say yes is low," admitted Thomson. "We need to work on that, but the thing that concerns me most is the crimes that are never reported in the first place and I want to establish why. Fear and intimidation, yes. For those that have lost confidence in the police service, I'd like to speak to them and work to improve that."
She added: "The impact on local retailers of crimes that are aggressive and physical is significant. It can have an impact on staff, customers, the business itself and the wider community. But the service you provide is welcomed by everyone."
The speech was well-received, and it can only be hoped that Thomson and Police Scotland live up their commitment to local retailers.
One aspect of this was raised by SGF Chief Executive Pete Cheema, who again insisted that convenience store workers should have the same protection as emergency services workers. "The refusal of sale on age restricted products is the biggest trigger for threatening behaviour," he said, showing CCTV footage of a horrific attack on Glasgow retailer Muhammad Jawad Ali – who was present in the room.
Also presenting on the day was Mandy Haeburn Little, Director of the Scottish Business Reliance Centre.
She spoke passionately about the role retailers play in communities, but warned of the threat that continues to exist. Her presentation focused on what we can do together as an industry to reduce the likelihood of some form of attack on your business.
Crime stats
In addition to the important publication of the Standards Charter, the seminar saw the publication of the Scottish Crime Report, conducted by the SGF. It is this report that reveals the staggering scale of crime in Scotland's convenience stores. In 2014, 92% of retailers had been victims of shop theft, while 22% of those surveyed by SGF reported that they experienced shop theft on a daily basis. That is over one in five stores that are victims of crime every single day. On top of that, a further 30% experience shop theft once a week. That must stop.
As well as the emotional and psychological damage of crime, there is of course a monetary cost – and the total cost of crime to participants in the crime survey was £1.3m. Theft accounted for £1.25m of this, with vandalism costing almost £50,000 and violence over £8,000.
The Standards Charter for Safer Business
Covering 43 best practice points, the newly published Charter gives retailers the opportunity to ensure they are doing everything they can to reduce the risk of crime and effects of crime. It is divided into seven handy sections, covering:
Customer Service / Staff
Management
Staff Training
In the Event of a Crime Occurring
Cash Handling & Management
Banking
Time Delay Safes, Locked Safes or Delay Inserts
Violence, through either physical or verbal abuse is rare, but not rare enough. The survey reports that 1% of stores see violence against staff every single day, with 35% of stores seeing violence against staff at least once in 2014. No retailer or worker, not one, should have to contend with violence in their workplace, and although proposals to give shopworkers the same protection as emergency service workers have been rejected by Holyrood and Westminter in recent years, the industry should not let this decision lie. The fact convenience stores sell age-restricted products, and are staffed (particularly at night) by just one or two members of staff, makes these workers vulnerable.
This is illustrated in the crime survey – 9% of stores reported staff were abused on a daily basis when refusing a sale, rising to 18% when asking for proof of age. Think about that again. Almost 20% of stores are victim to abuse on a daily basis, simply for asking customers to supply proof of age. A further 23% are abused on a weekly basis for this, another 28% monthly.
Sadly, employee theft is another major issue for retailers. The survey found that 49% surveyed reported incidents of staff theft in 2014. HMRC has also reported that the retail and wholesale sectors suffer disproportionately from staff theft.
The Scottish Crime Report makes for grim reading, but that doesn't mean anyone should stick their heads in the sand. Action must be taken, retailers must come together to work with SGF and publications like SLR, they must lobby their elected representatives at every level. Report every crime, every time. As an industry, we can make difference.