Last month's SGF annual Crime Seminar (6 February 2020) saw the launch of the Scottish Crime Report and heard several industry experts discuss the issues around shoplifting and abuse of staff. From amid the grim statistics and shocking CCTV footage it emerged that greater cooperation could provide an answer to the seemingly unsolvable crime problem.
by Findlay Stein
---
The Scottish Grocers' Federation's annual Crime Seminar last month marked the official launch of the Federation's Scottish Crime Report for 2020 which, as in previous years, suggests yet again that incidents shoplifting and assaults on staff are at an all-time high.
The survey of 500 retailers put the total cost of crime to its participants at a massive £2m in 2019, with stores spending an average of £4,000 each on crime prevention measures last year. Astonishingly, every single respondent had experienced shoplifting in the previous 12 months, with 98% enduring it daily.
"Criminologists frequently try to downplay the problem by saying the fear of crime is greater than crime itself," said SGF boss Pete Cheema. "For retailers this is not the case," he added, introducing a montage of CCTV footage that painted a graphic picture of the extent of the problem.
The Crime Report also found that requests for identification in relation to age restricted products and a refusal of sale continue to be the main triggers for abuse and assault.
This comes as the Scottish Parliament considers MSP Daniel Johnson's Protection of Workers Bill, which aims to give shop workers additional legal protection, particularly in relation to carrying out mandatory activities around age verification.
Back the Bill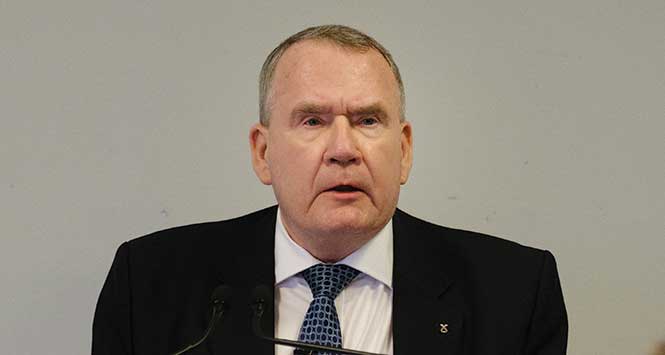 The seminar's first speaker, MSP Richard Lyle, called on retailers to back Johnson's Bill, which looks to give shopworkers similar protection under the law to that which safeguards the emergency services.
Lyle, who had a long career in retail himself before turning to politics, said shopworkers faced severe penalties for failing to properly police the sale of age-restricted items and deserved legal protection in return. He offered his own statistics to the audience, saying the average shopworker in Scotland is threatened or abused 17 times a year, and that there 15 assaults on staff every day. Lyle also drew attention to the shopworkers' union Usdaw's 'Freedom from fear' campaign and quoted its General Secretary Paddy Lillis, saying "abuse is not part of the job".
Crime courses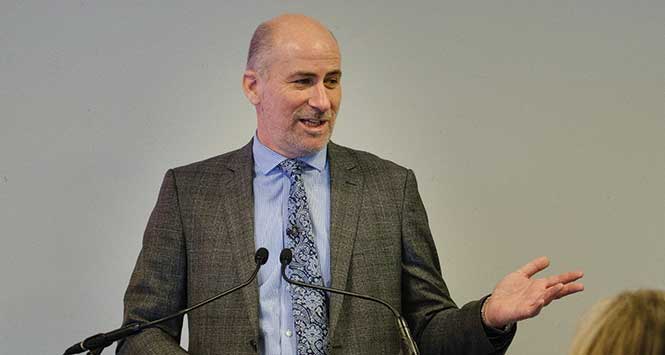 For the seminar's next speaker, abuse is a routine part of the job; Mark Anderson is a long-serving police officer, currently on secondment as Retail Resilience Lead for the Scottish Business Resilience Centre (SBRC). Anderson outlined the organisation's three-tier bespoke crime prevention training package available to retailers.
The SBRC takes a partnership approach to crime prevention and the training packages are the result of a nine-month pilot scheme ran with the help of the retail industry. As Anderson admitted: "The police don't have all the answers." Courses are free of charge and only take a couple of hours. All are delivered by police or fire officers. Topics covered include crime trends and methods; personal safety and security at work; anger management and de-escalating tense situations; fire risks; human trafficking; cybercrime; and counterterrorism.
Co-operative approach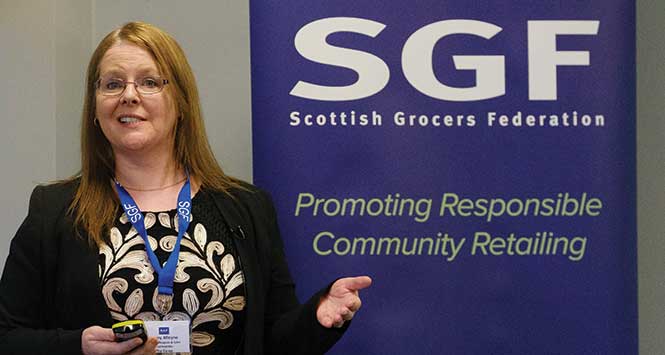 The Co-op's Head of Risk, Health & Safety Jenny Alleyne, urged the industry to come together to fight crime. Cooperation is important, she said, "because a loud voice on its own is no good but if everybody's voices are loud together, we can really make a difference".
Alleyne also relayed some grim statistics – specific to the Co-op – which saw 10,876 incidents in the first half of 2019. Every day during that period, at least two members of staff were attacked with a weapon; the number of assaults had tripled in 12 months.
To tackle this rising tide of crime the Co-op has rolled out a 'Safer Colleagues' initiative. This takes a three-pronged approach: with campaigning and lobbying working alongside in-store and community action. Stores have upgraded CCTV and issued headsets to staff, who have also received fresh training. POS material stating abuse won't be tolerated has been distributed, while the Co-op's Local Community Fund has given a total of £5.5m to more than 1,600 schemes tackling crime.
Tobacco trouble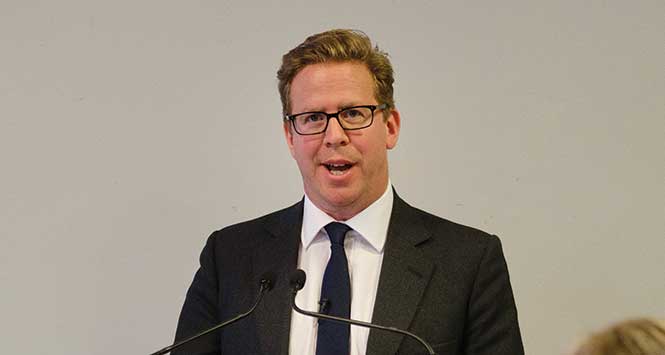 Rupert Lewis, Director of the Tobacco Manufacturers' Association, shared findings from the TMA's latest anti-illicit trade survey. The poll of over 12,000 UK smokers revealed over three-quarters (76%) had bought tobacco in 2019 that had not been subject to UK tax. What's more, that figure doesn't include tobacco purchased abroad or at duty free stores. One in two smokers had "no objection" to buying illicit tobacco from a source they knew and a mere 15% claimed to only smoke branded cigarettes.
Lewis pondered what the 16% of consumers who claimed to smoke menthol cigarettes would do when flavoured tobacco is banned in May: "Undoubtedly, some will continue to want to smoke menthol cigarettes, which will add another dimension to the illegal tobacco market."
Citing further TMA research, he said one in eight convenience stores faced a risk of closure due to the illicit trade, with shops losing up to £32,000 in turnover to it.
Lewis said fighting this meant firstly raising public awareness and changing behaviours around what "is not a victimless crime".
It also requires enhanced coordination between law enforcement agencies and the industry. Lewis said the sector always shared information about suspected illicit tobacco activity with Trading Standards and/or HMRC. However, it often proved difficult to secure feedback on how or when information was acted upon or whether enforcement action was taken.
He praised the Scottish Anti Illicit Trade Group, which plays "a fantastic role" in bringing parties together across government, law enforcement, retail and industry, and said he would press for similar collaboration around the rest of the UK.
Lewis concluded by urging both the Scottish government and parliament to view illegal tobacco as a "priority law enforcement issue" so that "the punishment matched the severity of the crime".
Question time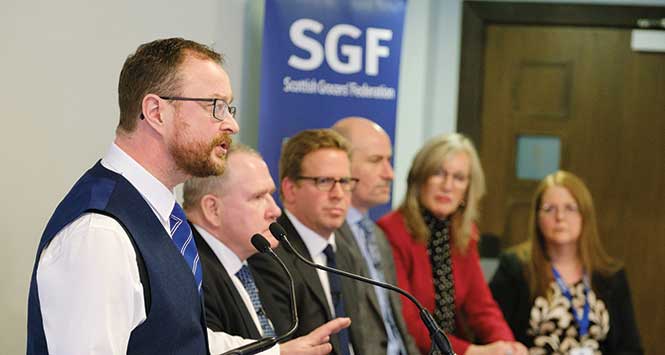 SGF's Head of Policy and Public Affairs John Lee then hosted a panel discussion where the event's speakers were joined by Maxine Fraser, Managing Director of Retailers Against Crime (RAC).
Asked about the effectiveness of the Tobacco Register on the illicit trade, the TMA's Lewis said it had a part to play, but that the major players (i.e. organised criminal gangs rather than rogue retailers) "aren't even on the radar" of the register.
The TMA Director's frustration with the authorities was once again evident when pressed on what the organisation was doing to help retailers. "Manufacturers are pretty limited by what we can do," he admitted. "It's just ensuring the appropriate authorities are provided with the details as speedily as possible and to act on that.
"Often manufacturers share this information, and don't always get the response and the feedback in terms of what action is taken. The challenge is putting the jigsaw pieces together. We are constantly speaking to retailers persuading them if there's anything which they are aware of, to share information as soon as possible."
The information sharing theme continued; Alleyne urged retailers to "share their stories" and change perceptions so that violence against colleagues isn't labelled as a business crime.
Shocked by stats
Similarly, Lyle called on retailers to talk to their MSPs to get their support for Daniel Johnson's Bill. The former shopworker was "shocked" by the statistics revealed during the seminar and said he hadn't faced that level of abuse in the Co-op in the 60s and 70s.
And are the police doing enough to tackle retail crime? PC Anderson's response was frank: "There are less of us on the street than you would like. There are less of us on the street than we would like."
In the face of rising crime, the police must prioritise, he said. While the response time for historical shoplifting incidents should be between two to four hours, he admitted this could take "two to three days", advising retailers to dial 999 for an immediate response to an ongoing incident where there's a danger to life or theft of property.
Anderson said the police were looking to introduce Statement Packs where retailers could log all the details of shoplifting incidents and an officer would collect on a weekly basis and help streamline the process and save "hundreds of thousands of man hours spent every year recording and reporting crime".
Naming and shaming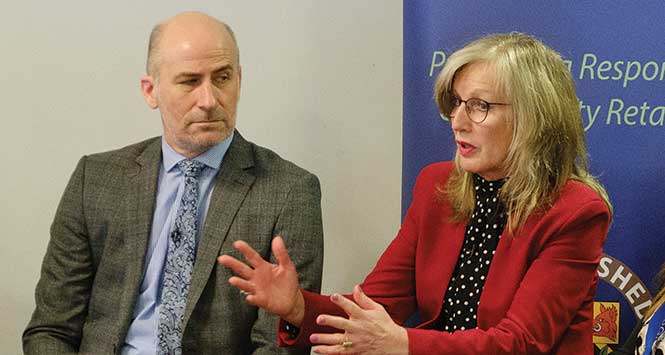 On the thorny topic of publicly posting CCTV screengrabs of alleged shoplifters, the RAC's Fraser mused that a cardboard cut-out at the front door might be a good idea, prompting a laugh from the audience and no doubt a shudder from the panel's resident policeman.
Anderson stressed the importance of staff sharing details of who is coming into the store but couldn't condone cut-outs or so-called 'walls of shame'.
"GDPR is there for a reason and you must abide by that," he warned, prompting Fraser to suggest pictures on a wall inside a secure locked office wouldn't fall foul of data protection laws.
Lyle backed a retailer who publicly displayed an image of a suspected shoplifter, leading to a name 20 minutes later: "Personally, if I was a grocer nowadays, I would do it and let them sue me." This too got the audience chuckling, although there was a somewhat bitter tone to the laughter.
The SNP MSP was also frank when a questioner suggested there was a close correlation between austerity and crime. Lyle laid the blame squarely at the door of the Conservative government in Westminster and its roll-out of Universal Credit: "Nowadays we have a situation where people are trying to live on £75 a week. We've got to look at how our society takes care of people."
The seminar, held at the University of Stirling, also hosted a bustling trade exhibition and was followed by a networking lunch.