It has been a massively challenging year for the local retailing sector, but Nisa has met all challenges head on – and Nisa retailers are thriving.
---
The coronavirus pandemic has created a hugely challenging environment for the entire local retailing sector in Scotland but Nisa has remained committed to meeting all challenges head on – and the results speak for themselves.
Nisa already works with many multi-award-winning stores in Scotland including Pinkie Farm, Greens of Markinch and David's Kitchen, making us the proven partner of choice for market-leading, independently-minded retailers in Scotland.
And with a record number of retailers moving to Nisa Retail in 2020 and those investing in new and upgraded stores enjoying average sales uplifts of 12%, there never has been a better time to join us.
For more than 40 years we have worked with independent retailers, helping them to grow their businesses through a comprehensive support package. To highlight how Nisa retailers have thrived in recent times, we look at some of the latest initiatives and successes that Nisa retailers in Scotland have enjoyed.
PGNJ continues growth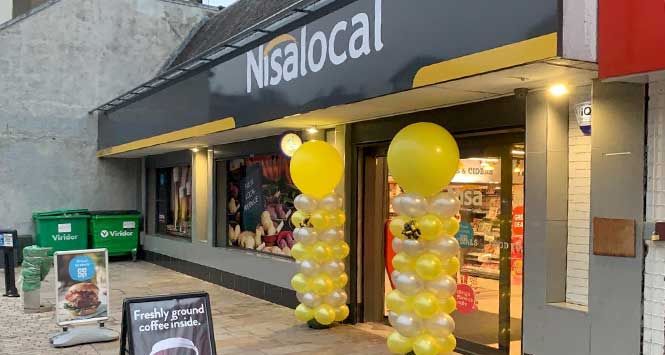 Fast-growing retailing chain PGNJ recently added its eighth and ninth Nisa Local stores in Scotland, bringing contemporary shops with fantastic ranges to the communities of Renfrew and Giffnock. PGNJ moved to Nisa just over a year ago and is thriving.
The latest stores underwent full refurbishments and range reviews.
Nisa partner Jay Javid said: "The best part of retail for me is development. Turning an empty shell in to a community store is what is all about. We take pride in being able to offer our customers affordable, reliable, sought after products that are displayed in an easy and attractive manner.
"It doesn't matter if you have one store or 10, we still merchandise our stores like our first. It's our business but it's my passion to merchandise.
"Our crisp, cool style and use of modern lighting is designed to make our customers' shopping experience that bit more pleasant."
Victoria Lockie, Head of Key Accounts at Nisa said: "These developments really are brilliant and the finished stores looks fantastic. We're thrilled to be working with the team at PGNJ and are looking forward to supporting them on their journey which is proving to be extremely exciting and fast-paced. A huge well done to everyone on this latest addition to the PGNJ portfolio."
Manz celebrates 25 years in style
Manz Rasul's family-run convenience store in North Berwick recently marked its 25th birthday with a complete refurbishment which has improved shopper experience and brought the busy shop bang up to date.
The Nisa store sits on the High Street and first opened its doors in October 1995. It has taken on a whole new look, closing for almost three weeks to complete the transformation.
The overhaul has given a facelift to the exterior of the store with the entry point changed and automatic doors installed as well as full length windows to the front aspect introducing more natural light to the shop. Meanwhile inside all the fixtures and fittings have been replaced with new flooring, lighting, refrigeration, checkouts and shelving.
Manz, a Nisa partner for more than 30 years, said: "We've created a light and airy space that makes the shop feel bigger and look so much more modern. Because of Covid we wanted our customers to feel comfortable when they're shopping with us. We've made our new shelving slightly narrower to allow more room in the aisles for customers to pass one another and added an extra till point so shoppers won't need to stand and queue for long."
Manz said customer loyalty, which has always been good, was superb during lockdown and the vital service provided by the store at the height of local restrictions also led to new customers.
"We traded really strongly through lockdown and sales went through the roof. It can be seasonal here because we're in a seaside town but this year the coronavirus has seen us incredibly busy.
"People were really impressed with how we handled the lockdown – we were the first to have hand sanitiser in the store and everyone seemed impressed with our proactive response."
The refit has allowed for the chilled range to be expanded from seven bays to 14, the introduction of a small food-to-go section with a coffee machine and instore bakery as well as an extension to the alcohol range.
Additional Co-op own brand lines have also been included to the already strong range which is popular with shoppers and fits with the business ethics of Manz himself, who has a keen focus on sustainability. And products from local suppliers will also be introduced to the store over the coming months.
"Everything that we have done with the store has been done looking at it from a customer point of view, making it easier and better for them with an overall improved experience and range. I really hope they like it," said Manz.
Nobody goes hungry in Greenock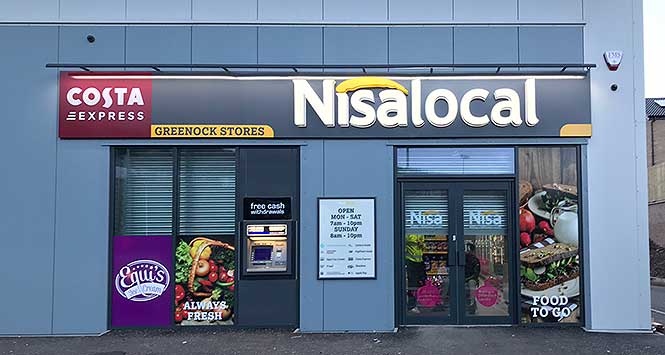 Nisa Local Greenock been running an in-store foodbank to ensure nobody in the community goes hungry. Driven by the staff themselves, the foodbank has been making up packages for those in the local community who are struggling. It has also been supported by customers who have made donations, in a bid to help local people in need.
The store, which opened last March just as the coronavirus outbreak hit, has quickly established a place in the community and the launch of the foodbank is in response to the local support they have received.
The 1,500sq ft Nisa Local Greenock, a 1,500sq ft shop in the heart of the community, is operated by the Ahmed family and owner Harry Ahmed says he is wants to help locals in any way possible.
He said: "We are very grateful to have our business here and to be doing well thanks to the support of the locals. We just wanted to help and give something back and we have seen how much some people are struggling right now."
People have been urged to contact the store or speak to Harry directly, in confidence, and the team then puts food packages together.
He said: "No nobody needs to feel embarrassed. We just ask that people contact us. They can message us on Facebook with their needs, or pop into the store and speak to a member of staff and then we arrange what they need."
As well as donations made by the store, locals have rallied around to show their support by donating groceries and money to purchase essential goods.
Harry said: "Everyone in the community wants to support us and we have had some really generous donations. The local people have been great and together we are just trying to do our best and help those who need it right now."
A century of satisfied shoppers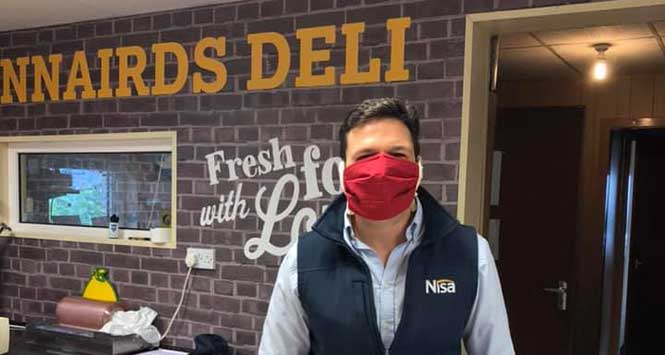 James Kinnaird's family-run Nisa store in Dumfries and Galloway recently celebrated a century of trading, putting shoppers at the heart of all they do to ensure their success. James, who owns the 1,500sq ft Nisa Local store in Dalbeattie says being an integral part of the community remains one of the most important factors for his business.
James, said: "We are truly a local business having been here for 100 years and being a part of the community is really important.
"One of the best parts of the job is the people; I know most of our customers by name and we also employ local people with most of our 25 staff coming from the village. It all goes towards making it more personal for our shoppers."
The store stands out from local competition by ensuring they offer numerous points of difference with a strong focus on local suppliers for products ranging from eggs and fresh produce to gin and craft ales. A fresh serve over deli counter which offers cheeses and meats, cut to the individual requirement of each shopper, is also a favourite.
And the ability to provide competitive prices on key brands and earn a reputation for offering good value has helped the store thrive.
"We focus on a better branded selection and give attention to offers and promotions but we also have permanent minimum prices on some key products so our customers know they can come to us and they can get a good deal."
---
To find out more, contact the Nisa development team on 0800 542 7490.