Mints and gums offer fantastic profit opportunities for retailers who capitalise on these key impulse categories in-store.
---
The confectionery category is one of the biggest opportunities to drive sales in your store. Confectionery is not only worth a significant value in convenience, it is also the most impulsive category [CTP, 2015], meaning it can really help you drive your sales and – in particular – drive incremental sales.
Susan Nash, Trade Communications Manager at Mondelez International, comments: "Candy accounts for 24% of total confectionery sales [Nielsen, Dec 2017] and mints represent a key part of this segment. As mints provide consumers with both refreshment and help to give confidence, they have very broad appeal. Research shows that one in every two shoppers buy into the category and that customers expect to see mints in your stores [Kantar, Jun 2016]."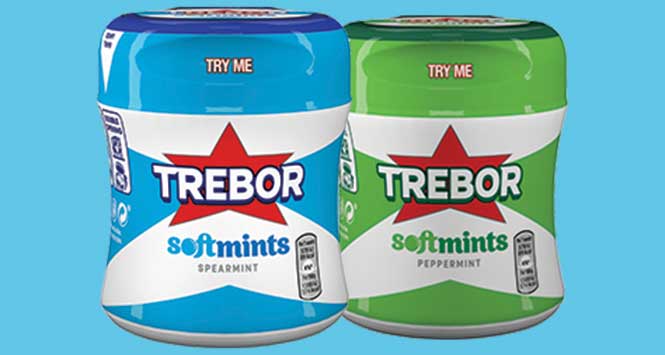 The total mint segment of confectionery is worth £139m MAT [Nielsen, Dec 2017], and the number one brand is Trebor. Four out of five of the bestselling mint products in the UK are from the Trebor brand, which boasts sales of over £48m, according to the same data.
The number one bestselling product of all is Trebor Extra Strong Peppermint, which has a rich heritage, being first introduced in the 1950s.
Nash comments: "The Trebor range meets both consumer need states of refreshment and confidence through its range of hard, soft and sugar free mints. Trebor Extra Strong and Trebor Softmints have the highest rate of sale of all mint products [Nielsen, Dec 2017]."
So how should retailers make the most of this minty opportunity? Nash advises: "Key to success in selling mints is visibility. Consumers expect to see mints by the counter area and we recommend that mints, where space allows, are sited in at least two locations: on the main confectionery fixture and in the hot zone (the area around the counter and front-of-store)."
Trebor offers retailers and shoppers the opportunity to 'Get Minted'
The UK's number one mint brand's convenience channel exclusive promotion, Get Minted is returning for a second year. Trebor's promotion will run until June 17 to drive sales by offering consumers a chance to win one of 102 prizes ranging from £50 up to a £5,000. Consumers can win by simply unwrapping Trebor packs and finding a ticket revealing if they've won a cash prize.
And it's not just consumers who will win. For retailers who stock Trebor and display the Get Minted POS, Mondelez will match the value of each cash prize for retailers where winning packs are purchased.
Get Minted was launched last year and succeeded in both exciting shoppers and driving sales by an increase of 8.5% in Independents and Symbols during the activation period [IRI, Jun 2017]. This year's promotion will be extended to include 2017 NPD, Trebor Softmints Pots 100g and Trebor Sugar Free Mighties Megapack 44.5g.
Carly Sharpe, Brand Manager for Trebor, said: "Trebor is the UK's number one mint brand and its single rollpacks sell faster than all other mints so it is important that retailers stock a full range of Trebor products to maximise sales. Our latest competition will create excitement that will encourage consumers to purchase Trebor in store to give themselves, and the retailer, a chance to win big."
Prize coupons will be hidden within selected wrappers of Extra Strong, Softmints and Mighties products.
It makes sense to use manufacturers' point of sales to ensure the product stands out to really inspire purchase. Products should be neatly merchandised to help the shopper scan and select what they are looking for and pricing should be clear.
Having the latest NPD and products that are benefiting from media support is also sure to help drive your sales.
Following a fresh new packaging design roll-out last summer, Trebor launched its popular Softmints and sugar-free NPD Mighties in handy pot format (100g Softmints and 44.5g Mighties). The new pot has been created to allow consumers to easily enjoy the mints on-the-go. The brand says the larger format is ideal for the desk at work, in the bag for the daily commute or in the car for long journeys.
Carly Sharpe, Brand Manager for Trebor, says: "The pot format is now worth £4m in the UK mints category and growing at +89% [Nielsen, Dec 2017] and the launch of these popular mints in a convenient format aims to help retailers drive further mint sales."
Top tips from Mondelez for driving your Mints sales
Stock the bestselling brands: Trebor is the UK's number one mint brand and Trebor Extra Strong Peppermint is the biggest selling mint product. Four out of the top five best-selling mint products in the UK are Trebor products.
Stock a range of hard and soft mints in spearmint, peppermint and sugarfree.
Stock the latest supported NPD.
Make the most of brand investment: have displays in store when the consumer is most aware of them.
Utilise manufacturer POS to help product stand-out and help shoppers spot what they are looking for. Create displays that inspire purchase.
Place mints both in the main confectionery fixture and on the counter to grab the attention of impulse shoppers. 100% of shoppers visit the till area, and 19% of shoppers visit this area alone.
Be fully stocked.
Stock should be clearly priced. Consider PMPs.
For more advice on merchandising and how you can grow your mint sales, visit www.deliciousdisplay.co.uk.
Alongside Trebor Extra Strong Softmints and Trebor Softmints, is Trebor Mighties. Available in two flavours, Mint and Berry Mint, Trebor Mighties appeal to health-conscious shoppers looking for sugarfree options. The sugarfree market is growing 14% year on year [Nielsen, May 2017], and Trebor Mighties will help to provide consumers with greater purchasing choice and drive incrementality for the category.
The products are sold in a flexible shelf-ready outer with hooks meaning the packs can be sited anywhere in store for maximum stand-out.
When it comes to gum, Mars Wrigley Confectionery remains the standout market leader. The total gum category is currently worth over £261m [Nielsen, Jun 2017] and Wrigley's gum portfolio is worth over £246m. Growth is driven by sugarfree gum and Wrigley expects this to continue as chewers seek out a healthy addition to their day-to-day oral care routine. Worth over £204m, Extra sugarfree gum is the driving force behind the gum category, which is growing in volume sales. Extra's core flavours, Peppermint and Spearmint are the top performing variants and are worth over £130m. And that's not forgetting the fact that Wrigley's mint portfolio is also worth £6.5m.
Potential gum tax 'heavy handed'
One leftfield factor to come out of the Government's Spring Statement of the consultation on what can be done to reduce the use of single use plastics was the surprise announcement that chewing gum could be included in any potential tax, a move dismissed by some as "heavy handed".
David Harris, Senior Consumer Analyst at GlobalData, comments: ''Chewing gum manufacturers will not appreciate being tarred with the same brush as plastic packaging, with this consultation into plastic waste in the UK. The majority of gum products in the UK are focused on providing oral health benefits. As such, an extra tax on sugar-free gum in particular could be a detriment to the nations' oral health.
"Consumers, legislators and the industry do need to talk about the most effective ways of minimising chewing gum waste. Street waste is a genuine issue, and chewing gum is part of the problem. However, this broad consultancy focusing on taxation measures seems heavy handed, and a one-size fits all approach will not be the most effective way to tackle the issue.
Taxation may be part of the solution, but simply adding cost to the price of a pack will not drive a significant change in the behaviour of consumers who are generating this street waste.''
Dan Newell, Confections Marketing Manager, is encouraging retailers to back the latest initiatives from the company to drive sales and profits, including the launch of Extra Bottle in a price-marked pack (PMP).
Newell comments: "Wrigley is looking to continue to grow the gum category with the launch of its £2 RSP Extra sugarfree gum PMP 46 pellet bottle across its best-selling core flavours, Peppermint and Spearmint. An exclusive format for the route to market channel, the bottle format continues to tap into the growing demand for keeping teeth clean and breath fresh after snacking on the go. For retailers, the launch of the new PMP bottle will help to improve rate of sale, as purchase intent in the gum category has been shown to significantly decline when priced above £2."
It may also be worth considering the recently-launched range of Starburst gum. The range includes Starburst Fruity Mixies, Starburst Strawberry Cubes and Starburst Red Berry Sticks. Starburst Fruity Mixies chewing gum is available in three popular flavours – Strawberry, Apple and Bubblegum – and is available in a small 24-piece pack, a 48 piece handybox and a 100 piece bottle format.
The launch marked the first time Mars Wrigley has combined its gum and candy expertise in a single range of products and the company expects the launch to add an extra £15m to the gum category.
Mars Wrigley Confectionery's five steps to gum success
Availability is key – gum is more impulsive than any other confectionery line so remember to re-stock each morning and prior to peak traffic times.
Stock the best-sellers – such as Extra Peppermint, Extra Spearmint, Extra White and Airwaves.
Champion new products – e.g. Extra Cool Breeze Bottle and Hubba Bubba Cola and Fancy Fruit Bubble Tapes.
Multiple gum sitings – e.g. next to a second till point, confectionery aisle or dental section to drive additional purchases and ultimately maximise sales.
Offer a wide choice of pack formats and flavours – to meet different consumer demands e.g. stock bottles, stick and pellets, as well as a variety of flavours.
Don't miss your chance to win £400 worth of Mentos and Smint POS and stock courtesy of Perfetti Van Melle!