As part of our series looking at how retailers can drive more revenues from looking at alternative locations for their tobacco in the dark market, we teamed up with VDMS to run a trial of its tobacco vending solution at Omar Nasir's Spar shop in Motherwell.
by Kevin Scott
---
That highly visible sales space behind the tillpoint is home to the tobacco gantry in every single convenience store. However, with the Tobacco Display Ban ushering in a new era of blind merchandising, many retailers are beginning to look at alternatives.
One popular option is to expand the space given over to spirits, creating a striking display of products with a high price point, while tobacco is moved to a unit either above or below the till.
Another solution is to install a vending machine. Costly, yes, but it can utterly transform your gantry. VDMS is one company offering a system like this and following a trial at Omar Nasir's Spar store in Motherwell, he is not only keeping the unit, but recommending it to his fellow retailers.
In Omar's store, a twin door unit holds 96 product lines and a separate single door unit holds 48. The dividers inside are moveable and so as range reviews take place, changes can easily be accommodated.
The unit itself in undeniably attractive; sleek, black and discreet – with a digital screen on every door. It's these screens that are the first of the unit's selling points. Since installation, Omar has been able to use the software that sits on his office PC to update the rotating images on the screens.
"That's made a big difference already," he says. "I pick out our best deals and put the images on the screen. They run in a slide show, changing every 10 seconds, so it's great at catching customers' eye."
To illustrate, Omar explains how current offers on Evian and Monster Munch have seen customers who are about to pay for other items, return to the shop floor to pick up the deal – thereby increasing their basket spend.
"We've been approached by a couple of local companies to place adverts on the screens as well," says Omar. "That's something we're definitely keen to do, as it's additional revenue with practically zero cost."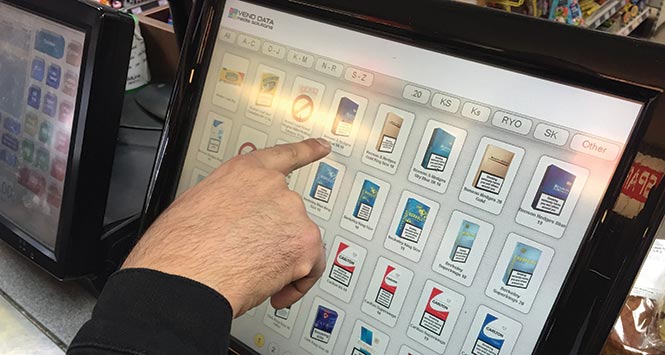 It also gives Omar the chance to show off the fact he was named Newstrade Retailer of the Year at the SLR Rewards – his smiling picture as he collects the reward is also on rotation – a perfect example of how the screens can be used to promote the store. Local events or community news could also feature.
The unit's primary function of course is to stock tobacco, and it's another win here for Omar. "It's been fantastic," he says. "It's completely changed the way we manage our tobacco stock."
The unit holds ample stock, and with his three deliveries a week, there is now no need for tobacco to be kept in the back store at all. "Reducing our stock holding means there's less cash tied up in tobacco, which is beneficial – and it's much more secure."
The only downside for Omar is the fact the unit can't dispense 50g packs of RYO, and with sales in this area growing, he is keeping them in a drawer beneath the unit.
The unit itself is attached to a computer on the till which has a touchscreen containing images of all the SKUs stocked. Whatever a customer asks for, the member of staff touches the corresponding image and the pack duly emerges at the base of the unit – just like a standard vending machine.
Any out of stocks are highlighted on the screen by a red cross through the image, meaning there's no surprises when a customer asks for something.
"The staff have taken to it really quickly, the customers like it, so I'm really happy," says Omar.