Last month's vaping event organised by the SGF confirmed that a lot of work still needs to be done by both manufacturers and retailers alike before the convenience channel can lay claim to its fair share of this £1bn category.
by Findlay Stein
---
If one thing was made clear at the recent Scottish Grocers' Federation (SGF) vaping event, it was that a large cloud of confusion still hangs over the category as far as many of Scotland's local retailers are concerned.
The event, held at Glasgow's Marriott Hotel, was chaired by SGF Chief Executive Pete Cheema and heard at length from several industry experts on the growing importance to convenience retailers of the vaping category and of its role in getting smokers to quit.
Before that though, Elaine Mitchell, from the Scottish Government's Tobacco Control Team, put a dampener on proceedings by announcing that the Scottish Government does not promote vaping, due to the potential long-term impact on public health and concerns over young people and non-vapers starting.
Even worse, she then announced proposals to further restrict advertising and promotion of e-cigs, with a consultation rolling out in August.
Mitchell did acknowledge the potential role of vaping in smoking cessation, and said it was important to remember that retailers provide a primary route raising awareness among smokers. However, she warned that the government was "really concerned" over dual use i.e. vapers who continue to smoke.
Question time
A lively Question Time-style panel discussion on Making The Most Of Vaping followed, deftly chaired by the SGF's Head of Policy and Public Affairs John Lee. He was joined by Tom Hirons, Head of Government Relations at JTI/Logic; Matthew Moden, Managing Director of Liberty Flights; Will Hill, Head of Legal and External Affairs at British American Tobacco UK and Ireland; Lindsay Mennell Keating, UK Government Affairs Manager at blu; and Colum Deignan, Field Sales Manager for Eco-Vape.
In a short opening statement, Hirons said vaping was now in its third iteration, having transitioned from cigalikes to open tanks to pod-based systems. Pod devices, he said, deliver higher performance from a very convenient product, stating that the pod market presented a huge opportunity to catch the fastest-growing part of the vaping sector.
Moden acknowledged that vaping wasn't risk-free but implored the powers-that-be to look at the opportunity it provided from a health perspective. He contradicted Mitchell, saying dual use should in fact be encouraged, as it is a way for smokers to "step down" their tobacco consumption.
Regarding advertising, Moden thinks the industry has been "hamstrung" over what can be said about vaping, "to the detriment to the health of the population". With manufacturers barred from comparing the health risks of vaping against those of combustible tobacco, he said retailers, "armed with a little bit of knowledge" could help smokers make an informed decision, help them to switch, and make some money at the same time.
Hill contrasted the approach of the national government with Scotland's, saying Westminster was a "bit more welcoming to the category" than Holyrood, but that smoking cessation services were scared to work with vaping brands for fear of reputational damage.
Mennell Keating pondered how to strike a balance between educating the large number of tobacco users who think vaping is just as harmful as smoking and preventing take-up in under-18s.
Deignan focused on the role training and education had to play. He suggested staff should ask cigarette buyers if they'd tried vaping, highlighting next year's (20 May) ban on menthol cigarettes and flavoured tobacco as a particular opportunity for conversion.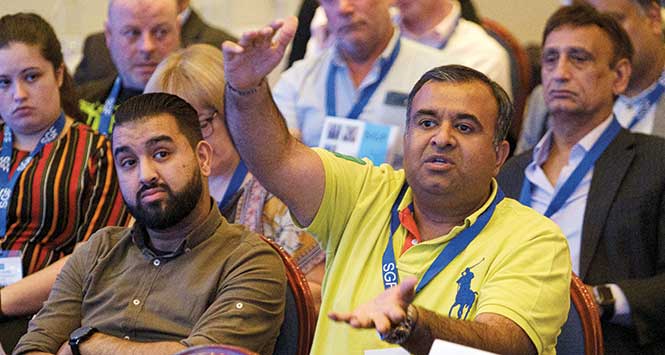 Reality check
All well and good, but it was when Lee opened proceedings to the audience that the gulf between manufacturers and retailers soon became apparent.
"I don't know how to sell this product" said Shahid Ali, calling for manufacturers to get together and create a credible range to compete with online and specialist vape stores instead of all "fighting for the same space". He was also at odds with Hirons' notion that the market was progressing towards pods, suggesting that customers started off using them before "evolving" to open tank systems and getting lost to specialist stores because the major manufacturers "don't do open tank".
The panel took Shahid's point, with Moden stating that "the notion of not being able to provide a category solution to retailers who are saying 'please help me out' is ridiculous".
Eric McGill, from independent vape store Buzz, suggested the reason pods didn't sell well in the grocery channel was because people look at the level of liquid in two pods (a total of anything from 1.4ml to 4ml usually) costing around £5 to £6 and then "go into the likes of B&M and buy an 88vape 10ml liquid for a pound". This prompted a ripple of agreement from the audience.
In the defence of pods, Deignan pointed out that users get a fresh coil with each one, reducing outlay in the long run.
Different language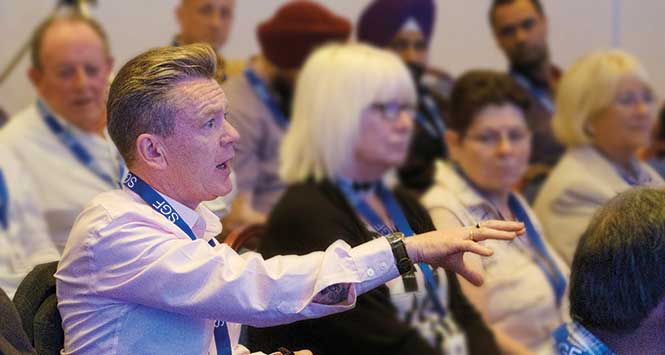 Talk about coils and the technology underlying vaping prompted retailer Graham Watson to say manufacturers might as well be talking a different language. "You have to make it understandable for retailers, so they can make it understandable for customers."
Hiron agreed, saying that staff education is an investment, while Hill said reps "had to translate the mumbo-jumbo". Deignan stressed the importance of training the whole team so there weren't inconsistencies in knowledge levels. Moden said retailers don't need to go "chapter and verse" – you just need to know what to sell and how to sell it, while Mennell Keating urged the audience to "tell us what you need".
The panel was also asked the best way to promote the category. Hill advised retailers to be careful with online marketing. He said you can use social media, if you make factual statements but not promotional ones. He threw the uncertainty around the issue into sharp focus by posing the question, is "we sell e-cigarettes" factual or promotional? He said retailers had a lot more latitude at the point of sale to "articulate the benefits of the products".
After the dust from the debate settled, the manufacturers each talked for 10 minutes (enforced by Lee with the threat of electrocution), understandably using the bulk of this time to promote the merits of their own products.
There were several useful nuggets that shone through the sales pitches though. Blu's Darren Atwell advised retailers to ensure consistent availability and to find out what local trends are. An impactful gantry will let consumers know you have a good range, he said.
Eco-Vape's Deignan highlighted the importance of convenience stores, because they're convenient and less intimidating than vape shops, while Liberty Flights' boss Moden returned to deliver his seven rules of vaping. These are: take knowledge seriously; walk before you run; take a category approach and merchandise efficiently; drive footfall by offering shopper value; avoid the race to the bottom; pick pod systems wisely; and stick to the plan, giving it three months to see results.
Archie MacLellan from JTI urged retailers to challenge suppliers if stock wasn't selling through, a concern that had been raised more than once throughout the day.
The event also included an exhibition, where retailers could find out about the latest products on the market and hopefully get more questions answered.