Sustainability is a massive issue for consumers and is a hot topic for suppliers and wholesalers, yet local retail seems strikingly quiet on the issue. Is it time to grab the green thistle?
By Antony Begley
---
Sustainability is a huge issue and it's one that's only going to grow in importance in the coming months and years. At least half of all press releases that SLR receives contain some reference to it, reflecting the energy and commitment that suppliers are devoting to the subject. Similarly, much of the wholesale channel is embracing its sustainability agenda in a structured and organised fashion. And, of course, consumers are all over it – particularly the next generation of shoppers.
Which is why it makes it so striking that the local retailing sector appears to be strangely ambivalent. It's a rare thing indeed to see any in-store messaging referring to the many accomplishments that local retailers have already made. It's equally rare to see social media posts from retailers addressing environmental issues.
This is odd for two reasons: firstly, retailers already do a lot on the sustainability front. They recycle all food waste (or should), they recycle all cardboard and they recycle a lot of plastic packaging. Granted, it's a legal requirement – but that shouldn't stop retailers telling their customers that they do this. It's the quickest and easiest of quick wins to point these facts out in-store with a poster or on social media. So why don't we do it?
Additionally, a lot of the products retailers stock now comes in recyclable or even already recycled packaging. Why are they so shy to tell their customers about all of this? It's clearly a big deal for shoppers and retailers aren't usually so reticent about giving paying customers what they want.
The second reason why this state of affairs is odd is that sustainability seems to be one of those areas that local community-based retailing should 'own'. It's a golden opportunity to steal another march on the supermarkets, but thus far it looks like the mults are forging ahead on that front.
Consumer demand
Perhaps the key point here is that consumers are increasingly making buying decisions based on the sustainability credentials of the stores and brands they use. Fair play to most brands: they're falling over themselves to move to rPET and cardboard, dump single use plastic and repackage their products in lighter, more environmentally friendly ways.
But it's clear that consumers also expect retailers to be on board this juggernaut.
A recent study from Edinburgh-based research agency 56 Degree Insight revealed that, despite the cost-of-living challenges, consumers remain very interested in protecting the environment. Indeed, 55% of over 700 respondents said that minimising climate change was one of their principal concerns, an increase on the year before.
The majority of Scottish consumers want to be able to make a difference when it comes to protecting the environment. While 77% already try to have a positive impact on the environment in the everyday actions, almost as many (67%) are looking for more ways that they can do the right thing.  Women, younger people and members of the more affluent social classes were the population groups most likely to say that doing more to protect the environment was important to them.
Making sustainable choices is often difficult given the pace of modern life, tightening budgets and restricted options available in some stores. But surely this represents a massive opportunity for local convenience stores.
In that same survey two in three Scots (67%) said that when shopping for food and drink it was important to be made aware of measures taken by stores to reduce waste and increase sustainability in its operations.
Additionally, when choosing which food and drink products to purchase, the majority said that it is important to them to have minimal packaging, ideally plastic-free or recyclable (66%). The clear labelling of a product's environmental credential on packaging (or via in store information) was also found to be important.
Cost versus value
One of the hurdles often cited as standing in the way of the adoption of improved sustainability credentials is cost. Better packaging costs more. But a survey of over 1,000 consumers in January this year by Consumer Intelligence on behalf of Aquapak, found that 76% of people believe that the retail sector is "not doing enough to reduce plastic packaging" and more than half (52%) of consumers would be prepared to pay more for environmentally friendly packaging.
Of those shoppers, a third would be prepared to pay 1% to 4% more and a fifth would pay as much as 5% more for better packaging.
Granted, what consumers say they will do and what they are actually prepared to do can be two very different things, but the direction of travel is clear.
DRS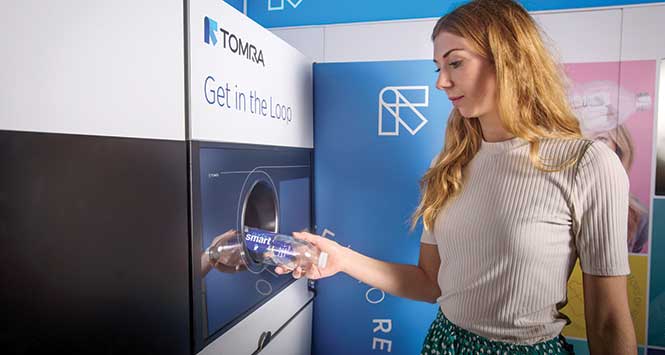 One development which will unquestionably accelerate the levels of engagement that local retailers have with sustainability issues is the much-delayed introduction of a Deposit Return Scheme (DRS) in August next year.
The heavily debated handling fee that retailers will receive for taking drinks containers back from shoppers has now been announced, meaning in theory that the industry can now start gearing up for DRS in earnest.
Mark Brill is UK & Ireland VP Sales and Marketing for reverse vending machine (RVM) manufacturer TOMRA. He told SLR: "At heart, the DRS aims to increase high quality recycling and reduce littering of drinks containers in Scotland.
"Shoppers will pay a 20p deposit on top of the price of eligible single use drinks containers. Shoppers will then receive this deposit back when they return their containers for recycling. Eligible drinks are set to include soft drinks and alcoholic beverages, including PET bottles, cans, and glass bottles ranging from 50ml to three litres.
"Scotland's scheme will be a 'return to retail' scheme, which means that retailers will collect the bottles and cans back from consumers. As well as doing their bit for the environment, retailers will receive a handling fee for every eligible container that they take back."
That handling fee has been set at 3.55p for the first 8,000 items each week with an extra 1.5p for each additional item. This only applies to retailers using an RVM. Retailers choosing to handle returns manually will receive 2.69p per eligible container.
Now that we're off and running, what do retailers need to do to prepare? "The best way to prepare is to get familiar with the scheme and how it will work," advises Brill. "Visit the Circularity Scotland website (circularityscotland.com) for full information and FAQs. We would also recommend sharing knowledge amongst other retailers, especially those retailers who have run in-store trials.
"Retailers can also engage in broader discussions around DRS via the Scottish Grocers' Federation who are representing convenience stores throughout the process."
As part of these preparations, a key decision for retailers is whether to use an RVM or accept containers back manually.
Broadly speaking, retailers who sell over 2,000 beverage containers a week should consider investing in an RVM from the beginning of the scheme. Manual handling is fraught with real-world challenges for in-store staff and customers.
"Retailers who want to give customers a great recycling experience in their store and avoid manual handling for store staff should also explore automating, since it is typically quicker and more efficient to return bottles at a reverse vending machine," says Brill.
RVMs, of course, take up valuable space but there are some small footprint options available these days.
TOMRA, for example, has developed a new compact RVM especially for retailers in Scotland. Called the 'TOMRA M1' and less than 0.6sq m, it still accepts all three materials included in the scheme.
Now is the time
With DRS finally looming and sustainability more important to more people than ever, now is the time to take a fresh look at how your store can embrace the environmental challenges we face and lead from the front for the benefit of everyone in the communities we serve.
DRS: what you need to know
The scheme will go live in Scotland on 16th August 2023.
The scheme will be run by a scheme administrator called Circularity Scotland, a not-for-profit organisation that will be responsible for its day-to-day running.
Retailers using a reverse vending machine will receive a handling fee per eligible container of 3.55p for the first 8,000 items each week, with an extra 1.5p for each additional item. Retailers operating manual returns (over the counter) will receive 2.69p per eligible container.
Retailers must accept any eligible container back, not only the products that they sell.
The deposit amount will need to be displayed separately from the price of the product on any point of sale.
The scheme administrator will collect the containers from stores on a regular basis, with one-off collections if required.
Retailers will be reimbursed around seven days after the bottles and cans are collected by the scheme.
Some exemptions may be given, these can be checked on the Zero Waste Scotland website.