The forecourt sector in Scotland is enjoying an extremely positive period and today's modern, slick forecourts are unrecognisable from the scruffy petrol stations of a decade ago. SLR takes a closer look at what's driving this growth, and where forecourt retailers should be focusing their attentions in future.
---
Gone are the days when forecourts were the grubby, unloved cousins of the retail industry. While once the best a drive-in customer could expect was half a dozen pumps and a kiosk selling a warm can of Red Bull, a packet of crisps and a Mars Bar, today's next-generation forecourts offer everything a shopper could want or need.
Forecourts across Scotland have responded to evolving shopper trends and increased competition from the major multiples in some style. Indeed, the last Association of Convenience Stores (ACS) Forecourt Report explicitly acknowledges this point, emphasising the marked trend of forecourts blossoming into both a fuel stop and a fully-fledged convenience store.
Nigel Gray, Retail Director at Nisa, comments: "One of the challenges of running a forecourt is the historical consumer perception of what they used to be as opposed to what they could become; the perception that they were a necessity rather than a destination shop for fresh food, meal solutions and a broader range of services and products that are much more common now."
The future, concludes the report, was that "forecourt retailers need to move their focus away from being a 'pump with a shop' to 'a shop with a pump'".
So if retailers are to follow this guidance, what are the key opportunities that lie ahead? Where should they be focusing their efforts in building a modern forecourt operation that will bring shoppers to the door regardless of whether or not they require fuel?
Food-to-go is good to go
Food-to-go is a megatrend in convenience retailing in general, so it's no surprise that food to go should be a key focus in forecourts too – particularly as many of the shoppers who arrive at a forecourt are by definition on the go. The modern forecourt provides a full food-to-go range, both hot and cold, backed up by a strong traditional convenience offer and a solid range of fresh food, particularly fruit and veg.
The ACS report shows that 77% of UK forecourts now offer cold food-to-go, 70% have a coffee machine, 46% have a hot food counter, 35% have incorporated an in-store bakery and 29% offer a microwave for customer use.
Fuel brand Jet's Retail Accounts Manager for Scotland, Paul Yates, says that forecourts are fast becoming 'convenience hubs' to buy fuel, do a top-up shop, collect online orders and grab a quick lunch with a coffee. "With the average commuter spending more than £10 a day on lunch, takeaway coffees and other food (that's an incredible £2,500 a year!), it's easy to see why forecourt operators are keen to maximise on this trend."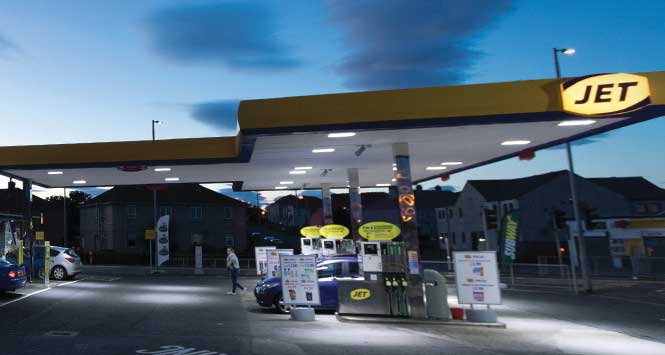 Yates has observed a rising consumer demand for high quality on-the-go coffee, which led to Jet's decision in 2015 to join forces with eXpresso Plus to introduce a coffee-to-go initiative for its independent dealer network. With 48% of food-to-go shoppers making unplanned additional purchases there are strong commercial arguments for enhancing a forecourt's range.
In July 2016, Jet announced its decision to enhance its eXpresso Plus alliance and launched 'Snack on the Go', a coffee and food-to-go concept to help drive forecourt footfall across its UK dealer network, which includes 50 Scottish sites.
As forecourts emerge as destination sites for an increasing number of customers thanks to this improved offer, the availability of parking is an important positive for many forecourts in Scotland.
CJ Lang's Marketing Coordinator Terri Plummer suggests: "Residential neighbourhood community-based forecourts are now in many cases becoming the main supplier for local daily provisions. Here, we see a real mix of shoppers. Some arrive by car to take full advantage of the exclusive parking. Just as many customers arrive by foot, using the forecourt as their local convenience store, more so than the transient out of town location. It's at these that shoppers are more likely to arrive by car to fill up their vehicle with fuel, but also expect to be offered body fuel with a real Food-to-Go offer meeting needs of a completely different shopper."
Senior Retail Insight Manager at grocery research organisation IGD, Gavin Rothwell, also champions the forecourt as leading the way on many fronts when it comes to improved food-to-go options. He says: "Food-to-go shoppers are especially interested in products that suit particular diets, with 34% looking for a larger range of vegetarian products, 25% more dairy-free products and 23% seeking more vegan or gluten-free options."
He urges forecourt retailers to cater to consumers looking for options for an alternative mission, beyond the classic coffee and lunch options. He says: "Although many retailers and specialists are focusing their efforts on breakfast, this is a relatively small market and spend per trip can be quite modest. We're therefore expecting to see a broader focus on alternative missions at different times of day – some of this might be evening meals, but there may also be opportunities at other times of day, for example a post-work snack or post-gym energy boost."
Keeping it clean
When it comes to creating customer loyalty, first impressions count. Whilst the initial attraction for many will be the fuel price, forecourt operators should still strive to offer a bright and welcoming environment to entice new customers onto their forecourt and retain those who are already familiar with the site. Keeping a forecourt clean is a significant but vital undertaking.
Matt Clayton, Gilbarco Veeder-Root UK Sales Director, says that a proactive approach should be taken when it comes to site maintenance. "Poorly maintained pumps lead to excessive downtime," he says. "Capturing and retaining customers is vital for a successful forecourt. Excessive queues, slow dispensing and visually unwelcoming forecourts are all factors in lost fuel and shop sales to more convenient and appealing forecourts."
Maintaining a clean and tidy forecourt needs daily attention in order to pick up on any issue before it can escalate. Lorraine Binnie, Director of CSC Forecourt Services says that the forecourt should be surveyed regularly so that big cleaning operations can be kept to a minimum. She says: "We have found that bookings of annual forecourt cleaning have increased and retailers are placing more importance in having an annual deep clean, realising the role it plays in increasing customer flow.
"Retailers need help with most areas of forecourt cleaning. They don't have the equipment necessary to deal with canopy and forecourt surface cleaning or the safety equipment necessary to carry out this work safely. Possibly some feel it's not a necessity. However, for a fairly low investment, the site can be transformed from a grubby and uninviting to a brighter, cleaner place for people to buy fuel and shop confidently."
Jet gives every site in its network a full branding valet each year. Paul Yates explains: "All Jet dealers automatically benefit from a free forecourt deep clean on the anniversary of their site being imaged. Provided by CSC Forecourt Services, cleaning of the canopy fascia, under canopy forecourt surfaces and pole sign are included, ensuring each forecourt looks at its very best."
Yates says dealers can also book an additional clean or services throughout the year including a car and Jet wash bay valeting and cleaning of forecourt surface areas outside of the canopy. "As you can imagine, it's a significant cost to appoint specialists to undertake these annual cleans, but it is money very well spent as we know how important clean sites and facilities are to our customers," he says.
Fuelling footfall
Despite the focus on retail, forecourts remain by definition a place for drivers to top up on fuel. There is of course an ongoing battle between the supermarkets and dedicated fuel suppliers, but in recent years the price gap has been closing, which is great news for independent retailers. Thankfully, the major multiples have also failed to find a solution to the problem that they are plagued by: the physical disconnect of their main store to their petrol station. Forecourts don't suffer from this disconnect and can therefor offer the convenience that modern, time-poor shoppers are seeking.
In research by the AA, the gap between the big four supermarkets and dedicated fuel retailers has dropped below 3p for the first time in a year. The AA said that driver confidence in supermarkets having cheapest pump prices has been called into question recently, discovering that both petrol and diesel was on average cheaper at Jet fuel stations between mid-January and mid-February 2017 than at Sainsbury's forecourts. With this key selling point all but nullified, there is very little to recommend supermarket fuelling stations to a shopper over the more convenient and comprehensive offer available at a forecourt.
A growing opportunity for forecourts is the burgeoning electric vehicle market, with sales of hybrid and electric vehicles increasing exponentially. As of October last year, 90,000 plug-in vehicles were registered in the UK, with a third of those purchased in 2016 alone. Compare this to the 138 electric vehicles that came onto our roads in 2010.
Jet case study: using food-to-go to drive footfall
Following a £60,000 shop and external refit in 2015, Jet's Parkhouse Garage in Ardrossan, North Ayrshire, teamed up with Spar as its symbol partner. During the refit, emphasis was placed on enhancing the site's food-to-go options, and it now boasts a range of fresh cream cakes, pastries, sausage rolls and pies from a local supplier. The ready to eat goods are delivered daily and have proven hugely popular with customers.
New chillers offer a wide range of chilled food-to-go products including sandwiches and drinks. Crisps and confectionery are also displayed prominently. Many food-to-go items are included in Spar's special price deals and multibuy offers.
The forecourt is located opposite a secondary school, and a hot food rollover machine was introduced, providing a constant supply of hot and fresh hot dogs and burgers. It is popular among the large numbers of students who visit before and after school and during the lunchtime period. The machine has proved a great hit, with growing sales and positive feedback received.
A hot water dispensing tap is located next to a range of instant noodle pots so customers can prepare them with hot water on site ready to eat. This too proved itself popular among local schoolchildren, as well as commuters looking for a quick hot snack. A microwave is also available for customers to heat up chilled food-to-go items or ready meals, of which there is a good selection located nearby.
Parkhouse also has a modern Tchibo 'Bean to Cup' coffee machine which grinds its own coffee beans to provide caffè latte, espresso, Americano and cappuccino. It also vends hot chocolate and hot water for tea. An ongoing loyalty card scheme gives repeat customers their ninth cup free of charge.
By introducing new product ranges, choosing the correct stock for the customer demographic and ensuring the shop's design encourages sales, Parkhouse continues to go from strength to strength.
"As this trend continues, sites offering charging for electric vehicles will become a destination, and those without charging facilities will become more unattractive," says Paul Gallagher, a consultant in JLL's alternative property team.
"It may seem like a big investment, but statistical evidence shows that electric and hybrid drivers park for longer because they want to make sure their vehicles are charged up enough to reach their next destination."
One of the main barriers for electric vehicle charging is the time it takes to 'fill up' with many opting for at-home charging ports – but the technology is evolving rapidly. Powerstar, which specialises in large power storage solutions, has developed charging technology that can fill up an electric vehicle in just 20 minutes. Still slow in comparison to filling up a petrol or diesel car, but hardly an excessive period of time – and it gives the shopper 20 minutes to browse the store and pick up a coffee, a newspaper, a bite of lunch, a snack, a treat or something for tonight's dinner.
Robert Hughes, Business Development Director at Powerstar, said: "For individual users, the main thing that's going to influence you or me is 'how do we charge it?' You can put in a home solution, a little plug-in thing at the side of the garage. The trouble is, your car doesn't stay in the garage. It's like saying 'the answer to all my petrol station problems is having a petrol pump inside my garage' – it's not as easy as that."
Installing EV charging stations is all about time, then. Short enough not to be inconvenient for drivers, but long enough to give them the chance to spend some time in store and hopefully pick up a few items.
Add services!
Being a fuel provider is the forecourt's obvious USP, but there are additional services which retailers could implement making them an essential stopping point for drivers. Features such as car-washing and tyre-filling facilities are expected, as well as the availability of special buy items like in-car essentials or wood and coal.
Greg Deacon, Independents Sales Manager at News UK, the company behind The Sun and the Times, expects more forecourts to become US-style click and collect sites in the future. He says: "You can pay for your fuel at the pump, then collect a drive-through coffee, Subway or food-to-go without leaving your car. If you can add more services, it's a great way to differentiate."
Many forecourts are becoming click and collect pick-up locations with Amazon shoppers able to collect their purchases from parcel lockers located in a number of fuelling stations. As forecourts are both accessible and secure on a round-the-clock basis, having an Amazon parcel locker can attract more drivers to the stations who may then decide to buy other items from the shop while they are there.
Photo-Me's self-service laundry units are starting to gain ground across Scotland. The units provide not one but two reasons for shoppers to visit – to put their clothes into the machine and then collect it when it's finished. It's innovation like this that may be the way forward in future. Denis McCormack's Spar store in Polbeth and Mahmood Saleem's Nisa store in Stevenston both have units installed.
Creating loyalty
New technology is another area where fuel retailers can differentiate themselves from their competitors. Jet has reported positive results from its dealer network since it launched a three-month trial of the mobile app, Waze. Waze uses adverts that draw the user's attention to a branded location pin which highlights each Jet site's exact location. If the user taps on the pin, more information is presented and they can ask the app to take them directly to the site. With over four million views in just three months, it has proven successful in raising brand awareness and driving forecourt footfall.
Dealers should want to give their customers options for how to pay for their fuel and goods. They should want to meet local consumers' needs, but also attract new customers from further afield. In response to this, many dealers have been enhancing their fuel card option for their network.
Jet's well-established JetCard targets local consumers and businesses seeking convenience and value, with no minimum usage and no deposit required. The fuel brand's best performing Scottish site has 25% of its fuel sales going through JetCard, proving how effective this kind of offer can be when taken up by local businesses.
For businesses, package deals are available for customers with larger fleets who want national coverage. Since spring 2014, Jet has also offered the Fleetone card through UK Fuels Ltd, offering special deals for customers with a network of vehicles.
The Fleetone card is already accepted at over 3,000 multi-branded fuel stations nationwide including all Jet forecourts. At the same time, Jet has expanded its card cross-acceptance across major forecourt brands, giving Jet dealers better access to millions of consumers across the country.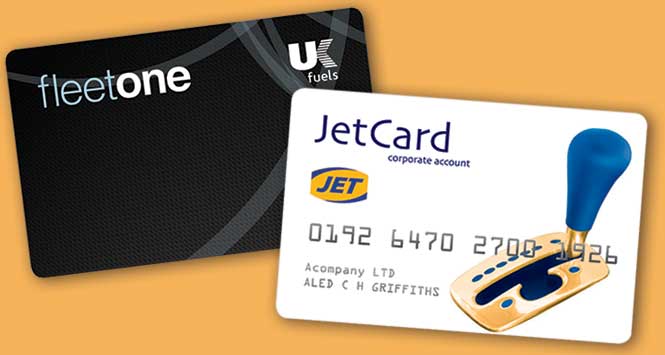 Stuart Cufflin, Transport and Retail Services Manager at Jet, comments: "Helping our dealers' businesses thrive is a fundamental part of our dealer package and we believe having two fuel card options gives our dealers better access to thousands of consumers nationally, while also keeping their local customer base happy. It's a win-win for dealers and consumers."
Forecourts are an increasingly competitive marketplace, and by using fuel as a key footfall driving element to their proposition, they can further enhance their in-store offering to ensure they become go-to locations for drivers. The forecourt has noticeably evolved from being a fuel provider with a small kiosk to a convenience store in its own right. As a drive-by location it has the potential to offer a number of services for consumers on the move, from picking up something for dinner, posting or collecting a parcel to grabbing a pick-me-up treat. To make their business more desirable, forecourts should aim to deliver in all areas, not just fuel.