The new EUTPD2 rules are set to make a huge impact on the local retailing industry, but for the burgeoning e-cigs category the new rules could present a massive new opportunity for retailers. SLR hosted a seminar in Glasgow last month to examine that opportunity in detail.
by Antony Begley
---
Why aren't retailers making more of the potentially enormous new e-cigarettes category? Lucrative new opportunities like this don't come along every day, especially with products almost tailor-made for the local retailing market, so why are so many retailers so reticent to really get behind the category?
That was the question that led SLR to host an interactive seminar for retailers last month that we hope will be the catalyst for far more of Scotland's retailers to fully embrace a category that we believe could become one of the most important in independent retailing before very long. And we're not alone. Research giants Nielsen estimate that at some point in the next 20 years e-cigarettes sales will match those of tobacco. Yes, the opportunity is potentially that big.
The event took place at Glasgow's plush 200SVS venue and saw over 40 of Scotland's top retailers gather to hear from our partners for the event, blu and Imperial Tobacco, as well as from Nielsen themselves. The seminar was the most comprehensive examination of the new category ever to take place in Scotland.
Much of the reticence of retailers to really get behind e-cigarettes is clearly down to confusion surrounding the new EUTPD2 rules which come into force this month, although the real effects of the legislation won't be felt by retailers until May 2017.
As such, the seminar was the perfect chance to clarify the rules and regulations for both e-cigarettes and traditional tobacco products – but the primary focus of the day was on examining the opportunities that the new regulations bring for retailers, and working out how to capitalise on them.
"Yes, EUTPD2 is going to bring challenges for retailers in Scotland but we firmly believe that the legislation will improve the quality of products available leading to increased consumer trust," said Marc Michelson, SVP of Communications & Public Affairs at blu, one of a delegation who came over from blu's head office in Amsterdam to attend the event.
Dates you need to know
20 May 2016
The introduction of advertising and promotion restrictions
20 Nov 2016
The production of all non-compliant stock must cease (affecting size, ingredients, consistency of dose and packaging with health warnings)
20 May 2017
The sale of non-compliant stock is no longer allowed
Dropped ball
The reality is that the local retailing trade has dropped the ball when it comes to e-cigarettes. The specialised vape shops and online retailers have been free to mop up the lion's share of the market by engaging with customers, responding to their needs and delivering what they want. Meanwhile, local retailers look on from the sidelines with most either doing nothing or bringing in low quality product ranges and merchandising them poorly – then wrongly concluding that e-cigarettes "don't really work in their store".
And I include our own Woodlands Local store in that bracket. We were very late to the e-cigs party too but did finally begin to get our act together late last year when we worked with blu to create a comprehensive range of products and formats and present them well. We chose not to use the counter-top unit but instead used a full shelf behind the till to carry a complete range covering three of the top brands: blu, E-Lites and Vivid.
On the back of that activity, which we covered extensively in SLR, we received countless calls from retailers asking for advice on how to manage the category in their own stores. Most of them admitted to finding the category baffling. They told us there were too many products, formats, strengths and brands to get their heads around. It was clear that we needed to help proactive retailers get to grips with the category – and our response was to launch last month's event.
EUTPD2 E-Cigs: Key Changes & Timeline
Under the new legislation the following rules will be in place from May 2017:
E-cigarettes will be required to have health warnings covering 30% of the pack
There will be a 10ml maximum volume for e-liquid bottles, and a 20mg/ml maximum concentration of nicotine in e-liquids
E-liquids in cartridges and single-use devices will be subject to a 2ml maximum volume
E-cigarettes that are granted a medical licence will be subject to different regulations
Despite the new legislation however, retailers will still be able to:
Continue to sell e-cigarettes and accessories
Actively display e-cigarettes and accessories and these don't need to be behind the counter
Promote e-cigarettes and accessories
Advertise in consumer and retail brochures
Put up posters in and around their stores
Have display units for products
Advertise and sell on retailer websites
All you need to know
The general concept for the seminar was to provide retailers attending the event with everything they needed to know to enable them to return to their stores and implement a full e-cigarettes range, confident that the range would cover all shopper requirements.
The day began with an in-depth explanation of the various products and formats, given by blu Vice-President of Communications Mireille van Engelen who made it clear that the future of e-cigarettes lies in the 'tank' formats: tanks that can be refilled by the customer with e-liquids. Disposables and cartridge based systems still have a role to play but the future is all about tanks, and accompanying accessories such as clearomisers and chargers which can bring regular incremental sales.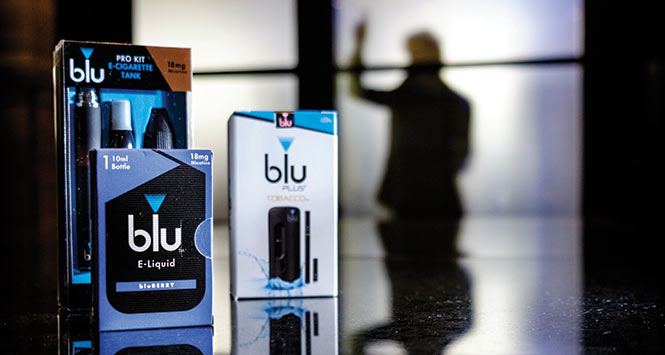 Just as intriguing for the audience was the detailed market presentation given next by Natasha Kendall, UK Tobacco & Vaping Lead at Nielsen.
Natasha's presentation went a long way to convincing all retailers in the room that the potential in e-cigarettes is big. Very, very big. Some of her key stats included the fact that the market is growing at 22% with the Scottish market alone already worth £15m. Scotland is also growing quicker than anywhere else in the UK. The vast majority of the market is now the so called 'open' tank-based systems and this is likely to continue to be the case. The fastest growing flavours of e-liquid are now non-tobacco flavours with mint (up 22%), fruit (up 110%) and sweet (up 88%) the fastest growing flavour groups. Tobacco has grown only 7%, albeit from a much bigger base.
As for the major e-cigarette brands, only two are in growth: Vivid (up 42%) and blu (up 150%). It's also clear from the Nielsen data that the growth in the category is coming from the established brands and not from NPD.
Interestingly, some 72% of those using e-cigarettes consider themselves tobacco and e-cigarette 'dualists', so will buy from both categories.
The size of the opportunity
In the last two years the e-cigarette market has increased by 22% (Nielsen)
There are now over two million adult smokers who use e-cigarettes (TNS Tracker)
The retail sales value of e-cigarettes in the UK last year was almost £158m (Nielsen)
Maximising sales
With such huge potential, the key for retailers is in optimising in-store activity to grab the biggest slice of the new pie. Let's not forget too that current margins are between 40% and 70% on e-cigarettes, the category is in strong growth and the likelihood is that many vape shops will close come May 2017. When that day comes, vapers will be looking to buy their favourite products somewhere and convenience stores are the natural first choice. The question is whether or not local retailers will be ready when that opportunity comes knocking.
In the meantime, don't forget that retailers can still sell actively display e-cigarettes and accessories anywhere in-store; they can still promote e-cigarettes and accessories anywhere in-store; and they can still advertise them in and around the store with posters, POS, merchandising units and more.
Make the most of the opportunity
Stock a strong range

2-3 of the top selling brands
Stock the three key product types – disposables, rechargeables and tank kits.
Stock refills in a variety of flavours – tobacco, menthol, blueberry,etc
Stock and actively sell accessories – clearomisers should be replaced every 2-4 weeks

Make your range visible

Use counter top displays to enable consumers to see and interact with products
Use back wall if counter space limited or for stock

Provide consumer product information to help them choose
Train staff to be able to guide shoppers to the right products and upsell
Promote slow selling lines to clear stock