With as much pressure ever on retailers thanks to ever rising costs, it could be the right time for a fresh start for your business with a new symbol partner that better meets your specific needs.
By Antony Begley
---
After the long shadow of Covid finally receded, it was never likely that our sector would emerge neatly into a new, problem-free world of easy profits. Inflation, rising energy costs, staffing challenges, the list goes on and on. Thankfully, most local retailing business are still performing well, at least on a financial level. For the most part, sales and profits may not be quite at peak Covid levels but they're also not back down to 2019 pre-Covid levels either.
New direction
So, bearing all this mind and with the world of retailing still subject to major flux and uncertainty, it's natural that many retailers may feel they've reached a crossroads and the time has come to consider a fresh start.
The lure of joining another symbol group, franchise or fascia is strong, but one word of warning: the grass isn't always greener. It might be, but it isn't necessarily so.
The UK's major symbol groups have been just as hard done by the last few years but, by and large, they have responded more than admirably. So, the first thing to ask yourself when looking at a new partner is a simple question: would my business be better, stronger and more profitable with a different symbol or franchise partner? And if so, why and how?
A partnership, by definition, involves both partners pulling their weight, working closely together and meeting the challenges and exploiting the opportunities together.
Changing symbol group is rarely the magic bullet we're all looking for, the one that fixes everything in one fell swoop. You'll have to play your part too and only by truly working hand-in-hand with your symbol group will you fully exploit the many opportunities that exist.
So it takes a very clear eye and a very frank and dispassionate analytical approach to decide whether the grass is indeed greener. The key here is to firstly identify the areas of your own business that aren't performing the way you want them to. Whether that's margins, stock levels, staffing, admin, pricing or something else. A new symbol group can't fix all of these problems for you on day one. They can help on lots of fronts, but they can't wipe the slate clean for you in an instant.
Once you've identified the weak areas, then it's time to analyse the various options on the table, trying to establish which groups are most likely to be able to help you with the weaknesses you've already identified.
Comparing symbol groups is a complex task and some would say that there is no completely reliable way to analyse how good a symbol group is until you've signed on that dotted line and actually started trading.
Talking to other retailers is a great way to learn more about the nitty gritty of what lies under the bonnet of each of the major groups but, once again, tread carefully and don't take everything you hear as indisputable fact. All you're hearing is one person's subjective view of what it's like to work with this or that symbol group. If another retailer feels like they had a bad time with a particular group, that doesn't mean you will too.
But, after all that, if you are still keen to test the waters, we have produced a brief guide to some of the leading symbol groups in Scotland and across the UK.
There are some very clear differences between the groups but the key is not to judge a symbol group on just one or two factors like delivery charges, promotional pricing or claimed availability levels. Try to judge each group in the round, and try to establish what each group could bring to your specific store with your particular customer base.
Busy year
It has been another busy year for the symbol groups. Recruitment activity is as aggressive as it's ever been, and more and more groups are targeting Scotland.
If you are looking to change group, you'll have a long line of suitors at your door but be prepared for some tough conversations, even from groups desperate to grow in Scotland.
In recent years all of the main groups have become more selective about who they work with. They are looking for retailers to play a very active role in the partnership whether that means running bigger promotional cycles, investing in store upgrades or refits, higher levels of range compliance or any number of other commitments that your new group will expect you to honour if you want their full support.
That makes commercial sense for them, and it makes common sense too. Why would they want to commit resource to a store that they don't believe is keeping up its end of the bargain? At the end of the day, the groups rely entirely on stores as the public face of the business, so wanting to drive standards up is something that all parties should welcome.
In return for the enormous support that symbol groups can offer local retailers, they will be looking for commitment and drive from their retail partners. There are very few quick wins in this game and only be forging a strong, positive partnership with your symbol group can you maximise your returns over the longer term.
So have a look through the guide and start lining your ducks up – and, of course, never forget the old adage: it takes two to tango.
---
Cut costs and boost profits with Premier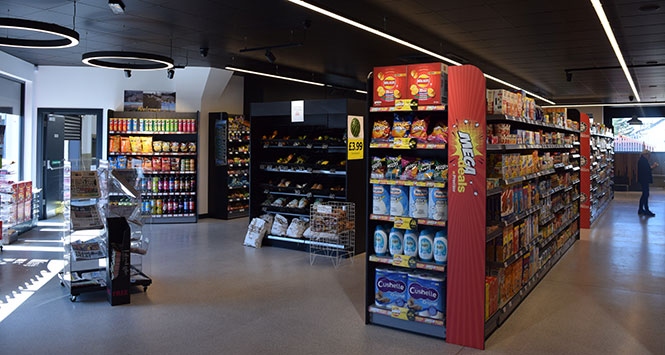 Premier is the UK's largest symbol group with over 4,250 stores across the UK, with over 500 of these in Scotland making it the biggest symbol operator in Scotland. Backed by Booker, the UK's leading food & drink wholesaler, Scottish Premier retailers benefit from group exclusives with delivery at cash & carry prices and the convenience to top up at any of our 23 branches in Scotland, to maximise availability.
Premier retailers benefit from a fantastic promotional programme covering all categories which is backed up by a comprehensive EDLP programme. The Premier promotion programme is designed to drive footfall and increase cash profit with our Mega Deals giving PORs of over 15% and most of our core deals offering at least 25% POR. Our dedicated Scottish promotions each period also offer a real point of difference from the competition.
Premier is committed to helping Scottish retailers reduce costs and to supporting both retailers & shoppers alike. Key initiatives include:
Reducing energy consumption with efficient LED lighting, Beer Caves and refrigeration units
Extending our Spend & Save scheme to include Vape products, earning retailers up to 5% rebate
Linking up with Healthy Scotland to support communities and children across Scotland
Food donation points in stores via Fareshare
Scottish retailers have access to over 600 own-brand products through the Jack's and Euro Shopper brands. Euro Shopper is our entry-level value range and Jack's, part of the Tesco Family, is our mid-tier range. Both exclusive ranges come in price-marked packs and give retailers a minimum of 30% POR*.
Premier's store development teams will design and implement our latest-thinking stores, including Beer Caves, Refresh Zones and local Scottish bakery link-ups, whilst ensuring stores are as energy efficient and sustainable as possible.
Some Scottish stores who have invested over £200k have seen this pay back within 12 months and the launch of our new Small Store format means that now any Scottish stores from 300sq ft+ can benefit from the Premier model.
* Excluding some produce & chilled lines
---
SPAR Scotland continues to deliver success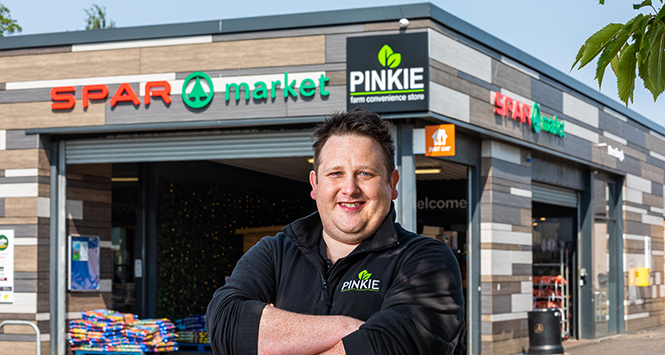 We hold a deep sense of pride in being an independent family-run business. The SPAR brand is a strong convenience brand and, as a leading symbol group, we are in a great position to support our mix of independent forecourt and convenience retailers.
We continue to raise the convenience bar and the recent onboarding of high performing retailers such as the David Sands Group is testimony that we have made huge strides forward.
This is how we are committed to provide our SPAR retailers with first class support and further develop independent retailer convenience and forecourt businesses all over the country:
Our dedicated team of six Business Development Managers (BDMs) cover all of Scotland
We provide up to three multi-temp deliveries per week, with no delivery charges
Joint business reviews are available with a dedicated BDM
We offer a start-to-finish recruitment support package, with refit assistance, store design and merchandising support at no cost
Store layouts are based on a demographic survey of the area with a tailored range to match
SPAR retailers get a range of local and national promotions supported with TV advertising and various sponsorships
SPAR retailers have access to our 900 exclusive award-winning SPAR own-label range of products
We work in partnership with Scottish suppliers – over 50% of the products on Scottish SPAR store shelves come from Scotland, which means great availability
Stores have access to a full fresh offer, with BDM guidance and merchandising support
Our depot in Dundee is fully supported with a great team who are there for SPAR retailers
Join SPAR Scotland today – we are your symbol of choice.
---
Bestway Retail helps 'make more possible'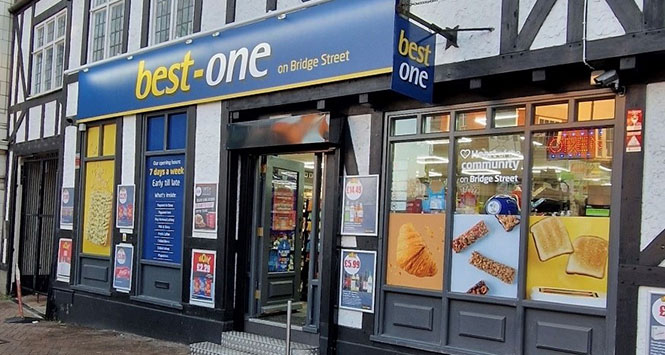 Independent retailers continue to keep customers topped up with the everyday essentials they need. This vital support has certainly earned the goodwill of local communities, turning 'lifeline' customers into 'lifetime' ones.
But 2023 arrived with its own set of challenges to contend with. Soaring costs, such as energy and fuel, as well as the highest rate of inflation seen in three decades, means that independent retailers have a rocky road ahead of them.
Now is the time for independents to seriously consider joining a symbol group so that they can get the support they need to not only survive but thrive.
A supportive symbol group, like Bestway Retail, can give entrepreneurial retailers the best benefits in the market across a portfolio of symbols and fascias. We help our retailers 'make more possible' at a time of economic uncertainty and inflationary pressure.
With over 45 years of experience in the sector, we know what matters most to retailers and have the market insight necessary to help retailers grow their business.
We know that one size does not fit all, and in today's marketplace, personalisation is as important to retailers as it is to their customers. Whether a Bargain Booze, a Best-one, a Costcutter, or a Bargain Booze within a Costcutter symbol or franchise offer, Bestway Retail has dedicated significant investment to ensure that retailers have the best choice of brands and best-in-class service support, product range, and rebates.
Bestway's promise to its retailers includes tapping into years of industry knowledge, a lifetime of retail experience, and access to exceptional talent and market-leading innovation.
Retailers also have access to the nation's largest independent cash & carry network, where we offer industry-leading promotions.
Anand Cheema, a Falkirk retailer who recently joined Costcutter, said that: "Being able to spend at cash & carry has helped me strengthen my retail prices, which allows me to compete with local convenience stores and multiples as well.
"The benefits I get from Bestway's cash & carry access are fantastic. For example, spending at my local cash & carry counts towards my Costcutter rebate payment, helping me earn more. All of my spend is amalgamated into one, making it easy to track my cash flow, and if I can't get something through delivered wholesale, I can from cash & carry.
"Bestway's cash and carry offer adds about 4-5% profit to my bottom line, and it's just one of the many reasons why I've decided to join Bestway Retail under the Costcutter symbol."
So whether you're a retailer in a large community store, a valued resource in a rural location, or in a high footfall urban location, we have the right offer to meet your needs thanks to our commitment to flexibility, individualism, and our deep-rooted understanding of the industry.
To put it simply, whatever your store and whoever your shopper, Bestway Retail has the right offer.
---
Nisa: building on Scottish success stories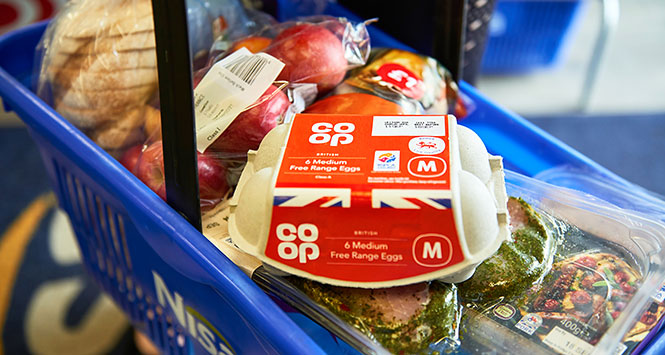 Nisa is aiming to build on the success of some of its retailers in Scotland over the next year with progressive recruitment targets in place.
Nisa retailers such as Greens Retail, PGNJ, The Trinity Partnership and many others lead the way on the Scottish independent retail scene with plans to further expand store numbers heading into 2024.
With Nisa, retailers have the choice to operate under various symbol fascias: Nisa Local, Nisa Express, Nisa Extra or Dual-Branded, whereby a Nisa partner can maintain their own local identity while also benefiting from the strength of the Nisa brand. Retailers also have the choice to trade under their own independent fascia.
Nisa understands what matters to its retailers, and its format propositions are tailored to meet a variety of needs.
Demand for value has never been higher and consumers are comparing prices at the shelf, dining out less and brand loyalty is in decline. In order to help retailers mitigate the impact, Nisa recently announced price adjustments into numerous categories. This followed a multi-million-pound investment into the wholesale price (WSP) of more than one thousand branded products.
The two investments came after Nisa made a multi-million-pound price investment – announced in 2022 – which saw more than 1,000 price reductions for Nisa retailers, including 330 'core essentials' Co-op lines, designed to offer value to shoppers as well as good margins for independent retailers.
Nisa brings fresh thinking to the forefront to help retailers grow their businesses. Understanding the ambitious entrepreneurial spirit of Nisa customers and the need to stand out to compete sets the Nisa proposition apart. Nisa provides fresh thinking to ensure retailers can create the best customer offer in their local area.
With 2,400 Co-op products across all categories, Nisa customers have access to a UK brand that drives footfall into our partners' stores and shoppers recognise and trust.
The Co-op range includes great quality core convenience essentials including 100% British meat and free-range eggs along with a premium 'Co-op Irresistible' brand that includes award-winning pizzas and wines; a free-from range; and the new GRO vegan range.
In 2022, Nisa developed a full Nisa EPoS solution, which is available along with access to its online platform. The solution offers a multitude of services including ordering, deals, presells, planograms, in-store POS generation, plus full order, delivery and invoice tracking.
With a target of opening 400 new outlets across the UK – more than 30 of them in Scotland – in 2023, Nisa's Head of Retail Victoria Lockie said Nisa was ahead of its expectations.
The expansion involves recruiting single and multi-site retailers to the symbol, as well as helping them to open new sites.
Victoria added: "We're in Scotland to stay and we're proud of our retailers here. Our relationships and mutual respect are the most important things."