The transformation of Spar Scotland over the last few years continues apace with a record-breaking trade show, a major acquisition and significant profit growth.
By Antony Begley
---
Despite the state of permanent flux that is making life for the local retailing trade as challenging as ever, Spar Scotland has continued its remarkable transformation under CEO Colin McLean and his refreshed senior management team.
CJ Lang recently hosted is annual Spar Tradeshow and Conference in Aviemore, hailing it – probably correctly – as the biggest retail event in Scotland, with over 870 delegates and over 200 suppliers in attendance.
Thanks to a monumental effort by Marketing Manager Paula Middleton and her team, Spar Scotland managed to raise the bar once again and delivered what was an extremely impressive event.
The conference provided the ideal stage for McLean and his fellow directors to provide business updates to independent Spar retailers, suppliers and CJ Lang colleagues, unveiling the latest news and sharing insight into the improving financial performance of the business.
McLean had hoped to unveil the acquisition of Jack, Rita and Shaun Marwaha's ScotFresh chain of stores at the event, but circumstances conspired against him and that announcement had to be put on hold for a week [see panel]. But he did take the opportunity to confirm that Spar Scotland would be ditching Costa Express in favour of Barista Bar, the premium coffee brand created by Spar Northern Ireland wholesaler Henderson Foodservice.
The deal gives Spar Scotland retailers – independent and company-owned – exclusive access to the brand in Scotland and offers the opportunity for Spar stores to establish a new USP, as well as offer a more competitive price point and increase margins. Barista Bar is the number one coffee brand in Northern Ireland, and by some margin, and sells over 12 million cups a year in the UK.
Spar drops Costa for Barista Bar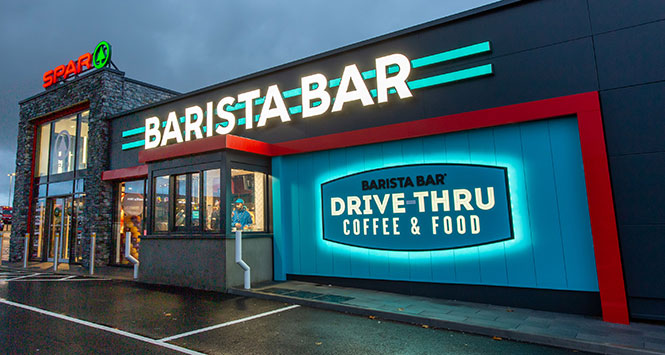 Spar Scotland announced at its conference in Aviemore that it is dropping Costa Express in favour of Barista Bar, the premium coffee brand developed by Spar Northern Ireland wholesaler Henderson Foodservice.
The £2.5m distribution deal give Spar Scotland exclusive access to the Barista Bar brand in Scotland. The brand, which is the best-selling coffee brand in Northern Ireland, will be introduced into all 104 of CJ Lang's company-owned Spar stores in Scotland, most by the end of the year, and is also available to independent Spar retailers.
Installations have already begun with Dan Brown's Pinkie Farm store in Musselburgh the first to benefit back in August. The store has since experienced a growth in sales of over 100%.
Barista Bar is now available via 730 machines across the UK selling over 12 million cups a year.
Spar Scotland CEO Colin McClean commented: "This exclusive brand franchise agreement is a great commercial proposition for not only our Scottish Spar independent retailers and our company-owned estate but for all convenience and petrol forecourt stores in Scotland."
Right direction
McLean opened the conference with presentations to Spar Scotland's supplier base and then to Spar independent retailers, bringing them up to speed on the latest developments in his charge to 'reawaken the sleeping giant'.
McLean hailed great progress in the company's journey to become "Scotland's favourite community, convenience wholesaler and retailer" by 2025, celebrating the company's success at this year's SLR Awards where Spar Scotland was named Symbol Group of the Year.
He acknowledged the continuation over the last 12 months of the company's ambitious store refurbishment programme, the biggest investment into the company-owned store estate ever, and discussed how the company continues to roll out improvements including digital screens, electronic shelf edge labels, stock trolleys, sales-based ordering and energy-saving refrigeration in company-owned stores as well as continuing to develop its CJ's food-to-go offer.
But McLean also highlighted how Spar independent retailers have also been supported with their own individual store refits, including the four David Sands Group stores that were announced at conference last year.
Unsurprisingly, he also found time to flag up Spar's first-to-market successes over the last year with smash hits like Prime Hydration and Mr Beast Feastables, and confirmed that Spar Scotland has renewed its partnership with the Scottish Football Association for a further four years until 2027.
CJ Lang acquires Scotfresh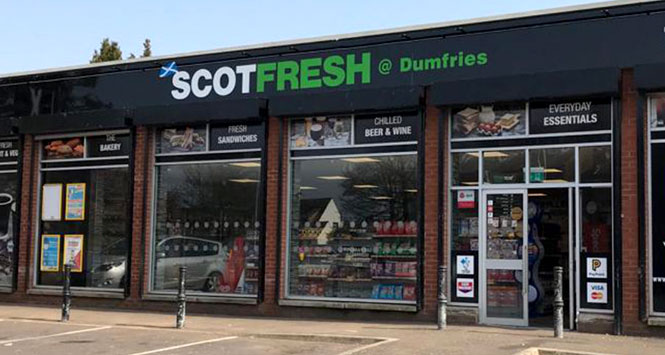 As announced exclusively by SLR, CJ Lang has acquired Glasgow-based convenience chain ScotFresh Group.
The award-winning group of independent stores, founded by Jack and Rita Marwaha in 1983, has nine stores in Glasgow's west end, Riddrie, Cardonald, Scotstoun and Denny as well as Irvine, Carluke and Dumfries. All nine stores and 130 colleagues will move over to be supported by CJ Lang & Son and will ultimately be moved under the Spar Scotland fascia.
Spar Scotland CEO Colin McLean said: "ScotFresh has an excellent reputation in the industry and is a well-recognised brand with significant customer loyalty and strong relationships with suppliers. For now, the stores will remain branded as ScotFresh and we will run the operation as a separate business unit within our own business so we can share best practice. We look forward to welcoming the ScotFresh management team and all store colleagues into the CJ Lang family."
ScotFresh Chairman Shaun Marwaha added: "It is important to us that we sold to a business who understands customer service, knows their customers and delivers great service. CJ Lang is a fantastic Scottish family business, and we know the ScotFresh stores and colleagues are in great hands.
"I would like to offer a huge thank you to all staff and colleagues who have worked with us over the years. Your support has been invaluable, and I very much hope you are looking forward to this new and exciting chapter."
Remarkable year
"We've had another remarkable year, but we would not be where we are without the support of our loyal customers, retailers, suppliers and most importantly our colleagues," said McLean.  "We made a bold statement with our fresh approach, but it is working and today our business is in a great place, and we are excited about the future.
"CJ Lang is a Scottish-based company with a strong family background, working in partnership with community-focused independent retailers and stores. Spar is a strong convenience brand, and we are committed to the future growth and development of our business, increasing sales and profitability across our estate.
"With record levels of financial investment signed off once again, together with our latest ScotFresh store acquisition, our Spar Scotland momentum continues to gather pace and our business is off to a very strong start in the new financial year."
Spar Scotland will return to the MacDonald Hotel and Resort in the heart of Aviemore and the Cairngorms National Park in 2024 and will hold its annual tradeshow and conference there on 26 September.
Profits up 10.3%
CEO Colin McLean offered attendees at the Spar Scotland conference a sneak preview of the company's annual accounts, reporting another annual increase in underlying profit as CJ Lang continues to deliver its strategy for profitable growth.
Pre-tax profits to 30 April 2023 were up 10.3% to £3.7m and net turnover was up 4.2% to £221.3m. This was the company's fifth consecutive year of growth in underlying profitability since the development of its five-pillar, customer-facing business strategy.