The in-home coffee market offers an array of hot opportunities for local stores to profit from.
By Gaelle Walker
---
Shoppers are back on the go-go-go again, with coffee shop footfall on the up and local retailers with in-store coffee to go solutions also reporting strong sales as shoppers reclaim the streets.
However, despite the buoyant coffee to go market, the in-home market still represents a steaming hot opportunity for local stores, with many shoppers now engaged in hybrid work from home situations.
Many of those shoppers have developed a taste for more indulgent in-home solutions as they seek to replicate 'coffee shop' experiences from their comfort of their kitchens –  searching for quality brands that offer elevated experiences in the process.
In particular, products that give shoppers new and more advanced ways to personalise their in-home coffee experiences are driving growth within the category – products such as Jacobs Douwe Egbert's (JDE).
Kenco Iced/Hot Lattes can be served iced or hot and come in an array of flavours, for example.
JDE has also been busy innovating its L'OR brand with a new premium and unique proposition for in-home indulgence: L'OR Artiste – a high-quality instant coffee with thick crema and microground coffee.
The two new variants, which are available to local retailers now, include Vigoroso, with notes of cooked caramel and cocoa, and Delicato with a subtle almond and cookie-like aroma.
Commenting on the developments, JDE Marketing Director Roberto de Felice says: "This marks a significant year for L'OR as we continue to create quality product experiences to support our retail partners as the coffee market continues to grow and remain relevant to consumers.
"Best quality coffee, indulgence and, of course, sustainability, are all at the forefront of consumers' minds when it comes to the brands they choose to purchase in store."
Flavour saviours
Flavours also continue to play a key role, especially within the speciality coffee segment, as Jacobs Douwe Egbert (JDE) explains.
"The top three flavours amongst consumers are caramel, vanilla and gingerbread with 43.9% of coffee drinkers deciding caramel was their favourite coffee flavour," JDE Category Team Leader Melvir Singh Nijjar says.
Climate-conscious coffee
JDE's L'OR brand has introduced new recyclable packaging across its Tin and Jar ranges.
In a move which takes L'OR away from its legacy 'lipstick' jar, JDE has introducing refreshed packaging with a new recyclable glass jar.
The optimised range is now fully recyclable through household waste collection in the UK as a result of removing black plastic and offering a more premium and sustainable jar, with a 6% carbon footprint reduction.
The range includes three variants in two different sizes: L'OR Classique, an aromatic coffee with smooth, round notes; L'OR Intense, a deep roasted flavour with a hint of zest, and L'OR Decafeine, a delicately balanced, yet intriguingly aromatic flavour.
New product alert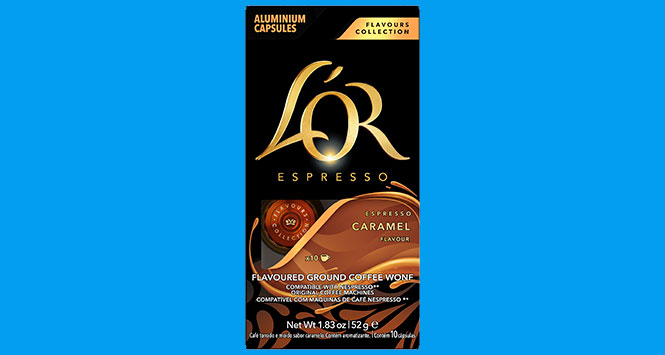 What's new?
JDE has launched new L'OR Flavours Collection Aluminium Capsules
What's the deal?
The new L'OR Flavours Collection consists of a range of rich espresso with a hint of natural flavour packed into aluminium capsules that are compatible with Nespresso Original Machines.
Thy are available in three indulgent flavours, L'OR Chocolate, L'OR Caramel and L'OR Vanilla, to offer shoppers "indulgent pleasure at home".
What's the format?
Each pack of 10 capsules features an RSP of £3.59.