A massive refit has transformed Nisa Giacopazzi's in Milnathort into a bright, open and attractive space, with sustainability at its heart. And ice cream. We took a visit to find out if the work is paying off.
by Kevin Scott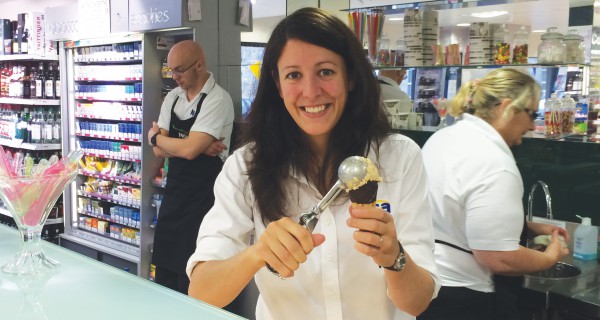 For generations the Giacopazzi family has run a shop in Milnathort. When current Managing Director Joanna Casonato's great-grandfather started making ice cream he couldn't have envisioned the slick, modern, environmentally sound convenience store that would carry his name a century down the line.
The work carried out this spring in the store had created an exceptional shopping space – bright, welcoming and able to deliver on a number of shopping missions, including a special one for ice cream: the shop still makes its own in a site next to the shop, with customers happy to queue in line for their fill – especially on a Sunday.
The shop has always had a good, steady trade, but Joanna began to assess whether the time was right for an investment.
"It must have been a year from when we first started discussing it to when we did the work," she says. "We wanted to make sure it was exactly how we wanted it to be."
The new layout was planned by Joanna with Nisa's knowledge and guidance and the symbol group's presence in the store has increased. One of the first things to notice is the joint Nisa / Giacopazzi branding above the door, marking a major change for the store. "It made sense to us," says Joanna. "We've been Nisa members a long time and the customers know Nisa supplies us, but we wanted to maintain our family name for the ice cream side of the business."
Before work commenced Joanna used deep analysis of EPoS data to allocate space to each category. "We could have winged it on instinct but we wanted to be as close to 100% perfect as we could be. It was about making the most of the categories that were working and saving the ones that weren't."
For example, wine is a key sales driver in the store, well ahead of beer and yet space allocation didn't reflect this, so in the refit both categories were moved. The result was an 11% increase in wine sales in the first month, year on year, and +15% on beer and cider. "We'd hoped to maintain beer and cider sales so to grow them is great," says Joanna.
The work began in spring, in order to be completed before the Easter holidays. It took three long weeks and yet remarkably the shop never closed for a minute longer than normal. Even more remarkably, sales remained steady. "We'd heard that losing 20% was a good result which made me nervous, but in the first week we actually went up," says Joanna. "I think customers wanted to show their loyalty to us."
To minimise disruption, in the first night the old tills were removed, new counters installed and up and running for the next morning. The chillers were the last piece of the puzzle after a long delay. "Joiners worked through the night doing the things they couldn't do when customers were in the shop, and we spent all day moving stock around", explains Joanna.
Between them, Joanna and husband Franck were covering 20 hours in the shop. "No matter what was going on we wanted the shop to still look as good as it could."
---
---
Looking good
While there may have been some disruption during the refit, the shop looks fantastic now. As well it should – this was a substantial six-figure renovation replacing everything except the floor. New ceilings, lighting, chillers, shelving, along with a new till-point area that includes a new hot hold and extended line of sweet and savoury baked goods from local supplier Stuart's of Buckhaven.
Wandering around the store, the feeling is one of openness that encourages browsing. Vinyls on the walls provide some personality, and the range of goods encourages high basket spend.
"We put in the vinyl murals and mirrors to make it look more like an ice cream parlour," says Joanna, with everything down to even the colour of the walls agonised over. "We've more space now too because the shelves take up slightly less space. We've got the advantage of being nearly 3,000 sq ft and being more open plan."
Given the store's unusual, inverted F shape floorplan (thanks to structural walls), it is divided into four areas – a chilled and impulse section at the front, a grocery and off-trade section at the back, a household area to the rear of the store – where customers only need to shop if necessary and a huge, open plan till area complete with that food to go counter and, of course, a hugely attractive ice cream unit.
Moving the beer and wine to the back of the store was a risk, but one Joanna felt worth taking: "We open at 5am, so that's five hours where we're not selling alcohol. That's dead space for a huge part of the day."
The off-trade section is certainly concentrated on wine, with a huge wall housing wines that range from £4.49 to £27.99. As well as buying promotional stock from Nisa, the store works with five other wine suppliers – and hosts around six wines tastings a year in conjunction with them.
Moving to that other major USP in the store, shifting the ice cream unit from the window to the centre of the long till-area was another carefully planned move. "It was at the window but when customers came in they'd move to the till then go down and browse which was a nightmare when we were busy", explains Joanna. "Now it's much more accessible. It's so important to watch shoppers, how they move through the store, and speak to them. We could tell what customers liked and didn't like, such as our queuing system, so we addressed that in the refit."
Joanna and Franck travelled to Ireland on a fact finding mission "as they "have great food to go over there," and returned with a number of ideas.
The result is a serve-over and hot food area adjoining the ice cream unit, creating a captivating display.
Going green
Joanna is clearly passionate about sustainability. The shop has had solar PVs for a number of years and so for the refit, the environment was high on the agenda. Highly efficient multi-pack system closed-door chillers and freezers came in, requiring just three remote compressors for the full run, while microlights allowed for a better lit store with less bulbs. "It's a big investment but when you see the savings it's a no brainer."
To illustrate, the first month after the refit energy bills were -33% compared to the same period the year before. By August that had risen to -47%, and Joanna expects that to increase further as winter draws in and the chillers don't have to work so hard.
Over the course of six months Joanna estimates the store has made energy savings of around £2,500. It may be a large store, but this highlights the benefits that any store could have from spending that bit more on the most sustainable equipment when upgrading.
Since the reopening – which saw a hugely popular open day – sales have been steadily improving, with some areas seeing huge uplifts – with cakes +74% and the improved serve-over counter +51%.
Joanna says: "Month one was good and there are still tweaks to be done, but with the summer we've had we're really happy with where we are."