With the full refit of our Woodlands Local store almost complete, we are now ready to implement our mission shopping layout for the first time.
The refit of the store was conceived with this mission shopping strategy at its heart, moving a number of fixtures and categories around the store in order to create five distinct areas within the store:
Lunchtime
Meal for Tonight
Hot Food
Breakfast
Big Night In
As SLR went to press we were still waiting on approval from Falkirk Licensing Board that will allow us to swap the fresh and chilled fixture with the BWS fixture. This would move the alcohol to the back of the store and the fresh and chilled right to the front.
Once that's completed, we can then finish off the mission shopping driven layout by bringing a number of relevant categories together onto the same or adjacent fixtures, based on the specific shopping missions above. The plan is to make it as easy as possible for shoppers to fill their baskets while on the most popular shopping missions with a minimum of effort, while hopefully boosting impulse spend at the same time.
How will it work in practice?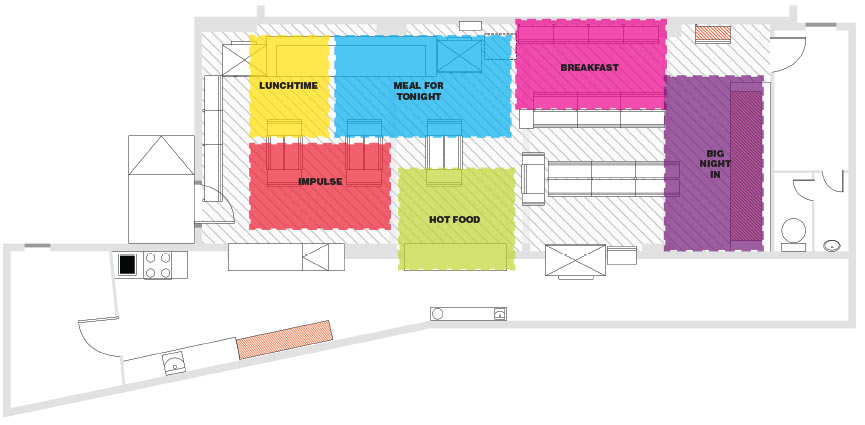 Impulse
While the new mission shopping zones are vital to the strategy for the future of the store, we still anticipate a significant part of the store's income coming from impulse, unplanned purchases. The key impulse area is situated at the front of the store in the highest traffic areas and by the tillpoint, the only part of the store every customer has to visit during their trip. This area is dedicated primarily to traditional impulse categories: confectionery, gum, crisps, children's confectionery and soft drinks. These lines will remain key to our plans.
Lunchtime
The lunchtime fixture will bring together a collection of products – chilled and ambient – to give shoppers as many lunch choices as possible. We want to keep our many regular customers them interested and engaged by offering a wide range of instant consumption or easy to prepare lunch options including; sandwiches, yoghurts, dips, snacks, pies and savoury slices, crisps, Pot Noodles and so on. The fixture will also include soft drinks and a selection of healthier products including; fruit juices and fresh fruit pots, smoothies, dried fruit and nuts.
Meal For Tonight
With the introduction of a range of fresh meat for the first time – beef, mince and chicken – Woodlands Local is now able to offer entire meal solutions. The Meal For Tonight zone in the store puts everything shoppers need to make the most popular meals within easy reach: meat, pasta, rice, cooking sauces, accompaniments and more. This should help drive basket spend and give our shoppers even more reason to visit Woodlands Local, providing them with everything they need to create full meals at home.
Hot Food
Already a popular footfall driver in the store, the new Hot Food zone incorporates an adjacent ambient aisle end, which features sweet treats, to tempt shoppers such as doughnuts, pastries, cakes and biscuits. We source our product from local butchers Patricks, and from Cuisine de France, as well as making a daily special from scratch each day in the store. The hot food is extremely popular with our regular customers, particularly the staff from the hospital across the road. We're hoping to drive up basket spend by encouraging them to add a sweet treat too.
Breakfast
At Woodlands we sell hundreds of fresh morning rolls every week and we are using this as a lever to create a new Breakfast mission zone. The rolls will act as the 'beacon' product, bringing footfall to this zone in the store. We will use this to drive associated sales in categories such as bread, tea, coffee and spreads which are all being added into the section. We are also introducing a brand new packaged cakes range which we are confident will prove popular with our sweet-toothed customers. Home baking will also sit alongside.
Big Night In
The Big Night In zone will incorporate the chilled and ambient alcohol section, as well as two separate facing ambient fixtures offering a range of sharing pack crisps, snacks, confectionery and treats designed to drive up basket spend and push impulse purchases for those buying beers, wines or ciders. The alcohol section will now be slightly smaller than before but roughly 80% of it will now be chilled which should help us increase sales of a wider range of chilled white, rose and sparkling wines.