There's a buzz back at Woodlands Local again as the team is back to full strength and an array of exciting opportunities and hard work lie ahead.
by Antony Begley
---
For the first time in what feels like a very long time, there's a buzz back again at Woodlands Local as we finally find ourselves in a position to stop fighting fires and start doing some more creative, innovative work in the store.
Our staffing problems are – touch wood – finally at an end after a seemingly never-ending stream of issues. We recruited the final member of the team last month and are now satisfied that we have a strong team in place to allow us to turn our attentions to building growth over the next year.
We have seen some more encouraging signs too in the financial performance of the store as monthly sales continue to grow, albeit slowly.
Re-lay? What re-lay?
More frustratingly however, we have still been unable to implement the full re-lay of the entire store that we have now been planning for over two months, partly down to the fact that we have as yet been unable to confirm where the land lies in terms of our chilled, fresh and frozen deliveries which came to an abrupt halt when P&H went belly up and Costcutter was left out on a limb.
So far we have been making do with regular trips to the local Booker, supplemented with daily milk deliveries from Graham's Dairies, who agreed to match the previous pricing structure we had through Costcutter for its own label Independent milk. We also get our bread direct from Allied Bakeries which has helped minimise disruption. As SLR was going to press, however, it has emerged that Costcutter now has an interim deal in place with Nisa to supply its stores until the Co-op is in position to take over completely – but that interim solution comes with some strings.
Nisa's minimum drop counts on chilled and frozen are very high for a store the size of ours and it's questionable whether we would be able to hit those minimum drop quantities every week of the year, particularly as we source two of the highest volume fresh and chilled lines – bread and milk – direct from the manufacturers.
It appears that if we aren't prepared to commit to those minimum drop quantities we will have no alternative but to find another chilled, fresh and frozen supplier, or possibly three different new suppliers. Now you can see why building an entirely new range for every category in the store from the ground up has hit a snag or two.
But at least we know where we stand now so we can consider our options and choose the one(s) we feel is right for the store, then the re-lay can kick in.
JW Filshill, our key wholesale partner, has already kindly agreed to supply some manpower for the re-merchandising to allow us to get the whole store re-worked in a day or two, something we greatly appreciate.
Gin palace
Buoyed by some small successes in introducing a few more craft gins to our range of spirits in the store, we've slowly continued building the range by adding a couple of new lines every so often.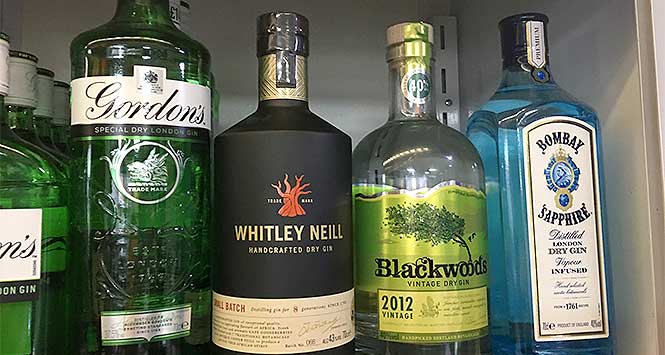 We've been promoting the range on our Facebook page and have started to see more and more interest from customers, particularly as we've tried to focus on gins not easily available elsewhere in Falkirk.
The lines don't sell in huge volume but are profitable when they do, especially as most sales include some premium mixers, maybe some ice cubes and often some other drinks and snacks.
It's another small point of difference to give customers reasons to come to the store.
Rewards Club II
We have also decided in the last few weeks that the time has come for us to consider the relaunch of our Woodlands Local Rewards Club. With the staffing issues under control and the store approaching an even keel, we feel that it's time we had another go at doing the Rewards Club with our partners Velocity Worldwide.
We learned a lot from using their Darius for Retail software solution the last time we ran the Rewards Club and we feel that experience will be invaluable in our second attempt. The last attempt failed principally because of our own failings in the shop. The system is frankly excellent but our execution in-store was, frankly, very poor. This was again down to major staffing issues but we are in a better place now and we believe we can make the Woodlands Rewards Club better than ever and a cornerstone of our business.
We genuinely believe strongly that personalised customer engagement is the future of convenience retailing – so we need to have the courage of our convictions by putting it in place in our own little store. And if we can make it work, then goodness knows anyone can.
I know that Blantyre retailer Mo Razzaq has been having some great successes with a version of the Club in his Family Shopper and it's really encouraging to see retailers embracing new ways forward. A wee trip out to Blantyre for a spot of fact-finding might be in order sometime soon…
Since we last ran the Rewards Club, Velocity have been busy improving Darius for Retail too including a brilliant new feature which adds a special QR page into the 'wallet' folder on members' smartphones – the same wallet where boarding passes for flights and Apple/Android Pay credit card details are held. That means customers don't need to rely on their physical key fob to use in-store, they can simply use their phones to access Rewards meaning the Rewards Club will be easier than ever to join and use.
New partners
Another new initiative is the re-launch of our category Partners Programme in Woodlands Local where we are working with individual category captains to work with us on the key categories in-store. We already have agreements in place with Wrigley (gum and sugar confectionery) and Diageo (spirits), and are confident that we'll be able to confirm more soon.
This is an exciting development as it allows us to work with these partners to both ensure we're getting all the basics right in-store, but also to trial a whole array of interesting and creative solutions to try to drive up footfall, sales and profits. And, as always, we will share all our learnings with you through the pages of SLR.
Price optimisation project
We have recently agreed to take part in an innovative price optimisation project with our EPoS partner at the store, The Retail Data Partnership (TRDP). The project basically involves us along with a number of other stores that fall into roughly the same demographic bracket, allowing TRDP to tweak the price of a number of high volume lines on a weekly basis then taking the learnings from each participating store to gradually settle on the optimum price for each product.
As yet we are unable to share the details but we should be in a position to do so next month. It's a genuinely innovative piece of work and could reveal some very interesting stats around price elasticity while hopefully also improving cash profits.
Cash crisis
When is a cash machine not a cash machine? When it won't pay out cash is the answer we keep finding at Woodlands Local. Either that or it simply swallows the customer's card. Despite literally countless incidences of our Cashzone ATM failing to pay out money or simply swallowing cards and despite many calls to Cashzone, we are still no closer to a resolution – and it's causing us all sorts of grief in-store, as you can imagine.
The problem has gotten so bad we have a log pinned up on the shop wall where our staff write down every incident they encounter where cards are declined or swallowed.
Our staff have been verbally abused and threatened by customers angry when the machine doesn't function as it should and it may only be a matter of time before something even worse happens.
And this after the whole internal ATM unit was replaced in the run up to Christmas to resolve the problem. The engineer assured us that "they know what the problem is and the new unit will fix it completely". He even went to the bother of showing us the old 'brain' of the machine alongside its new much smaller and more modern version.
Needless to say, it wasn't 24 hours later before the machine began to play up, refusing to pay out cash to customers with money in their accounts and causing untold stress to both the irate customer and, occasionally, the unfortunate member of staff who had to deal with them.
To be fair, the new machine swallows cards far less frequently – but it still does it. This is materially affecting our business but Cashzone seem peculiarly unwilling to do anything about it.
When we called Cashzone and told them what the engineer has promised us, we were informed that "the engineer has no authority to make statement like that."
That's fair enough, but the fact remains that he was in our store representing Cashzone and he did indeed make those statements, so who are we to believe?
We're not ones for naming and shaming – but it's time you took customer care a little more seriously Cashzone…