The next year will bring with it challenges and opportunities for the convenience sector. Much like every other year then. This spring will see a Scottish election, and a change of Government could see a huge change in policy over many issues that influence convenience. We've also got new alcohol legislation coming up, while April's EUTPD legislation will forever change the tobacco and e-cigs categories.
It is a year of opportunity too though, with the Euro 2016 football and the Rio Olympics providing huge profit potential. There is also the continued drive for progress, with in-store concessions likely to grow in 2016, along with food to go, fresh and coffee to go.
In fact, with the oft quoted 'little and often' trend prevailing and the supermarkets concentrating their efforts on fending off the growth of the discounters, 2016 could be a momentous year for the Scottish local retailer. That's why we asked a cross-section of key figures in the convenience sector to give us their thoughts on what they think matters.
---
Pete Cheema
Chief Executive, SGF
2016 will be another big political year in Scotland. Whoever wins the Holyrood election will have to grapple with the new powers coming to Scotland, particularly around taxes, and will be preoccupied with finding a way of balancing the Scottish budget while providing quality services. As a result, we might not see a lot of legislation coming our way next year.
What we do know, of course, is that there will be new regulations on e-cigarettes which will age-restrict and make Challenge 25 mandatory for these products. There will also be other big changes in the tobacco market thanks to the EUTPD – start to think about saying hello to plain packs and goodbye to packs of ten!
There will undoubtedly be challenges in other areas, such as calls for a tax on sugar, which will continue to be a hot topic. The big challenges (and opportunities) for retailers will be to find the right footfall drivers for their store and exploit these to the max.
Gerry Begley
Woodlands Local
With only a couple of years in this retail game under my belt, I'm not entirely sure what to expect from next year – but what I can be 100% sure of is the fact that it's unlikely to get any easier for us retailers.
No matter where you looks there are massive challenges coming down the track for local retailers whether it's tobacco legislation, constantly increasing wage costs, customers that seem permanently focused on cheap lines or the fact that the discounters seem to be taking over the world.
But in my short career in this industry I've already learned that tough trading conditions are pretty much par for the course, so we'll get up tomorrow morning and get stuck into it just as we always do.
It's not all doom and gloom. To a certain extent you need to make your own luck, so we're working on lots of stuff in the shop that we think is quite exciting and hopefully that will pay dividends down the line.
Bep Dhaliwal
Trade Communications Manager, Mars Chocolate UK
As consumer spending confidence has risen through 2015, Mars Chocolate UK has seen confectionery continue to be viewed as an affordable treat, with 94% of households purchasing chocolate. Retailers can grow sales by tapping into trends and maximising key occasions.
In addition to key occasions like Christmas and Easter, we can also see an increase in 'mini seasons' as in-home sharing continues to grow in popularity. This is something retailers need to bear in mind as they plan for the year ahead. To leverage these consumption moments and drive incremental impulse confectionery sales, it's imperative that footfall-driving brands are readily available in-store.
Evening snacking has become a huge area of growth in recent years with in-home chocolate occasions growing by 20% since 2009. As a result of this, sharing favourites have seen massive success making them must-stocks for retailers in 2016.
Tim Billson
Senior Retail Analyst, Convenience, IGD
We are seeing channels blurring in the grocery sector, looking to take a slice of convenience missions. Discounters are opening in high street locations, big box stores are using the front of store as food-to-go shops, and even online is becoming more attuned to the little and often shopping trend. It's becoming about convenient shopping and serving missions rather than the size of the store.
Opportunities will come for those retailers who really understand their shoppers' needs and missions, and stock a range and create a logical store layout that truly reflects these missions.
Independent c-stores have an ability to engage with the local community. Offering other services such as a Post Office, parcel collection or a foodservice concession can help a store to become a hub for the community and attract non-grocery shoppers.
Convenience operators can continue to capture the top-up pound by delivering value for money and creating excitement in-store through relevant promotions.
There are some big events on the horizon in 2016, including the Olympics and the Euros. While space is a premium, understanding what products sell well during these events, ensuring great availability and how to push these products without the need for big displays will create a win for the retailer in 2016.
Mark Baird
Head of Alcohol in Society, Diageo GB
Well, another year looming and even more new alcohol policy on the horizon in Scotland. No, really! As the Scottish Government rejects Dr Richard Simpson's private member's Alcohol Bill, we are promised "the next phase of the alcohol framework", which may contain certain elements of Dr Simpson's proposals, sometime in 2016.
There are 40 measures in the current alcohol framework, many of which industry supports, such as: support for alcohol brief interventions, support for substance misuse education in schools and promotion of the Young Scot proof of age card. But there are concerning noises coming from Holyrood around a desire to create further restrictions on alcohol marketing and advertising, which the Scottish Government currently has limited control over.
We already have very stringent regulations around alcohol marketing in the UK, especially around underage protection, and our system of self-regulation is recognised worldwide as an example of good practice. Perhaps we could try employing the principle of "If it ain't broke – don't fix it"?
Jeremy Blackburn
Head of Communications, JTI
To help retailers navigate their way through the challenges that lie ahead JTI has produced a guide that provides the key facts and dates relating to the EU Tobacco Products Directive. The document is free and downloadable from www.jtiadvance.co.uk. This is the first step in what will be a continued, pro-active programme of support from JTI ahead of the legislative changes. The message for the time being is business as usual – maintain range and availability so that your shop remains a destination of choice for existing adult smokers.
As proven by retailers who took action to prepare ahead of the retail display ban, preparation is key, use ARTIST as a guiding principle to continue to maximise tobacco sales and speak to your JTI sales rep or visit jtiadvance.co.uk for support and advice.
Dennis Williams
Premier retailer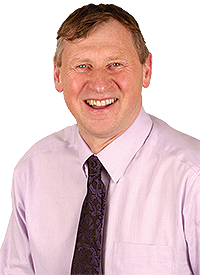 There's going to be more of a focus on top-up shopping over the next 12 months, even more than there is currently. That's good news for convenience stores as it means consumers are likely to be buying bigger baskets as they become less loyal to the supermarkets. That doesn't mean it's going to be easy. The discounters continue to cause problems, and we've got an Aldi opening on our doorstep, so we'll have to be ready for that when it comes, and we'll do so by doing what we do best: provide a great service for our community. The EUTPD changes are another concern; it will lead to a huge increase in the illicit trade.
In 2016 I think we're going to see more concessions appear in stores although I'm not convinced coffee is for everyone – that bubble will burst.
In terms of stores, franchises seem to be growing in popularity and I think there could be further consolidations in the symbol sector. As for increasing sales, there's going to be opportunities, such as the Euros and the Olympics, so get involved, go big on in-store theatre and work with suppliers – get all the support you can!
Stephen J. McGowan
Head of Licensing (Scotland), TLT Solicitors
Convenience stores will be pleased that the proposed Alcohol Bill from Dr Richard Simpson does not have Government support. This means that bans on certain alcohol products, increased periods for application notices and so on appear to have hit the wall. But the Air Weapons and Licensing (Scotland) Act 2015 will be coming into force in 2016, possibly in stages, so the march of regulation and red tape continues.
Other suggestions, such as separate tills for alcohol, do not appear to have gained any traction as yet with the Government, but if they do ultimately lose the minimum pricing case they may revisit all of this and introduce alternative provisions to deal with alcohol related issues.
Another proposal, to bring the so-called "social responsibility" levy back from the dead, was put forward by former Justice Minister Kenny MacAskill but again the Government does not appear moved on that front quite yet. This levy would apply to local stores and shops as well as pubs and clubs and would in effect be an additional tax the aim of which would be to raise money to put towards alleviating the societal effects of alcohol abuse.
Tobacco Manufacturers Association spokesperson
The Tobacco Products Directive makes sweeping changes that will affect pack sizes, labelling, ingredients and brand choice of an already highly-regulated and legal product. As 57% of the UK cigarette market is sold in packs of less than 20 cigarettes, and 79% of the UK hand rolling tobacco market is sold in quantities of less than 30g, the Directive will have a significant impact on Scottish businesses throughout the supply chain, particularly smaller independent retailers. This will create a huge profit opportunity for criminals and racketeers and deliver very little for public health.
Phil Knox
Head of Business Development for Scotland, Costcutter Supermarkets Group
The demand for fresh will continue to grow and it is no longer a 'nice to have', it's a 'must have'. Food to Go continues to grow, particularly around coffee but the offer needs to be more than this, offering hot and cold options. Meal solutions is another big area for convenience retailers. Offering an end-to-end meal for tonight solution at a decent price will help drive sales across the store.
Events play a very important role in the retail calendar and retailers should use them to engage customers. Promoting the right offer at the right time is crucial.
The role technology plays in the independent sector is going to increase significantly, both to create greater efficiencies within store operations and also as a way to drive greater customer engagement and footfall.
Retailers shouldn't underestimate the importance of getting the basics right; delivering the right range at the right price, integrated with a high quality own brand. Where independent retailers can really win is through giving exceptional customer service and having a truly local offer that meets local demand, something the multiples and discounters cannot achieve.
More than ever retailers must ensure they offer a first class store and service that truly meets the needs of their customers and this includes having the right partner for their business with expert support to drive footfall.