All the indications point to sustainability becoming an increasingly important factor in running a modern convenience store – but building a more sustainable business can be just as good for the bottom line as it is for the environment, finds SLR.https://www.slrmag.co.uk/sustainability-good-for-business/
by Antony Begley
---
It's famously said that there are very few guarantees in life – death and taxes aside – but to that list local retailers can confidently add quite a few others including a steadily increasing National Minimum Wage, constantly increasing tobacco levies and a raft of new (possibly well-intended but often) misguided legislation.
One issue that can also be added to the list of things that are not going to go away is sustainability. This is a complex, nuanced issue for local retailers but there is little doubt that both market forces and legislation will mean that local retailers will increasingly have to build sustainability into their core strategy, rather than treating it as the 'nice to do' issue that it has generally been for last four or five years.
Yes, we've all added LED lights and food waste bins, but those have been driven by legislative changes. And yes, lots of stores have added energy-efficient refrigeration with closed-door chillers now seemingly the norm in major refits, but the fact remains that much of this work has been done almost reactively – rather than as part of a planned strategy to place sustainability at the heart of the business.
The reasons for this are simple and more often than not come down issue of cost. Most local retailers in Scotland, I'm reasonably confident in saying, have a desire to reduce their store's carbon footprint and build more sustainable businesses – but this doesn't often translate into action because there are so many more mission-critical issues to deal with that take priority, and understandably so.
Sustainability in Local Retail
A new #ThinkSmart event from SLR
Weds 27 March, WEST Brewery, Glasgow
Sustainability is rapidly becoming a fundamental issue for the Scottish local retailing industry with issues such as plastic usage and food waste now higher up the agenda for many shoppers than ever before. This is only likely to continue as the next generation of increasingly socially-aware shoppers comes through – but the great news is that doing good is good for business, and good for communities.
The Sustainability in Local Retail event will discuss and demonstrate how retailers can drive down their costs and grow their profits by making sustainability central to how they operate their businesses.
Sustainability in Local Retail will demonstrate to retailers how they can move beyond simply reducing waste and begin to make positive, tangible contributions to the communities they serve and beyond.
Critically, the conference will focus on how developing a sustainable business can reduce costs, save time, increase sales and improve profits.
Sustainability in Local Retail will offer attendees hands-on, practical advice on how they can leverage the power of sustainability to grow and future-proof their businesses:
Drive footfall and sales by attracting new socially-conscious customers
Enhance their store's environmental and ethical reputation in the local communities they serve
Cut costs, save time and improve profits with efficiency improvements throughout the business
Sustainability in Local Retail will consider a wide range of areas where retailers can improve their carbon footprint while also improving their profits:
Plastics
Packaging reduction
Recycling (DRS)
Recycle/reduce/reuse
Food waste
Energy efficiency
Sustainable & ethical sourcing
Paperless solutions
In-store technology
Community action
The event is FREE for local retailers. To book your place, email events@55north.com
For sponsorship and demo enquiries, please email Robert at raitken@55north.com
Shopper demand
But the times they are a-changin' and the arguments for embracing sustainability more positively are growing by the day. A recent IGD report, for instance, named sustainability as one of the five most important trends 'set to shape retail in 2019'.
"Sustainability concerns will change the way retailers do business," says the report bluntly. Toby Pickard, IGD's Head of Insight, Innovation and Futures, believes that this trend will be driven squarely by shopper demand: "2019's biggest trend of all is likely to be the continuation of rapid and radical change in the food and grocery industry. Shoppers' expectations have changed, and the retail and grocery sectors are working to meet those expectations in every area of business."
The IGD reports that food retailing businesses of all size will increasingly take the lead on sustainability. "Issues such as food waste and plastic pollution are headline news, and this has translated to changing attitudes across the generations," says Pickard. "Nearly three quarters (74%) of UK shoppers say that they have become more aware of the environmental impact of plastic packaging over the past year. Retailers are no longer thinking about just reducing waste, but want to make a positive, tangible contribution. The next wave of innovative and leading retailers and brands will move beyond reducing their impact."
The risk here is that c-stores could be left behind in the battle to win the environmental hearts and minds of increasingly socially-conscious shoppers as the supermarkets and discounters use their deep pockets to rapidly implement sustainability improvements then communicate those improvements to shoppers more quickly and efficiently.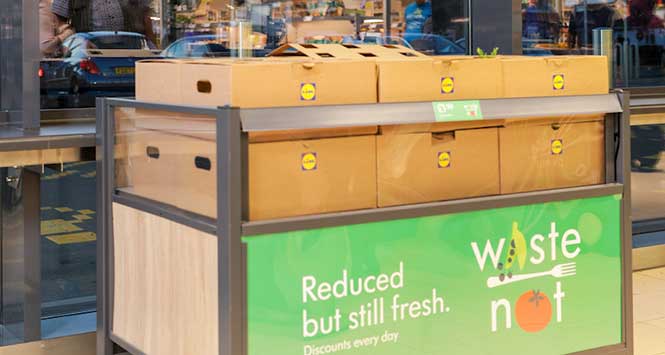 But one thing looks certain: the next generation of shoppers, including the infamous Generation Z, will place far more importance on sustainability and wider social and moral issues than their predecessors. Most vitally of all, they are more likely to make their buying decisions based on these issues and could choose one store or one retailer over another based on these beliefs.
Scottish Grocers' Federation (SGF) Chief Executive Pete Cheema believes this is all but inevitable: "The new generation of shoppers coming through are more actively interested in a range of issues like sustainability and community integration than older generations perhaps were. The challenge for local retailers is to proactively embrace sustainability and then communicate the good work they are doing to their shoppers.
"We know that many local retailers in Scotland are already doing some fantastic work around challenges like food waste, recycling, plastics and energy use, which is fantastic, and SGF is working hard at both Holyrood and Westminster to drive the sustainability agenda. But this is really only the tip of the iceberg. There's a lot more work to do and sustainability is an issue that is only going to grow in importance in the future."
Glasgow tackles single-use cups
A new city-wide initiative in Glasgow is set to tackle the issue of litter and waste produced from single-use coffee cups. The Glasgow Cup Movement aims to the largest single-use cup collection and behaviour change initiative of its kind in the UK.
Managed jointly by Keep Scotland Beautiful and Simply Cups, and supported by the private sector, the campaign began in January and will run throughout the calendar year.
Key facts:
48% of Glasgow's drinks waste is single-use cups.
478m single-use cups are used in Scotland every year.
Only 4% of single-use cups are currently recycled nationally.
The Movement aims to educate, inspire and empower people to change their littering, recycling and reuse behaviour as well as gathering robust evidence to inform policy and practice. Ultimately, the scheme hopes to create a model of best practice that can be replicated in other major cities.
Local retailers in the Glasgow area are urged to get involved by signing up and ensuring that all single-use cups disposed of in the bins provided will be recycled into functional products. Partners will be able to sell the dedicated 'rCup', the first reusable cup made from recycled single-use cups, and promote its reuse to customers and staff.
For more information visit keepscotlandbeautiful.org/cups or email cups@keepscotlandbeautiful.org.
Deposit Return Scheme
One of the principal reasons that sustainability has hit the headlines in Scotland recently is the Deposit Return Scheme (DRS) that is set to revolutionise the way drinks containers are recycled. The Scottish Government recently published the findings of its three-month public consultation into the implementation of a DRS scheme and over 3,000 people responded.
An overwhelming majority of respondents want to see a very broad range of materials included, with 90% wishing to see PET, cans and glass as part of a DRS for Scotland. Furthermore, 88% want an 'all-in' scheme rather that one limited to on-the-go. More than half of all respondents suggested deposit levels of between 15p and 20p per container.
Environment Secretary Roseanna Cunningham said: "Work continues apace to finalise our proposals for deposit return and bring forward the necessary legislation to support its introduction." She also said she would be happy to explore how the scheme could be aligned with similar schemes in England, Wales and Northern Ireland.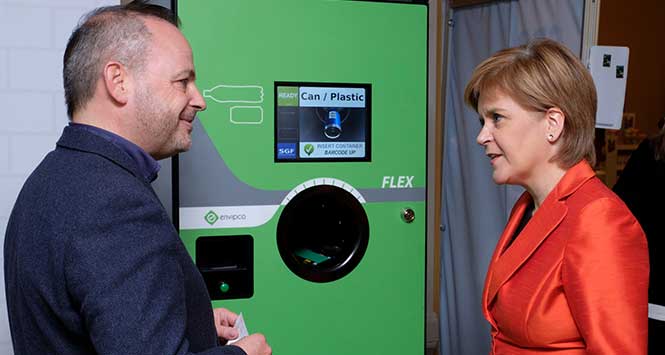 Reverse vending company Tomra Collection Solutions welcomed the results of the consultation. UK boss Truls Haug said: "Based on our global experience we believe a DRS will help see the return of over 90% of drinks containers for recycling within just two years of the scheme being introduced in Scotland."
The consultation findings were published just a week after three SGF member stores launched reverse vending machine trials. From mid-February through to April this year, customers at Nisa Local in Bellshill, Premier Broadway in Oxgangs, Edinburgh and Keystore in Moredun, Edinburgh will receive 10p for every empty plastic bottle or can deposited into machines supplied by Envipco.
Dr John Lee, Head of Policy and Public Affairs at SGF, said: "These trials will give us invaluable learning and insight into deposit return, particularly how shop staff and customers respond to having a reverse vending machine sited in-store. This learning will ultimately help us develop and implement a system which is effective for retailers, consumers, and communities."
Abdul Majid, owner of Nisa Local Bellshill, said: "We are delighted to be one of the stores involved in this ground-breaking trial. This will help local people to recycle, reduce litter and improve the local environment."
Suppliers
It's not all down to retailers however with most of the leading suppliers having already formulated detailed sustainability strategies.
Coca-Cola European Partners (CEEP), for instance, recently celebrated the first anniversary of the launch of its Sustainable Packaging Strategy. This includes moving all large PET bottles to 40% rPET (recycled PET) this year with the wider aim of transitioning its entire PET portfolio to 50% rPET.
The strategy's ultimate and very ambitious goal is to "to recover all of our packaging so that more is recycled and none ends up as litter".
Importantly, CCEP also helped retailers close the communications loop by undertaking its biggest ever recycling-focused multi-media advertising campaign, 'Love Story', which reached 27 million consumers. This is so vital because, as yet, it's very rare to see local retailers leveraging the good work done by suppliers by communicating the progress made by suppliers direct to consumers.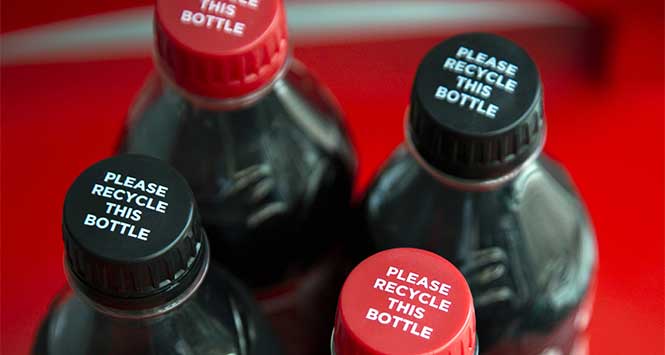 Nick Brown, Head of Sustainability at CCEP, says: "As a business we want to keep challenging ourselves to ensure we are part of the solution on packaging. We believe we are at a crucial moment in time, with a once-in-a-generation opportunity to create real change for packaging recovery systems in GB."
There's undeniably a massive amount of change happening in this area but the one thing that retailers should bear in mind above all else is that doing good can be good for business. Many sustainability solutions can help reduce costs at a time when costs are rising all around us.
Secondly, it's clear that shoppers' demands are changing – and retailers need to change alongside. Research group GlobalData found in a recent survey that an overwhelming 71.4% of consumers said that they consider the environmental impacts of their choice of food and grocery retailers and products. In other words, if you can't show them that you are operate a business with sustainability at its heart, they may shop elsewhere with a retailer who can.
Emily Salter, Retail Analyst at GlobalData, commented: "Since the BBC's Blue Planet documentary series showed the devastating effects that the sheer volume of plastic waste has on marine life, food retailers have had to react and make changes.''
And it goes without saying that community retailers should really be leading from the front here. After all, if you are going to improve the state of the planet the best place to start is on your own doorstep.
There's a lot of it about…
Häagen-Dazs – the 'Loop' reusable tub
Nestlé Ice Cream has launched a reusable, durable container for Häagen-Dazs, to be used within the new 'Loop' circular shopping platform.
Loop offers consumers the opportunity to shop smart with a focus on waste-free products and packaging. Essentially the milkman reimagined, products are delivered directly to consumers in durable packaging, which is then returned to the system for reuse.
LRS – Ribena hair dye
Some 90% of British blackcurrants are used by Lucozade Ribena Suntory in the production of Ribena and the skins have traditionally been a waste product. Researchers at Leeds University have developed a hair dyeing technology utilising the blackcurrant skins and reducing the food waste from this process.
Waitrose – no longer backing black
Waitrose has removed black plastic packaging from its own-brand fresh food range. The reduction of around 1,300 tonnes comes as the retailer seeks to remove all forms of black plastic packaging/
At present black plastic packaging is coloured using carbon black pigments. These do not enable the pack to be sorted by the existing optical sorting systems used widely in plastics recycling facilities as the black pigment reflects little or no light.
Costa Coffee – contactless reusable cup
Costa Coffee has partnered with Barclaycard to launch the UK's first reusable contactless coffee cup. The Clever Cup harnesses contactless payment technology to turn customers' cups into a fast and convenient way to pay.
Clever Cup users can track their spending, top up their balance, and take control to block or cancel the contactless payment element online or via the bPay app.
Corona – plastic-free six-pack rings
Mexican lager brand Corona is to pilot plastic-free six-pack rings which are made from plant-based biodegradable fibres, with a mix of by-product waste and compostable materials. The plastic-free rings will be piloted in the town of Tulum in Mexico next year, with plans to test in the UK later on. The rings break down into organic material that is not harmful to wildlife.
Walkers – crisp packet recycling scheme
Walkers has unveiled the first nationwide recycling scheme for crisp packets. Working with recyclers TerraCycle the scheme taps into an established network of recycling collection points around the UK. The scheme is simple and free to use, all brands of crisp packets are accepted and will ultimately be turned into other basic plastic items.
M&S – hard-to recycle take-back scheme
Marks & Spencer has pledged to install take-back bins for hard-to-recycle plastics across the UK by the end of this year. The bins will be used as collection points for plastics which are not commonly accepted for kerbside recycling.
Once the bins are full, their contents will be sent to a specialist, recycling facility where they will be turned into playground equipment, fence posts and outdoor furniture.