It's hard to believe, but energy drinks has been the fastest growing segment within the soft drinks category for over a decade – and consumers' fascination with the category shows no signs of waning, thanks in no small part to continuing innovation from key manufacturers.
---
Despite starting out as a quirky niche segment aimed at gym bunnies and sports fanatics, energy drinks rapidly proceeded to dominate the soft drinks category – and has continued to do so for the last decade.
"Energy drinks are one of the largest and fastest growing categories in impulse grocery, despite a challenging macro environment", explains Mark Bell, Strategy & Planning Manager at Red Bull UK. "For the past decade, energy drinks have been the fastest growing segment within the soft drinks category [Euromonitor Off-Trade Value, 2008-2018] with growth predicted to continue for the next five years [Mintel Sports & Energy Drinks Report, 2019]."
Functional growth
Today sports and energy is worth a whopping £1.41bn with growth totalling over £147m since 2016. This growth has been fuelled by the increasing demand for functional energy products. These drinks have added over £160m since 2016 and are fast approaching a billion-pound segment in their own right, today worth £881m annually [IRI, Sep 2019].
The consistent performance of functional products in the category has ensured sports and energy has remained in growth despite slower performance in other segments.
Bell comments: "Products that deliver added value for a range of summer occasions, such as multi-vitamins, protein or a functional energy boost, continue to be popular. Summer presents a huge opportunity for retailers to boost sales of soft drinks, as customers look for cool, refreshing options."
Red Bull remains the energy category leader and the 250ml can is, in fact, the single most valuable soft drink in the UK.
Bell explains: "Red Bull Energy Drink 250ml is not only our best-selling SKU but it's also the single most valuable soft drink in the UK. It alone is worth over £144m and continues to grow YOY [IRI, Sep 2019]. "We believe this is the perfect pack size for functional energy and it fits most consumers' energy needs, containing the same amount of sugar as a glass of apple juice and the same amount of caffeine as a cup of coffee."
The growth of Red Bull over the past year in the UK has been driven by an increase in penetration, with the brand now reaching one in 10 shoppers in the UK, an increase of 963,000 shoppers compared to a year ago [Kantar, Jun 2019].
Bell believes this growth has also been driven by lifestyle changes: "People are increasingly busy and wanting to do more with their time. We see this in changing shopping habits over the last five years with increasing frequency of trips and changes in consumption behaviour, particularly out of home. More products are being consumed as snacks or for health reasons. This is reflected in the most valuable impulse packs in store which lean towards soft drinks with a strong presence of functional energy."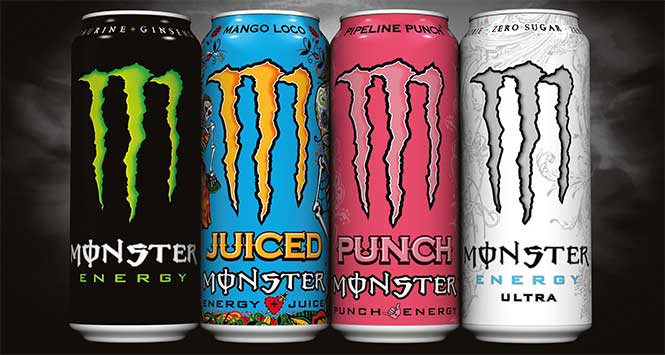 Another cornerstone of the UK energy drinks market is Monster. Amy Burgess, Senior Trade Communications Manager at Coca-Cola European Partners (CCEP), comments: "Monster Energy has been the driving force in the sector for a number of years and is now worth more than £250m in Britain, growing in value by over 12.7% [Nielsen, Dec 2019]. The reason for this success is threefold: our investment in great tasting NPD including low and zero sugar variants, a core range which continues to grow, and compelling marketing campaigns and impactful sponsorship ­– all of which are proven to be effective in engaging our adult fan base."
Low and no
A key trend in recent years that is referred to by Burgess above is the shift towards low and no sugar energy drinks. She outlines her thinking: "As more consumers look to make positive changes in their lifestyles to be healthier, sugar content has become a major factor in their choices and they're continuously on the lookout for more low-sugar options in their energy drink options.
"In just three years, the Monster Ultra range, which offer six fruity flavours with zero sugar, is now worth more than £60m in GB and still growing by 23% [Nielsen, Dec 2019]. In response to this we bolstered our Monster Ultra zero sugar range at the beginning of the year with the introduction of Monster Ultra Paradise, a new variant that brings together hints of Kiwi, Lime and Cucumber for a light and refreshing flavour, giving consumers an energy boost with no calories and no sugar."
The shift to lower sugar options hasn't been lost on Red Bull either. "Offering choice is at the centre of the Red Bull range – as consumers increasingly pick up a sugarfree alternative, the Red Bull range has been expanded to include a sugarfree variant of every pack in the range," says Bell.
"This has seen Red Bull launch Sugarfree 473ml, Tropical Sugarfree Edition in 2018, along with Coconut Berry Sugarfree Edition in 2019. These packs have contributed over £61m to the category in the latest year, the highest ever amount of sugarfree variants sold by Red Bull.
"In the last year, Red Bull sold 19.7% more sugarfree volume – with the variants bringing in 704,000 new buyers in the latest year. [Kantar, Jun 2019]."
Flavour and innovation
While many shoppers are looking to reduce their sugar intake, very few are prepared to sacrifice taste. First and foremost, sports and energy drinks need to taste good – which is why Red Bull and CCEP have been working hard at delivering exciting new flavour combinations and innovative new products.
Burgess comments: "Flavour and innovation in energy drinks are driving sales and enabling brands to reach new audiences, making this the perfect time for new product launches including Reign – the new performance energy drink launched in October 2019. The no sugar, no calorie range, which has been designed to fuel optimum performance for workouts, is available in four refreshing flavoured variants – Melon Mania, Razzle Berry, Lemon Hdz and Sour Apple.
"Last year also saw us launch Coca-Cola Energy, the first energy drink released under the Coca-Cola brand. The drink has been designed to complement the upbeat and busy lifestyle enjoyed by many of our young adult consumers, combining the great Coke taste people already know and love with caffeine from natural-derived sources, guarana extracts and B vitamins.
"Our Monster Juice brand, which is made with real fruit juice, is also ideally placed to help retailer tap into the growing demand for flavour innovation. The range, which includes Monster Mango Loco, Monster Pipeline Punch and the recently launched Monster Pacific Punch, is worth more than £58m since launching in 2018 [Nielsen, Nov 2019].
Price-marked packs
Price-marked packs continue to play a strong role in retail outlets by delivering a greater perception of value to consumers, with HIM data showing that 76% of shoppers believe PMPs help a convenience store's price image and 38% of shoppers agreeing that PMPs reassure them they're not being overcharged in a c-store.
Quoting the same data, Red Bull's Bell adds: "Twenty-one per cent of shoppers said they wouldn't buy a soft drink from a convenience store if it wasn't a PMP, while 22% of convenience store shoppers are buying PMPs 'every' or 'most times' they visit a convenience store.
"Retailers that stock PMPs help to deliver choice to shoppers. If retailers promote the benefits of PMPs to their customers, they will help see an uplift in sales. Additionally, Red Bull recommends that retailers stock price-marked packs across best-sellers at all times, to demonstrate range and offer customers choice, whilst driving profit."