As the preferences of adult smokers continue to evolve, SLR has hooked up with Scandinavian Tobacco Group and Musselburgh retailer Dan Brown to run a best-practice trial around the growing Signature Dual brand and optimising execution in the wider cigar category.
---
The wider tobacco category has been under immense pressure in recent years given a raft of punitive new legislation, but despite all the challenges, the category remains very buoyant indeed with some segments – principally at the value end of the spectrum – actually in growth by value.
The latest major challenge for retailers to overcome was May's Menthol Ban but attempts to make sense of the impacts of that ban have been muddied by the current coronavirus pandemic. In general terms, however, the tobacco category remains as resilient as ever – and nowhere is this more evident than in the cigar category.
This year has seen some genuinely innovative NPD from major suppliers, including the launch of Signature Dual from Scandinavian Tobacco Group UK (STG). The leaf-wrapped cigarillos feature a peppermint capsule and come in a convenient and stylish pack of 10. They are available to shoppers for around a fiver – a hugely attractive price point when shoppers are increasingly focused on lower out-of-pocket spend.
With so many challenges around launching new tobacco products to market, we decided to set up a real-life trial with Musselburgh retailer Dan Brown, supported by STG.
"To be honest, cigars is a category that we probably don't dedicate enough time and attention to in-store," says Dan, the current President of the Scottish Grocers' Federation. "So we're really excited to be giving the category some much-needed care and focus. We have a lot of cigar smokers visit the store and we do pretty well in the category. It tends to offer really good margins compared to cigarettes, so anything we can do to grow sales in the category is more than welcome. As the UK's leading cigar company, STG is the perfect partner to help us revitalise the category."
Cigars: what you need to know
The total cigar category is down across the UK by about 3.5% by volume and just 0.2% by value. Compare that with just four and five years and the market was in double digit decline.
In Scotland the picture is even rosier with sales volumes down just 3% and value up by 2.1%.
Sales in Scotland of medium and large cigars have also risen – and by a chunky 6.5% in volume and 10.2% in value.
Miniature cigars still dominate the market with 71% volume share.
The only top 10 cigar brand in significant growth is Moments Blue, STG's leading value for money offering. Sales are up 1.7% by volume in Scotland.
STG is by far the largest player in the category in Scotland with a 60.4%.
With the top three brands in Scotland and six of the top 10, STG's portfolio now accounts for more than 35% of the total Scottish market.
The focus of the in-store trial is Signature Dual, but the trial will examine the wider cigar category in Dan's exceptional, multi-award winning Nisa store.
"For me, the price point and the fact that the product is menthol are really important opportunities for us as retailers, as well as the fact that, being cigarillos and therefore not covered by EUTPD2, the product doesn't have to be in unbranded packs so they look great," says Dan.
As part of the project, STG visited the store to brief the team on best practice across the category and to ensure that the entire team could talk knowledgeably about the category to adult smokers seeking advice.
"With so many customers asking us what our cheapest tobacco product is, the fact that we can say Signature Dual means that I think we will see a lot of trial of the product because it's effectively half the price of a pack of cigarettes," says Dan.
"I think it will also appeal to menthol smokers who might still be looking for a product that works for them if they maybe haven't taken to vaping or other nicotine replacement products."
The project is already off to a flyer, as Dan explains. "We've already sold over a dozen packs in the days after the stock was introduced and before the project really got underway, so I'm hopeful that we'll see some strong sales."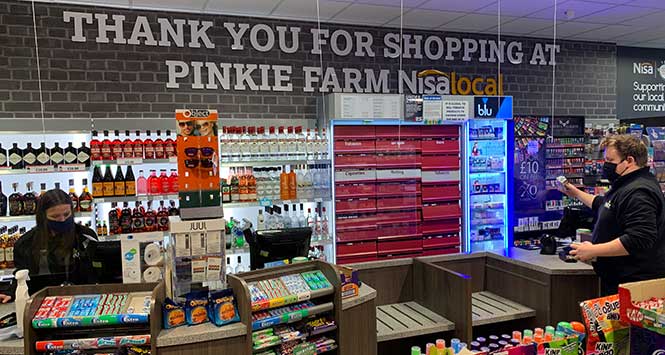 STG's UK Country Director, Alastair Williams, says: "We were really excited to introduce Signature Dual and extend our offering to the UK tobacco market.
"It's a natural extension to our range and we're confident it will prove a very welcome addition to the UK's biggest cigar brand portfolio."
As well as looking at Signature Dual, rep Paul Niven and the wider team from STG also competed an audit of the wider category in-store – with Dan and his team getting a thumbs up.
"It's particularly important that retailers stock the top-selling brands in Scotland and that means that both Signature Blue and Moments Blue are must-stocks for all retailers in Scotland," says Niven. "Signature is the best-selling cigar in Scotland and Moments Blue is the best-selling value line, so it was great to see that Dan had both on sale and had plenty of stock.
"Miniature cigars are by far the biggest sector in the cigar category so they're extremely important – but it was also pleasing to see that Dan stocks Henri Wintermans Half Corona because sales of medium and large cigars in Scotland are currently growing by 6.5% in volume and 10.2% in value."
Check out next month's SLR to see how Dan and his team got on over the festive period and how they got on with growing sales of Signature Dual in particular and cigar sales in general.
What did we do in-store?
Ensured Dan's range was comprehensive and meets the needs of his shopper base. The starting point was the Top 10 Brands in Scotland.
Briefed Dan's team on the importance of actively engaging with customers looking to buy cigars or considering trying alternative products, particularly menthol lines, and being able to talk knowledgeably about the category.
Ensured that Dan's team were aware that Signature Dual is the cheapest product on the gantry – and that it is a menthol product – so that they could quickly highlight this fact to customers looking to minimise out-of-pocket spend.
Made sure stock levels were adequate across all key lines.
Asked STG rep Paul Niven to visit Dan's store to be sure that best practice was being followed right across the entire cigar category.