Data collated on behalf of security firm Checkpoint Systems from a survey of English and Welsh police forces reveals that shops are losing an estimated £800m a year to shoplifting.
The report investigated the total number of shoplifting offences recorded by 43 police forces/constabularies across England and Wales in the 2016-17 financial year.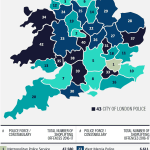 It found that the Metropolitan Police had the highest number at an astounding 47,580 – equivalent to 130 incidents a day. The Met was closely followed by West Midlands Police, who had 19,741 reported incidences. Third was Greater Manchester Police, with 18,002 offences. City of London Police had the lowest number of cases, with only 729 reported – equal to just two occurrences every day. Second-lowest was Dyfed-Powys Police, with 1,533 shoplifting offences – more than double the figure recorded by the City of London force.