SLR joined a Scottish Grocers' Federation study tour to Seattle recently to visit the original Amazon Go, among other things – and learned a sharp lesson about how quickly technology is set to shake up retail.
by Antony Begley
---
If you want to see first-hand how technology and next-generation customer experience is set to turn the world of retailing upside down, then Seattle in the extreme north-west of the United States is a great place to start. It may take a long time to get there, as a small Scottish Grocers' Federation (SGF) National Executive delegation discovered recently when it visited the city on a study tour, but the effort was more than rewarded with fascinating insights into how fast retail is evolving.
Seattle is an exceptional city for a number of reasons, not least the fact that many of the world's leading companies are based there – Amazon, Microsoft, Starbucks and Boeing to name but a few. Why that cold and relatively isolated corner of the States should spawn so many all-conquering businesses is not immediately obvious, but there's no question that it's an entrepreneurial hub.
Far less brash, bold and brazen than New York or Los Angeles, Seattle nonetheless has an air of quiet, reserved self-confidence. It's a very affluent city, clean and precise, but at fewer than four million people it is only the 15th biggest city in the US. Despite that fact it has a truly huge economic output, with a GDP in 2017 of around $357bn. To put that in some sort of context, the Scottish GDP is around $216bn.
The purpose of the trip was ostensibly to visit the original Amazon Go, the cashierless c-store that has created so much fanfare in the trade press, but while we were there, we took the opportunity to visit a number of Seattle's other outstanding retail businesses, as well as a privileged trip into Microsoft's HQ.
Amazon Go
So much has been said of Amazon Go that it was almost a disappointment to actually enter what is, at the end of the day, a reasonably basic 1,800sq ft c-store with some nice shopfitting and a very limited range of products. But to dismiss the store on the grounds of how it compares internally to other c-stores is entirely missing the point.
For me, the whole point of Amazon Go was to test the revolutionary technology – and the technology is revolutionary, as we will learn over the next 12 months. Range, shopfitting standards, merchandising and so on are largely irrelevant. Getting those elements right is the easy part – and Amazon will get them right as soon as they choose to do so. It was getting the technology right that was the real goal for Amazon in Seattle.
So, how does the technology work?
Firstly, the store can only be accessed by downloading the Amazon Go app to your smartphone then logging into it using your standard Amazon login details. The app then displays a small QR code that must be scanned to pass through a set of gates at the store's entrance. The process will be familiar in style to anyone who has used an airport recently.
After that you simply do your shopping and walk out. Within a few seconds an itemised bill is pinged to the app and your account is deducted. It's convenience shopping at its most convenient.
The really clever part is the mind-blowing camera technology that tracks everything every customer picks up – and the system is, as far as we could work out, 100% accurate. And believe me, for the first time in our lives, our delegation tried its level best to steal something from a store, as many others have done in the past.
We lifted items up then put them back down somewhere else in the store. The cameras caught it. We put items back in their original place. The cameras weren't fooled. We hid items behind other items in our hands. No joy.
Bellshill Nisa retailer and SGF National Executive member Abdul Majid even had the bright idea of switching his phone off while in the store to see if that would confuse the system. No dice. The cameras worked and the bill was accurate.
It's safe to say that the technology works – but that's only part of the story. One common assumption is that Amazon have developed this store format to eliminate the staff overhead. People are expensive so why not use tech to replace them? Five minutes in Amazon Go and you realise that this a myth. The store has staff wandering about constantly but what they're mostly doing is chatting to customers, offering help, being friendly and basically just providing fantastic customer experiences.
Shelf replenishment is done manually too and there is also a large kitchen to one side of the store which prepares fresh food-to-go all day long. Indeed, as one customer I spoke to pointed out, the reason they use the store is because the food-to-go is so fresh.
As for the more traditional elements of the store, the range was geared towards food-to-go and ready meals (at the premium end of the spectrum) as well as a decent impulse range: soft drinks, crisps, confectionery.
But, as SGF Chief Executive Pete Cheema pointed out: "The store sits right next to Amazon's offices so the range is presumably aimed at that audience. Premium, fresh, healthier. I think the range simply reflects the customer base and I can see other Amazon Go stores having very different ranges."
It's an important point because Amazon has repeatedly hammered home how its sole interest is in providing its customers with what they want, rather than trying to sell shoppers what is has to offer. As an internet-based business that runs almost entirely on data, it has all the information it needs to give shoppers what they want.
Amazon Go is no different. The nature of the in-store transaction means Amazon can analyse every single customer's basket spend and inform future decisions based on that insight.
It has already been reported that Amazon may now open upwards of 3,000 Amazon Go stores in the US and it has recently been revealed that Amazon is on the look for up to 200 sites in the UK. Rumours are currently circulating that the very first Amazon Go may even be ready to open in Central London any time now and, of course, there has been some noise around Amazon snapping up Morrisons.
If these reports turn out to be true, the world of convenience and grocery retailing in the UK may be set for the biggest transformation in its long history – and it could happen very, very quickly.
Whole Foods Market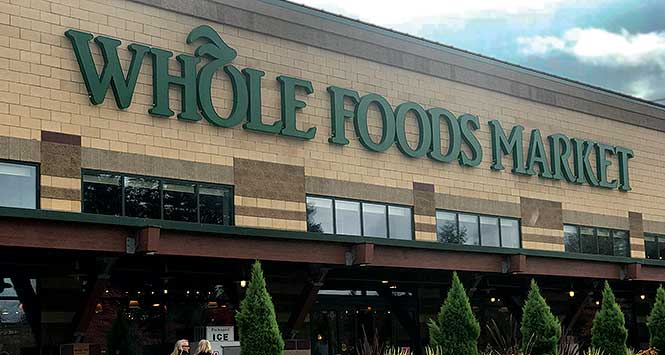 Amazon already exists on the streets of the UK, of course, in the guise of the Whole Foods Market chain it owns. Arguably the most impressive Whole Foods Market store on the planet, however, is to be found in Seattle.
At well over 40,000sq ft it is a huge store and, it must be said, is nothing short of spectacular. The store is squarely aimed at the premium, organic end of the market – dubbing itself 'America's Healthiest Grocery Store' – and is geared to be a foodie heaven. It delivers a phenomenal range of fresh, chilled, frozen and ambient lines merchandised so exquisitely that it sometimes looks more like an art gallery than a grocery store.
Interestingly, and in line with that ethos of bringing the best and freshest produce to market, Whole Foods is almost entirely devoid of price promotions, a marked deviation from the UK model where price promotions are ubiquitous.
Needless to say, it's expensive. A lunch of sandwiches and soft drinks for five came in at around $70, but the experience was special and the store was packed.
The store also offers a two-hour home delivery service that's free on purchases over $35, while a speedier one-hour service is available for a fee of $7.99. Judging by the amount of deliveries awaiting pickup it's a service that's already popular with Seattle's shoppers.
Additionally, Whole Foods is rolling out '365 by Whole Foods Market', a smaller less-expensive sibling that is set to take Amazon into yet more retail arenas. Don't bet on that concept being unique to the US in the future.
Fred Myers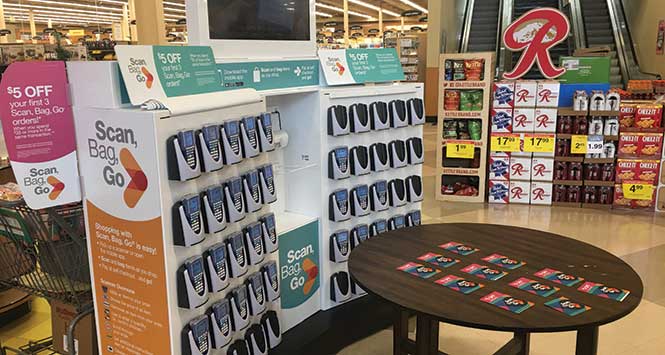 Close to Whole Foods is the more traditional grocery store Fred Myers, which we visited to view its own, more limited version of cashierless shopping. Known as 'scan, bag, go', the system is effectively an improved version of the self-scanning technology found in many UK supermarkets.
Shoppers use a special tech-enabled shopping bag in conjunction with a handheld scanner. Purchases are then scanned and placed into the bag and customers can simply walk out once they are finished. It's a neat enough system but it does appear to be more of a waypoint on a journey towards cashierless transactions than a fully-fledged solution. It is decidedly clunky when compared to Amazon Go.
Starbucks
No trip to Seattle is complete without a visit to Starbucks and it is very difficult not to visit a Starbucks in the city. There is one on virtually every block in the city centre with the Foursquare app listing around 225 stores in the metropolitan area alone. The two that we were most interested in were the original one in Pike Place and the Starbucks Reserve in the city centre.
The original store has been kept pretty much as it was, with original signage and bare bones interior. There's not much to suggest that this innocuous little store would go onto become the cornerstone of a global empire. We visited the store on several occasions and the queue was never fewer than 50 people at any time.
Starbucks Reserve is a sort of Starbucks on steroids, complete with its own in-store roastery and some seriously high end shopfitting. It has its own central horseshoe bar and looks more like a trendy pub than a coffee shop. It also appears to do a roaring trade in Starbucks branded paraphernalia, everything from clothing and games to coffee machines and cups.
The lesson here is in the value of building a brand then leveraging it to the maximum by saying simple things over and over and delivering quality every time.
Microsoft
A highlight of the study tour was a visit to Microsoft's HQ in Redmond, 15 miles east of Seattle. The visit was hosted by Iqbal Shahid, a family friend of Abdul, who happens to be a senior member of the Xbox team. The HQ is more of a small town than a headquarters. Over 100,000 workers are based there across around 130 individual buildings.
We were offered a tour of the facility then were treated to an hour with our host who offered Microsoft's view of the world in general and how that world might impact on retail. The frankly alarming view offered was that "the internet will kill retail as you know it" and that there is nothing we can do about it.
Shahid described technology as "the biggest unfair advantage of all" and said very matter-of-factly that technology will begin eating into convenience retail too, and soon. Having the bricks and mortar store, he said, will "no longer be the winner".
His conclusion? "You can't stop it. The only question is how you can adjust to it." In the clear-sighted and straightforward way that techies often view the world, he advised that "whatever humans can do, machines can do better."
Shahid cited the example of how deliveries within 48 hours were seen as revolutionary not so very long ago, then it was within 24 hours, then it was same day and now it's within an hour. "Retail will change dramatically," he said, "and machine learning is what will drive the future. We will ultimately all be replaced by machines."
Interestingly, he also outlined his view that we will move from a product-based culture to a service-based one, and that this was already happening. In the future, he predicted, no-one will own cars or computers or holiday homes. They will all be sold 'as a service'. To illustrate the point we visited the Microsoft store that sits within the building and where customers can buy, for instance, a Microsoft Surface Pro 'as a service'. Effectively this means a monthly fee and Microsoft provide a new computer every 18 months as long as you keep paying the monthly fee.
Ominously, he also highlighted how "there are no brakes on Amazon" and how "Amazon is all about scale". All of which makes it harder and harder for everyone else to compete as the retail behemoth gets more and more of that scale then delivers solutions that consumers love.
Conclusion
A few days in Seattle was a massively insightful and at times reasonably frightening experience, certainly from the point of view of local retailing in Scotland.
Seattle may be an affluent little dot at the cutting edge of many aspects of retail but with the speed of change at the moment, so much of this cutting-edge technology will soon be mainstream and will be appearing on high streets and in out-of-town retail developments in the UK soon. And that's before we consider the continued domination of internet retail.
When convenience retailing's most important USPs – it's convenience and customer service – are no longer such trump cards, where does the future lie for them? The world is changing. Technology will sweep all before it – and the time to start planning for that future, and how we should respond to it, is now.
The key has to lie in our ability to evolve and change quicker than larger businesses – but without the bigger budgets of these businesses we have to be smart about how we do it.
We can embrace technology quicker. Indeed, we must do so. We already know that the traditional model of convenience with its heavy reliance on impulse products and convenient locations is a potentially endangered species.
The big question is whether we are willing and able to carve out a more sustainable niche for ourselves in a rapidly changing world where shoppers want everything and they want it now. If we don't meet that demand there are plenty of businesses who will.