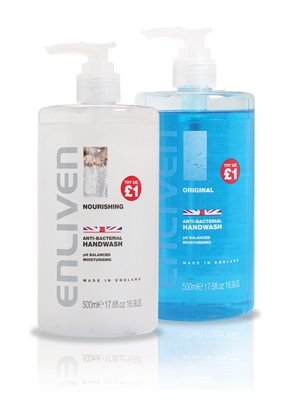 Enliven Anti-Bacterial Liquid Handwash is made by health, beauty and household manufacturer DCS.  Price marked at £1 for a 500ml bottle the product offers the good value, while ensuring that retail margins are typically between 25 and 30%
The product has an anti-bacterial formulation and moisturises as it cleanses.  There are two price marked variants – Original and Nourishing.  In addition the non-price marked range also features an Aloe Vera variant.
The Liquid Handwash sub category is second only to Shower in the £591m Washing and Bathing Category (MAT WE 25.05.13 A C Nielsen), valued at £123.7m and showing value growth of 1.8% ahead of the overall category which grew at 1.5%, held back by declining sales of Bar Soap and Bath Liquids.
The Enliven brand range features over 50 products that can retail at the all-important £1 price point and the margin is very healthy. Enliven is stocked by all leading Scottish wholesalers and Cash and Carry operators.
DCS advises retailers merchandise Enliven Handwash within the Washing and Bathing section of the Toiletries fixture with other Liquid Handwash products.  The company adds that retilers should range more Handwash products than bar soap to reflect the changing shape of consumer behaviour.  Likewise offer a broader range of shower products than bath liquids.
Enliven can also feature as part of a Poundzone display to create an aura of value within store.  For more information about Poundzone check out the website www.poundzone.co.uk
For more information about DCS go to www.dcscentral.com and to see more products from the Enliven brand range visit www.enliven.co.uk