Spar retailer Pete Cheema has been named as John Drummond's successor as Chief Executive of the Scottish Grocers' Federation after it was announced that its Drummond was retiring with effect from 1st April, 2015.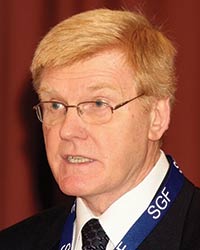 Coming from a retailing background, Drummond has been in post for nearly 10 years and has decided that the time is right to step down.  He said "I have enjoyed immensely the past decade at SGF and hope I have contributed towards making SGF relevant in terms of lobbying and the political connection on behalf of members."
SGF President Abdul Majid led the tributes to the highly popular Chief Executive: "It has been my pleasure to work closely with John Drummond for many years. John has given SGF the credibility and integrity to become a highly effective political engagement organisation. Key policy and decision makers view SGF as being an organisation that they can do business with. He has taken SGF to a new level and transformed our ability to advocate on behalf of our members. This is a great loss to the Federation and to the industry but I wish John all the very best for what I know will be a very active retirement. We are sure that he will be able to provide guidance and support to the National Executive as it builds for the future."
Drummond's time in office coincided with the emergence of a changing and highly challenging retailing environment in Scotland. He had the vision to recognise that the best way for SGF to secure a sustainable and viable convenience store sector was to influence and inform the Scottish government and the Scottish Parliament. This would succeed to the extent that SGF would engage regularly and effectively with key figures in government and parliament, including the First Minister.
Drummond and Cheema will work closely over the next few weeks to ensure a smooth transition.