Stocking more locally sourced and branded products could provide Scottish local retailers with a competitive advantage over the major supermarkets.
by Jim Eccleston
---
The pandemic has seen many changes in shopper behaviours when it comes to their everyday grocery shopping. Many discovered the convenience of home delivery from the major multiples during lockdown and have continued with this means of getting their weekly shopping since then.  This obviously presents a threat to local convenience stores, but a nationally representative survey of the Scottish population we undertook on behalf of the Scottish Retail Food & Drink Awards during the final quarter of last year illustrated a number of other key trends in behaviours which offer opportunities to local retailers in Scotland.
When asked what might drive greater footfall in local convenience stores, four different elements emerged: more competitive prices (56%), better product ranges (42%), more deals and offers (38%) and more locally produced food and drink (30%).
Whilst the calls for cheaper prices and more deals and offers are inevitable, especially as the cost of living crisis takes hold, 30% would be more likely to shop locally if there was a greater range of locally produced food and drink on offer. This represents a real opportunity for local producers and retailers to work together to ensure that locally produced products are made available in convenience stores.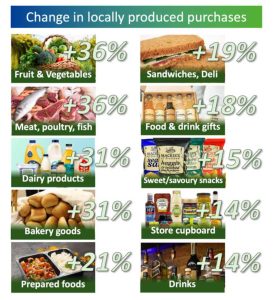 What is local?
But what does 'local' mean to Scots – and what types of product are especially appealing? The survey discovered that for 52% of Scots, 'local' means 'Scottish' – though for a sizeable minority it is more local than this: regional or even their town or city (39%).
So, for convenience stores to entice Scottish buyers, stocking products which clearly display their origins to the most local of levels will appeal. Illustrating this, when we asked Scots about their preferences for either 'Scottish' or 'British' branding, there was little doubt that a Scottish identity was important for the overwhelming majority: all things being equal (price, quality etc.), 65% would select a product labelled Scottish and displaying the Saltire over one that carried British branding such as a Union Jack – only 10% would prefer this type of branding.
These findings become a bit of a hot potato recently and gained some coverage in the Scottish media, particularly after this specific finding was discussed by an MSP as part of a political debate in the Scottish Parliament.
Our research, however, was strictly non-political and focused on the appeal, purely from a product/branding appeal perspective. There is no doubt that emphasising the Scottish origin and provenance of food and drink products will attract interest – a real opportunity for convenience stores who are better placed to source and stock smaller, locally sourced food and drink items than most of the supermarket and discounter chains.
Hyper local
The research also discovered that moving beyond 'Scottish' branding and stocking products which are as local as possible could yield even greater returns: 22% of Scots describe local provenance as 'very important' and another 41% describe it as 'quite important' when it comes to decisions on what they might purchase.
This demonstrates a clear desire for locally produced food and drink. But what particular types of 'local product' have the greatest appeal? Four categories stand out with the highest importance attributed to local varieties being readily available: fresh meat; poultry and fish; fruit and vegetables; dairy products; and bakery goods. In each case two-thirds or more of Scots describe locally produced/reared/grown versions being readily available as important to them.
That said, there was clear support for locally produced food and drink across all categories. This means that if convenience stores took the lead in sourcing such products, it would provide them with clear ammunition to fight back against the major supermarkets and gain a competitive advantage in an area that really seems to matter to many Scots.
---
Jim Eccleston is Managing Partner of Edinburgh-based research and insight specialists 56 Degree Insight, the official research partners of the Scottish Retail Food & Drink Awards.