Last month saw the inaugural meeting of the Cross-Party Group on Independent Convenience Stores at Holyrood – marking a historic milestone for our sector. SLR was there to record the meeting for posterity.
by Antony Begley
---
History was made last month as over 50 influential representatives from the Scottish local retailing sector gathered in Committee Room 4 at the Scottish Parliament at Holyrood for the inaugural meeting of the Cross-Party Group (CPG) on Independent Convenience Stores.
This is the first time in the Parliament's history that a CPG focused exclusively on Scotland's independent retailing trade has been formed.
As the name suggests, Cross-Party Groups provide a rare opportunity to meet directly with MSPs from across the political parties to engage with them, help them understand the challenges our industry faces, share our experiences and raise awareness of relevant issues.
It's difficult to overstate the potential importance of the creation of this Group in terms of giving Scottish local retailers more direct access to policy-makers and ensuring, for the first time, that our voices are heard at the very top table.
SLR was delighted to be there, playing what we hope will be a vital role in sharing the development of the group over the coming months with the wider retailing community in Scotland.
Mass support
More than 50 industry representatives took the time and made the effort to attend the inaugural meeting at Holyrood, coming from retail, wholesale and supplier backgrounds. This in itself is a remarkable show of commitment from the trade.
They were joined on the evening by no fewer than seven MSPs representing three different political parties, while a further four MSPs have formally registered their support for the CPG. That represents a very significant level of interest in our industry and, more importantly, represents a massive opportunity.
Huge credit must go to SNP MSP Gordon MacDonald, a long term friend of the local retailing sector, who was among the driving forces in getting this CPG off the ground. Much credit must also go to the Scottish Grocers Federation (SGF) – and John Lee, its Head of Policy & Public Affairs – for the instrumental role in turning this fantastic opportunity into an even more fantastic reality.
This has not been an overnight success; the creation of the CPG comes off the back of at least three years of focused work and passion, driven principally by the SGF and often supported by SLR.
Get involved
The success of this CPG, however, is far from a foregone conclusion. The Group will meet four times a year and, for it to be a wholehearted success, it requires sustained large scale engagement from all corners of the local retailing sector in Scotland: retailers, wholesalers, suppliers and influencers. SLR intends to play a key role in sharing the work of the CPG and showing retailers how they can engage with the Group and make sure their voices are heard.
That process started last month with the inaugural meeting and the election of the CPG's official office bearers. Gordon MacDonald was unanimously voted in as Convener with Anas Sarwar elected as Vice Convener. SGF's John Lee was elected as Secretary to the Group and immediately commented: "This is the first time that our industry has had a platform like this. This is a historical evening for the Scottish independent retailing sector. We see this as a unique platform for bringing together everyone in our industry: retailers, suppliers and wholesalers.
"It brings the issues affecting independent convenience stores directly into the Scottish Parliament and will be of real value to MSPs. The CPG has the potential to set the agenda for what Parliament sees as being the key issues impacting on businesses in Scotland."
SLR will report back on every meeting of the CPG and will also share every significant development along a path towards what we hope will be a brighter new future for our industry, one where our voices are listened to as often and as enthusiastically as those of our major multiple and discounter competitors.
This is a unique opportunity: it is up to you to make sure we capitalise on it.
MSPs supporting the Cross-Party Group
Gordon MacDonald, SNP
John Mason, SNP
Gil Paterson, SNP
Richard Lyle, SNP
Ben Macpherson, SNP
Daniel Johnson, Labour
James Kelly, Labour
Anas Sarwar, Labour
Gordon Lindhurst, Scottish Conservatives
Murdo Fraser, Scottish Conservatives
Rachael Hamilton, Scottish Conservatives
What is a Cross-Party Group?
Cross-Party Groups provide an opportunity for MSPs from across the parties to engage with external stakeholders, primarily to enable the sharing of experiences and information on a particular subject and to raise awareness of issues relevant to MSPs' parliamentary duties.
Cross-Party Groups are formed and led by MSPs although it is expected that groups will also have non-MSP members, whether individuals or representatives of organisations.
Cross-Party Groups do not have any power to introduce issues formally into the parliamentary or government systems and do not have access to any financial or staffing resources, other than is necessary to all Cross-Party Groups to meet in the Parliament or otherwise fulfil the requirements as set out.
Cross-Party Groups must include representatives from at least three of the five parties currently represented at Holyrood.
The Groups are entirely free from any of the formal structures of the Parliament and are in no way associated with or linked to the Parliament's committee system.
A word from the new Cross-Party Group Convener…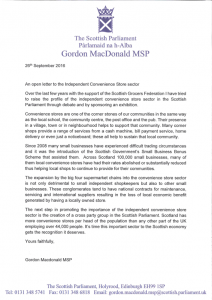 As part of the launch of the new Cross-Party Group on Independent Convenience Stores, the newly elected Convener of the Group, Gordon MacDonald MSP, kindly agreed to draft an open letter to SLR readers.
This letter outlines his reasons for being so supportive of the local retailing industry in Scotland and explains why he believes this sector is so important to the overall Scottish economy.