The only company in Scotland with glass recycling facilities has told MSPs that glass is 'not a fit' for Scotland's proposed new Deposit Return Scheme (DRS).
Speaking at last night's (21 May) Cross Party Group (CPG) on Independent Convenience Stores, Viridor Recycling Managing Director Paul Brown made it clear that, as the only company in the country with the ability to recycle glass, he did not view the inclusion of glass within the new DRS system as appropriate or practical.
Brown was speaking after Roseanna Cunningham, Cabinet Secretary for Environment, Climate Change and Land Reform, had reiterated her commitment to a DRS that included glass and had a deposit level set at 20p.
She told the CPG: "I know there are cost and complexity issues around glass but I took the decision with those issues in mind as I am committed to a DRS that maximises recycling rates and reduces littering as much as possible."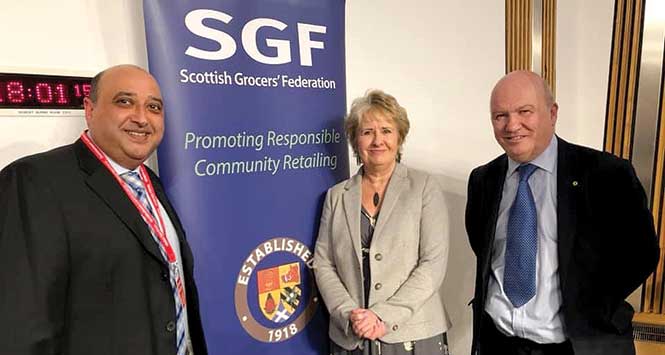 Cunningham also made it clear that while some exemptions to the scheme would be considered, these would not be on the basis simply of store size. The only exemptions she envisaged were in areas where there were "a lot of retailers in small area" – where some retailers may wish to be excluded as consumers would still easily be able to access recycling points.
The practical necessity to have a harmonised UK-wide DRS system was dismissed by Cunningham. The Minister said that "it was not an option to wait around hoping others follow the example we are setting". She instead urged attendees to "lobby Westminster to match Holyrood".
Cunningham also referred to a new Implementation Advisory Group that has been set up to help shape the new DRS with members including the Scottish Grocers' Federation (SGF) and the NFRN.
SGF Chief Executive Pete Cheema declared that SGF would fight "tooth and nail" to have glass excluded and to ensure the handling fee paid to retailers was set at a level that meant the final DRS would not end up costing retailers money.
Viridor had previously expressed concerns that the Government's proposals for DRS wouldn't achieve a truly circular economy, with material having to be sent abroad for processing. The company has invested £477m in Scotland over the past five years, including a £25m glass recycling facility in Newhouse.