For the first time in approximately 400 years, Scotland has qualified for the finals of a major tournament which will add spice – and sales – to this year's European Championships.
---
The European Championships, better known as The Euros, kicks off next month – and for the first time in what seems like an eternity, Scotland will be there.
That provides retailers with a whole month of great opportunities to boost sales and grow profits, particularly as the vast majority of fans will be unable to physically attend matches, thanks to Covid restrictions, so instead will be enjoying the matches with friends and family – barring any late Covid-related problems in the near future.
Originally scheduled for last year, the Euros is now full steam ahead for 2021 and begins on the evening of Friday 11 June.
Big football matches traditionally create big sales uplifts and The Euros will be awash with big matches, none bigger than the England-Scotland match on Friday 18 June.
If all goes well, June could be one long big night in and that could mean increased sales in virtually every category, but, particularly in products such as beer, cider, soft drinks and snacks. In this year's tournament, early matches take place in major cities all over Europe with much of the later stages, including both semi-finals and the final, to be staged here in the UK at Wembley Stadium in London.
There is bound to be lots of domestic interest too, as England and Wales have also qualified and will each play a minimum of three matches, more if they progress through the tournament.
And with major football nations like Germany, Italy, Spain, France and Holland also taking part, there is bound to be plenty of excitement throughout the month-long tournament as well as the growing excitement of the knockout stages leading up to the final itself.
Kick of times are scheduled for afternoons, early evenings and evenings (2pm, 5pm and 8pm) so there is plenty of time to prepare for the big matches in-store – see our fixture guide for more details.
So now is the time to stack building those stacks, creating some football theatre in-store and hammering social media to drive shoppers to your door so you can score this summer, even if Scotland don't.
To help you prepare, we've highlighted a few pieces of activity that are likely to help set the tills ringing in June and early July.
Tennent's thinks big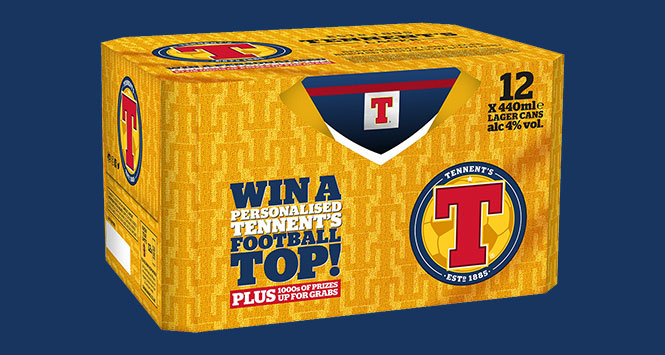 Famed for its 'anybody but England' ads over the years, Tennent's is taking a slightly less confrontational tone this summer but has still unveiled its largest ever off-trade promotion in time for a summer of football.
The brand is celebrating a renewed partnership with the Scottish FA with a promotion featured on more than one million packs of Scotland's favourite lager.
Launching this month, consumers buying promotional 10-, 12- and 15-packs of Tennent's Lager will have the chance to win one of over 4,500 prizes including personalised Tennent's football tops, mini footballs, captain's armbands and vouchers for the Tennents.co.uk online store.
Iain Telford, Senior Marketing Manager at Tennent's, said: "Our new on pack celebrates the Summer of Football that lies ahead and we're looking forward to standing with the rest of Scotland in cheering on our national team in their biggest season in 23 years. As the Original Supporter of Scottish football, we wanted to help fans combine their favourite lager with their favourite sport and we know they'll be excited to get their hands on the great prizes that are up for grabs through our new on pack."
Win Irn-Bru pants!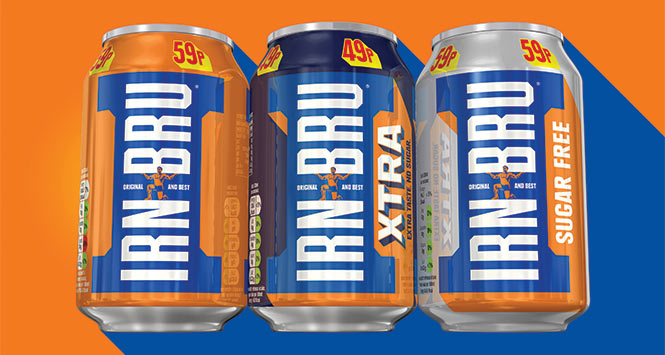 Irn-Bru is giving local retailers the chance to kick off their summer sales with special football packs from the number Scottish grocery brand – and two lucky SLR readers will each win £50 worth of Irn-Bru, plus five runners up will each receive an Irn-Bru footy pack including a branded football shirt, two footballs and two pairs of lucky pants.
Football tournaments provide a major profit opportunity for retailers with sales of soft drinks increasing by as much as 18% [IRI]. Most football fans will not be able to attend matches this summer and instead may be watching the football at home – so these packs will help fans feel part of the occasion.
To enter, simply email your name and store details to raitken@55north.com or send them to Susan Kosminski, SLR / IRN-BRU offer, Barr Soft Drinks, 2nd Floor, Mansell House, Aspinall Close, Horwich, Bolton, BL6 6QQ. Entries close on Monday 28 June.
All UK final
The Euros isn't the only major footballing event happening this summer as Liverpool and Chelsea face off in the final of the UEFA Champions League.
To mark its ongoing sponsorship of the Champions League, PepsiCo has launched a heavyweight marketing campaign aiming to "create smiles across the nation".
Rolling out from this month, four limited-edition flavours join the Walkers crisps line-up, combining popular football-match foods with tongue-in-cheek footy pun names: Steak and Ale Pie-nalty, Hot Shot Hot Dog, Chicken Tackle Masala and Sour Cream and Sweet Chilli Kicker.
An on-pack promo is also rolling out across Walkers MAX and Doritos, offering shoppers over half a million chances to win cash prizes.
Promotional packs feature a QR code that will direct consumers straight to a Facebook Messenger chatbot where footballer Paul Pogba will be challenging fans to get ready with Doritos, Walkers and Pepsi MAX for a more animated and interactive entry experience.
José signs for News UK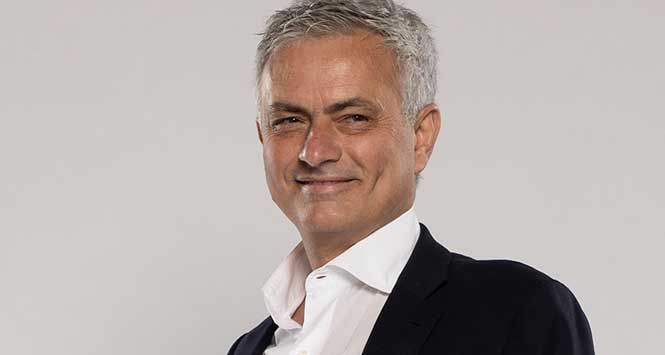 The Special One, José Mourinho, is News UK's star signing for the Euros and will be reaching audiences via exclusive content for The Sun, The Times, The Sunday Times and talkSPORT in an extensive integrated deal.
He will have regular columns throughout the summer in The Sun, The Times and The Sunday Times across the tournament to provide exclusive insight for readers.
Mourinho will be writing regular columns for The Sun throughout the Euros 2020, bringing his unique viewpoint to the nation's favourite paper, providing expert analysis to key matches, giving his predictions, and entertaining readers. Sun Online readers will also get to watch him provide pre- and post-match video predictions and analysis of the biggest matches, including all England games.
Jose Mourinho said: "The Euros will be a fantastic tournament and The Sun, The Times, The Sunday Times and talkSPORT will capture all the excitement for fans across the country, I can't wait to get started."
Irn-Bru special packs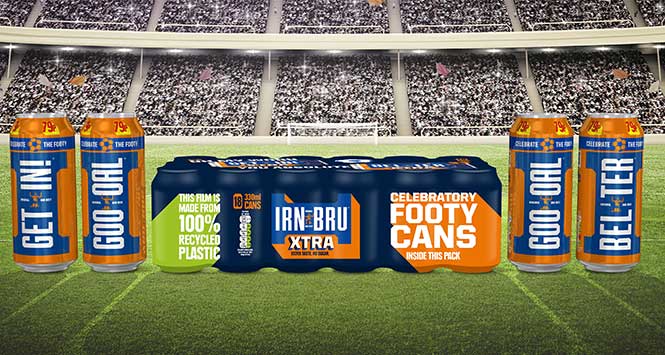 Barr Soft Drinks is aiming to help drive retailer sales this summer with special football packs for Irn-Bru, the number one Scottish grocery brand, encouraging shoppers to celebrate the footy.
The football packs will be supported by a strong social media and PR campaign plus high impact in-store displays and POS. They will be available in a number of pack formats (both regular, XTRA and sugar free), including 500ml big cans, 2 litre PET bottles, 18 x 330ml and 24 x 330ml multipack cans.
MAX sales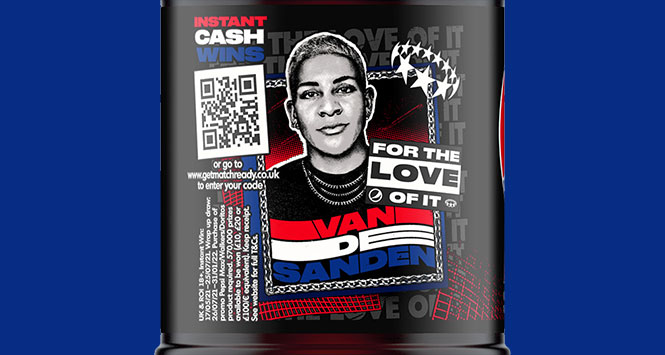 Pepsi MAX will also be helping drive sales this summer with an on-pack promo.
To celebrate its continued sponsorship of the UEFA Champions League, the Pepsi MAX on-pack is offering over half a million customers the chance to win instant cash via a QR code, to the value of £10, £20 or £100, the promotion will help drive sales among both new and existing shoppers.
Pepsi MAX will feature some of the world's top football stars on each promotional pack, and for the first time will feature a female footballer on-pack, following sponsorship rights being extended to the Women's UEFA Champions League and the wider Women's game.
The promo packs started appearing on shelves this month and are available until the end of July, in both take home and on the go formats, including main packs; 330ml cans, 500ml and 2L bottles.
A QR code on pack gives shoppers the opportunity to win cash prizes, taking the consumer directly to a Facebook Messenger chatbot which will tell them if they have won a prize, offering a more interactive experience. It is supported by a full marketing campaign featuring TV, social (including TikTok and Snapchat), in-store and online activity.