On the road from Glasgow to Loch Lomond is a new Spar store operated by Euro Garages, which has taken the concept of diversification to a new level and created one of the most attractive and forward-thinking c-stores in Scotland.
by Kevin Scott
---
Here at SLR, we're constantly highlighting the importance of diversification, how selling the basic categories is not enough to run a successful convenience store anymore. Any retailer looking at how to make diversification seamlessly sync within a traditional convenience operation could do with taking a trip to Euro Garages' Spar store at Lomondgate, just north of Dumbarton.
The store, which opened in April 2015, not only has a hugely impressive Spar store, but within it there is a Subway, a Greggs and a self-service Starbucks station.
Granted, the store has a huge footprint, but the way in which it has been designed allows shoppers to use it for a number of occasions, whether that's quickly paying for petrol and grabbing a soft drink, doing a weekly shop, or sitting down for lunch.
The store is owned and managed by Euro Garages, which has around 360 sites across the UK. Using concessions is a fundamental aspect of the company's growth plan, and this new-build site is a blueprint for its plans in Scotland.
Gary Fowler is Area Manager for Euro Garages, covering Scotland, and Gary also reveals that the group is planning major expansion across its estate of 12 Scottish stores. All sites will get either a Subway or Greggs, and in some cases, both.
The shop has been carefully designed, with the Greggs and Subway concessions on the left as you enter, with a seating area acting as a demarcation line between the eat-in part of the store and main convenience space.
The main store is around 3,000 sq ft and is focussed on impulse, with a huge range of soft drinks, snacks and confectionery. There is no off-trade, but that hasn't stopped a number of residents in the nearby housing development from filling a basket – the strength of the store's fresh offering helps here.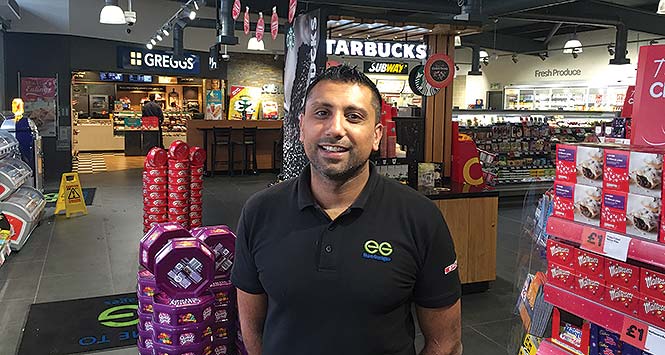 General Manager Imran Ali (pictured) says that there's a wide variety of customers. "We've got a new housing development close by, there's an estate behind the store and a lot of industrial sites, and that's before tourists pass on the way to Loch Lomond, so we need to meet a variety of needs."
Imran moved to this site from another Euro Garage store nearby, and he believes now that tourists have had a season of passing the new store, it will help sales grow next year.
"Right now, people stop in Dumbarton thinking it's the last store, and then they see us, with our branding outside."
While Imran is GM of the site, there are managers for the Subway and Greggs businesses and they have different opening hours, with the Spar being 24-hour.
"There's a lot going on here, but the basics remain the important thing," says Imran. "We need to get our ranging right, our merchandising and show shoppers that we can be cheaper than Tesco."
Gary says he is very happy with the performance of the store since opening, but believes there is room for improvement. "There's always work to be done in a store and here we're looking at moving some fixtures around to see what happens to sales."
One plan is to move newstrade to the back of the store, and put impulse lines next to the the Starbucks station. "Coffee has such great margins. And that's before winter comes in when hot drinks sales can go up by as much as 30%," says Gary. "The catering side of the business is growing in importance, but it's very intense. Staff have KPIs and there is certainly a bit of competition on-site, although everyone is aware it's all ultimately going into the same pot."
The biggest share of that pot comes from the Spar store, and Gary says the relationship with CJ Lang is a real strength for the business, using the firm's experience to nail the convenience side of the operation. There are high hopes for 2016 then. The shop may rely on big, global brands as opposed to the retailer's in-house offering, but multi-function sites such as this are the definition of 21st century convenience retail. It's been an enormous investment for Euro Garages, but it's one that already looks like it's paying off.