After three years of running SLR's own Woodlands Local store in Falkirk, we have finally completed the last phase of our complete refit programme – and the result is a modern, bright convenience store that's ready for growth.
by Antony Begley
---
When SLR first set out on the path to buying and running its own convenience store over four years ago, it's fair to say that we had no idea what lay ahead. To say that we have learned a lot about local retailing over the last few years is understatement bordering on the farcical. From the process of simply finding and buying a store through to last month's completion of the final phase of our full refit programme, the challenges have been consistently daunting – and there is absolutely no doubt that our understanding of just what retailers go through on a day to day basis makes SLR a unique title not only in Scotland or even the UK, but across the globe.
It has been an exciting four years – of that there is absolutely no doubt – but it has also been an exceptionally difficult and challenging period, so you can imagine the mix of relief, satisfaction, pleasure and anticipation that the team at Woodlands felt when the final stage of our refit was completed at the end of July.
That final phase saw a new floor going down, all-new shelving going in around the store and the final cosmetic touches being applied as SLR went to press. After so much work and so much investment, it's difficult to describe the feeling of walking into what is to all intents and purposes a completely new store from the one we bought three years ago.
Constant investment
It has been a slow and costly experience – in excess of £100,000 of investment has gone into the store in the last three years – but we have been determined to practice what he have long preached in SLR. Constantly reinvesting in your store has been a mantra in SLR for the last 13 or 14 years, so it's only right that we put our advice into practice in our own store, tough as that has been.
We are confident, however, that the investment will reap rewards. Today's customers have very high expectations when they enter a store. They expect a great, clean, bright, tidy shopping environment. They expect low everyday pricing. They expect great promotions. They expect a broad range of great brands. They expect brilliant customer service. They expect a smiling face and a few words of conversation. They expect to be recognised and known. They expect their local store to be active in their community. To be frank, they expect a lot – and it's our job to deliver against those expectations seven days a week. That is our job. But our goal is not just to meet those expectations but to exceed them.
At the heart of all of this is an attractive, welcoming store and we now believe that, finally, we have just such a store. The work done by Graham Mason's team from Direct Shelving Service who carried out this final phase of the refit has been nothing less than immaculate. The team were considerate, friendly and enthusiastic, engaging well with our customers and our staff as parts of the store remained open throughout.
As for the quality of the work, we simply can't fault it. The new floor replaced a tired, torn and battered floor that was simply unsightly. Likewise, the new shelving transforms the way the store looks. It's not actually easy to explain why the shelving looks so much better than what it was before, given that most of it is covered up by product, but for some reason it just does.
Final phase
This final phase completes a three stage process that started with ripping out the guts of the store and replacing it – electricity supply, wiring, Epos system – and progressed onto all new eco-friendly refrigeration, LED motion-sensitive lighting, voltage optimisers and a full refit of the counter area and hot food section.
The store is basically unrecognisable from the day we took it over in May 2013. But the stark reality is that the refit is really only the start of the hard work. The reason we committed to the final refit in the first place was to allow for a full re-working of the store layout.
The biggest change will see us swap the fresh and chilled section of the store with the licensed section. The licence amendment application was being submitted as SLR went to press and it is our plan to move the fresh and chilled section to the front of the store to drive sales in these higher margin categories. The alcohol will be moved to the back of the store and, while we will have slightly less space for alcohol, much more of that space will be chilled to allow us to carry a broader range of chilled beers, ciders, wines and RTDs.
The other major change is a shift towards a mission-shopping based layout. New areas are being created in the store for lunch, meal for tonight, big night in, pound zone and so on. A new section facing the hot food range will now offer pastries, doughnuts and other sweet treats, for instance.
At the front of the store three new standalone shelving 'islands' replace the old 4m run of solid shelving which has many benefits. Firstly, they create sight lines from most areas of the shop, including the till, which will allow every customer to see the new fresh and chilled range (previously it had been hidden away at the back of the store). Secondly, they create a feeling of space. Thirdly, they also allow us to introduce a second dedicated promotions bay.
We also intend to regularly remerchandise these islands so that they don't become 'wallpaper' for customers. The bays facing the tillpoint will be re-worked every three weeks to drive impulse sales and will be used to highlight NPD and strong promotions, for instance.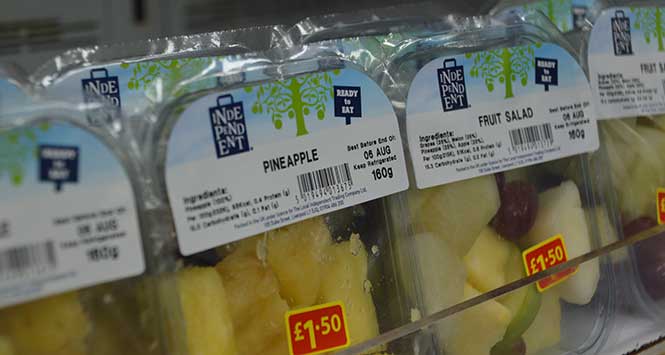 As for the range, we have worked hard with a team from Costcutter to implement their Independent own label range. The work is not yet complete but we have integrated Independent lines throughout the store, working to a basic principle of only carrying one premium branded option and one Independent value option for as many products as possible. Costcutter are also supplying our full fresh, chilled and frozen ranges.
The net result is that we will be delisting literally hundreds of lines to focus on, and give more space to, lines that are successful and have a high rate of sale. This is happening right across every category in the store and we expect to drive significant efficiencies as well as savings in stock-holding by maintaining a tighter range.
Over the next few months we will carry detailed overviews of the 'technical' work we are carrying out in the store within the Woodlands Local pages of SLR, for anyone that's interested. We will explain the rationale behind the new range and the delistings, demonstrate the planograms we will use to maintain every fixture and show precisely how we are monitoring the range as time goes by, adding new lines and delisting others.
We will also show how we will be using the Woodlands Local Rewards Club to leverage the refit, bring new customers to the store and communicate all the work we're doing.
It's an interesting and nervous time for us at Woodlands Local as we cross our fingers that all the work converts into sales uplifts. But we can content ourselves with the knowledge that we are indeed practising what we preach in SLR. Just as it says on the front of the magazine: "We understand retail because we're retailers too."