The #ThinkSmart3 festival of tech, data, digital and innovation for the convenience channel took place on 25 September at Strathclyde University's Technology and Innovation Centre, where the audience got a glimpse of what will be driving success in the c-stores of the future.
by Findlay Stein
---
It has arguably never been harder to be a local retailer. In an increasingly crowded marketplace, the likes of Amazon are chipping away at the USPs that convenience stores have long enjoyed with a ruthless deployment of technology that gives them previously unimagined and unrivalled depths of customer insight.
The recurring message from speakers at the #ThinkSmart3 conference was not one of doom and gloom, however, but that retailers could – indeed should – use technology and the data it generates to fight back. The event, chaired for the third time by industry veteran and #ThinkSmart regular Tom Fender, offered the audience a number of practical ways to do this. Read on for a glimpse of the future.
Kristine Moore
Retail Technology Channel Manager, Henderson Technology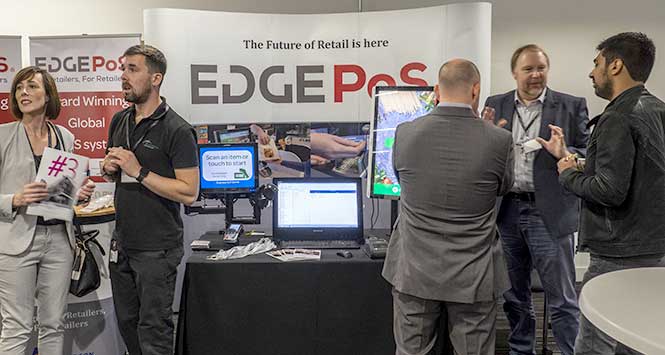 Henderson Technology is a name Scottish local retailers are going to become increasingly familiar with, as the Northern Irish company continues to make inroads on the mainland with its EDGEPoS platform. Kristine Moore outlined some of the integrations that seamlessly plugged into the core system.
These include electronic shelf labelling solution, EDGEPoS ESL. Implementation in a trial store resulted in a 2% rise in margin and 12 man hours saved per week. The system can change every price in a store in under a minute.
EDGEPoS Appetite is a food-to-go integration that lets customers build an order on their phone or at an instore kiosk – not unlike McDonalds – then pay either on the app or instore before collection, and all fully recordable in the back office.
The Gander waste reduction app allowis retailers with short-dated stock to push notifications of reductions to customers' phones. An item is immediately deleted from the list of offers the moment it is purchased. Moore said Henderson was the first company to launch this anywhere in the world.
Scan and Go lets customers build a shopping list then get guided by an app round the store to collect items.
The EDGEPoS system got a lot of attention in the ThinkSmart exhibition space, not least for its self-checkout module. This allows the cashier to turn a second or third till into a customer-facing self-checkout at any time. It doesn't take up any additional space instore, and the cashier can take control of the transaction at any time.
Asim Sarwar
Executive Chairman, United Wholesale Scotland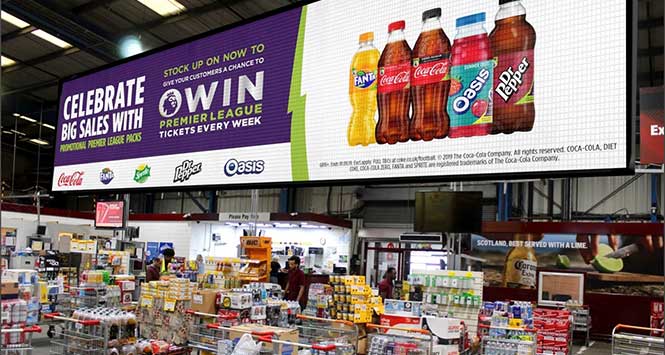 United Wholesale Scotland's Asim Sarwar showcased some big changes coming the company's Queenslie depot soon. He said the 'Depot of the Future' would help revitalise cash and carrys.
Sarwar said United's customers would embark on a new purchasing journey that will see retailers – using the United Connect app – create a shopping list in their store, scanning products they require on their smartphones. They will then automatically connect to the system when they arrive at Queenslie, to be guided round the aisles in the most efficient manner by the app. LED shelf edge labels will flash when the retailer gets near a product on their list. A scan-and-go system will also operate, where retailers simply need to have a QR code on their phone zapped at the till.
Retailers will notice a number of other changes around the depot, Sarwar said, not least a 4m x 48m LED screen that will welcome customers on arrival. LED screens have also been added to the aisle ends. The number of aisles has been extended and the tobacco room has doubled in size. It too benefits from an LED screen.
The wholesaler can now leverage the data it collects from the app to offer customised campaigns, and offer retailers tailored deals on products they've shown an interest in.
Tom Fender
Development Director, TWC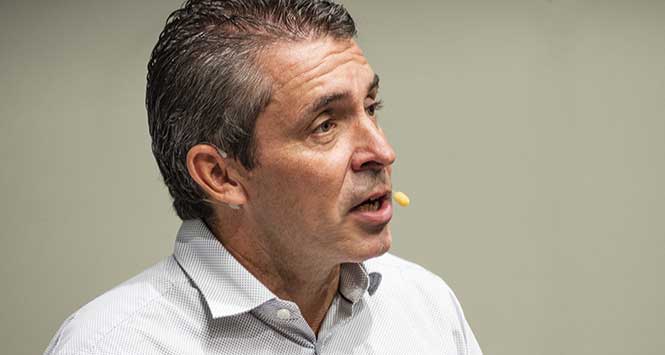 Specialist data insight company TWC recently won the contract to provide the data management portal for Unitas, and will exclusively manage the wholesale group's shipment data.
It also markets Alchemy Elements, a modular solution that lets businesses – retailers as well as wholesalers – develop a continuous cycle of identifying growth opportunities; sharing best practice; rewarding performance; engaging staff and customers; and enabling feedback management.
As it is modular, businesses can just acquire the elements they need.
The point, Fender said, "is to make data transparent, usable and then actionable afterwards".
The Alchemy Dashboard takes data from various sources, amalgamates it then presents it back "in a really visual and compelling way", said Fender.
The Snapshare module acts like Instagram and allows retailers to upload and share images of best practice, helping to improve campaign compliance. This, Fender said, is "in everybody's best interests" as more compliance will lead to more investment from suppliers.
It could also prove useful for retailers to help maintain standards when they are away from their stores. "It's not to say you don't trust your staff, but you just still want that reassurance," said Fender.
He also called on the sector to launch more innovations. Companies don't appreciate just how tech-savvy the average UK consumer is, he said, adding that "businesses need to keep up with their customers".
Antony Begley on behalf of Colin Munro
Managing Director, Miconex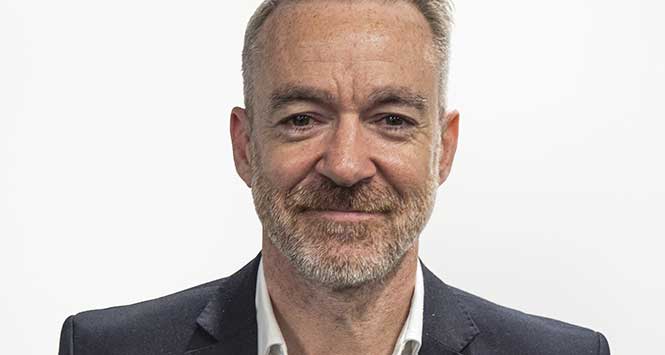 Colin Munro, Managing Director of Miconex, had been scheduled to discuss the company's Mi Rewards city-wide loyalty programme that offers benefits to both retailers and they communities they trade in. However, unforeseen circumstances dictated otherwise and ThinkSmart conference host Antony Begley ably stepped in to give the presentation in his place.
Mi Rewards is about as 'frictionless' a city or town-wide loyalty scheme you can get. No loyalty card or app is required – consumers simply register one or more credit or debit cards with the scheme's online portal then pay for goods and services as usual. Points then get added to their Mi Rewards account, going towards a digital giftcard that can be redeemed with participating partners which include everything from retailers, cafes and bars to bus providers, local amenities and cinemas. One per cent of transaction values goes into a central pot to fund the scheme.
The scheme initially rolled out in Perth with other 60 businesses involved. It aimed to breathe life back into the city by encouraging people to make more use of businesses in Perth rather than elsewhere or online. The scheme has to date garnered 1,900 users who have spent over £300,000 in Perth. What's interesting, said Begley, is that every person who initially registered is still using Mi Rewards.
As well as increased footfall into the city centre, the scheme captures a vast amount of data about customers that is shared with every participating retailer.
This data then allows them to build a detailed picture of the people who are – and more importantly – aren't visiting their store.
David Morgan
Retail Consultant, WiseShelf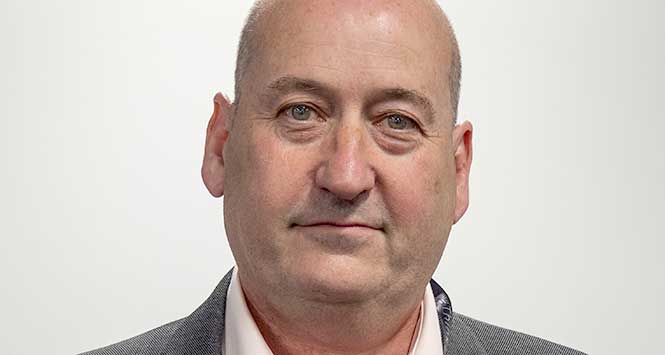 WiseShelf's smart shelving solution improves shelf stock availability, replacement efficiency and planogram accuracy.
Morgan said on-shelf out of stocks run at around 8% on average, but the impact is bigger as they tend to occur on key lines. This frustrates shoppers, damages a store's reputation and ultimately makes customers go elsewhere.
To reduce these, the WiseShelf solution consists of a shelf topper covered in an array of light sensors that are connected to cloud-based software that monitors the shelf in real time. The sensors detect 1,000 different light levels that means the software differentiate between a shadow or a dirty mark, for example. Or a bottle of Coke from a bottle of Sprite.
The software alerts staff to items that are out of stock and operates a traffic light system so that key products can be replaced first. Alerts don't just appear in the back office, and can be pushed to mobile phones and staff handheld devices.
The system also notifies staff if a shelf needs faced-up and helps with laying out planograms. It also gives a better understanding of when out of stocks are happening, allowing retailers to replenish shelves proactively.
Morgan said stores using WiseShelf had experienced a 50% reduction in shelf out of stocks and a 40% drop in shelf replenishment times, adding that retailers could expect a return on their investment in between four and months.
Future developments for system include integrated wide-angle shelf cameras for planogram compliance and "product taken" tracking, with a smart fridge solution also in the pipeline.
Gordon Neil
Strategy & Marketing Director, McCurrach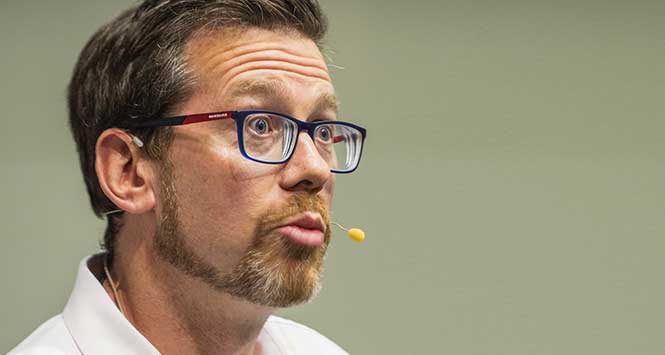 According to Gordon Neil, retailers are crying out for more straightforward support and advice from brands. Furthermore, he said 70% of retailers would like all that information from brands all in one place.
On the other hand, Neil said brands wanted retailers to stock the right products in the right place; wanted a cost-effective way of achieving that goal; and also wanted to have a two-way conversation with retailers.
To address these concerns, McCurrach has – in partnership with News UK – developed MyStore+. This is an app that, as Neil put it, "brings brands and retailers together to sell more in ways that work for both".
Simple to use, it gives retailers access to category and brand advice, offers and financial rewards. These can be redeemed by snapping a picture of the relevant fixture. Retailers can also talk directly to brands through a chat function.
To date, over 2,500 retailers are engaged with the app. Neil said this number was on track to hit the 7,000 mark by December.
He said a campaign for Wall's received over 8,000 engagement, giving the company valuable insights into what SKUs required focus.
It is this sort of feedback that will ultimately benefit retailers, with the subsequent fine-tuning leading to better ranges and bigger sales.
Blake Gladman
Strategy & Insight Director, KAM Media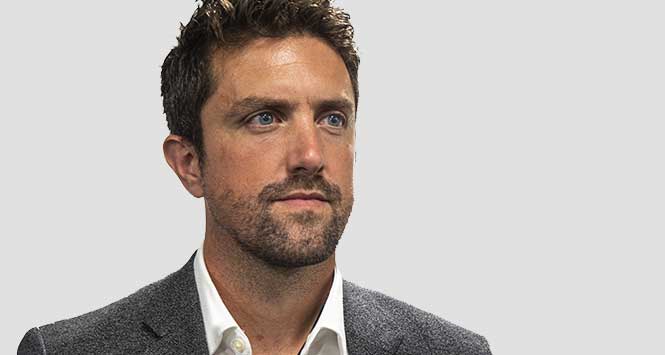 It's fair to say that veteran ThinkSmart speaker Blake Gladman likes his statistics. It's also fair to say not all his stats make for pleasant reading.
Gladman kicked-off by informing the audience that only 15% of people think convenience stores are keeping up with modern trends.
He warned that the convenience channel's unique selling points – speed, customer relationships and location – were being eroded by the technology revolution, but that convenience could use the same tech to fight back, not only protecting its existing USPs but by creating new ones.
He said customer experience was now the key issue. Speaking to consumers, KAM Media found 43% said the quality of service was the main reason they would choose one retailer over another. Gladman said prices and availability become secondary concerns when the customer experience is bad.
With an astounding 44% of people actually looking forward to grocery shopping, he warned that too many retailers see it as a transaction and need to shift their focus towards the experience.
And how to do this? By using data. "Technology is data" said Gladman, adding that ultimately "everything is data".
He used the analogy of a squirrel, storing nuts for winter. Retailers, he said, need to store data from EPoS, wifi logins, customer apps and mobile delivery, then maximise and make use of it.
As people become more accustomed to the world we're now living in and understand the give-and-take process with businesses, over half of them are happy to share their data if they can get a more tailored experience.
Gladman went as far as to say to that If businesses don't then use that data, they are breaking the bond of trust the customer has made by giving it in the first place. To put it more bluntly: if you're not using data to tailor a customer's experience, then you're failing them.
Steve Lintott
Head of Field Sales, Juul Labs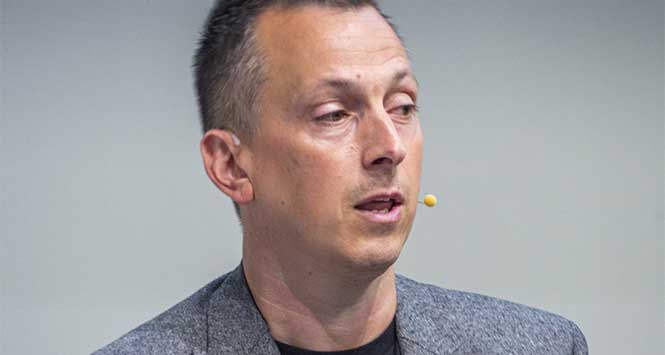 American brand JUUL Labs is at the forefront of technological advances in the vaping category. The company's Head of Field Sales Steve Lintott briefed the ThinkSmart audience on its new C1 device.
This is Juul's first connected device, which links via Bluetooth to the user's smartphone. An app lets consumers start to control their usage by monitoring both puff count and puff duration. It displays the results on a dashboard similar to those found in fitness trackers.
The C1 also has an auto lock feature to prevent anyone using the device when it's out of Bluetooth range, which Lintott said would combat underage usage.
The location feature is proving popular with absent-minded users. If it's in Bluetooth range, the C1 will emit a sound to help track it down when alerted via the app. If it's not, then its last known location will display on a map.
Lintott also urged convenience retailers to follow supermarkets in embracing closed pod systems. He said the convenience channel's continued focus on open systems was reflected in its falling share of the market.
Wayne Jeffery
Managing Director, Queuecheetah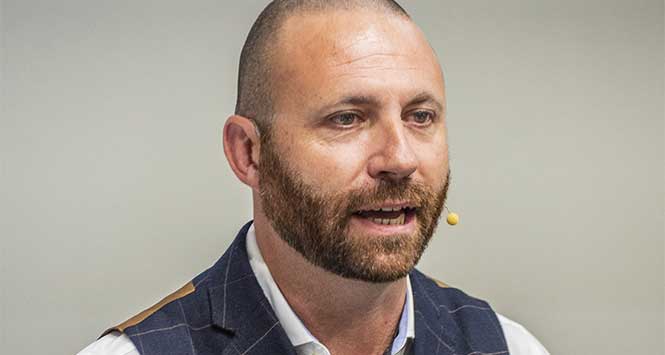 Queuecheetah initially launched solely as a queuebusting app to cater for the 85% of consumers who would like instore tech to help them with their shopping.
At its simplest level it offers a solution that lets customers scan items on their phones as they go round the store and pay via a credit or debit card linked to the app.
Wayne Jeffery, the company's Co-founder and Managing Director, said it costs less then 13% of the price of a physical self-checkout and had the added benefit of not taking up any valuable space in-store.
It can also help increase basket spend. It a customer scans a product that is included in a meal deal, for example, then the app will suggest the additional items and the saving that can be made.
It has evolved quickly since its April launch to offer more functionality, and now captures data that can be used to build customer profiles. Push notifications allow retailers to talk to their customers and drive sales of targeted products.
The app is developed based on retailer feedback; there are plans to incorporate home ordering, click and collect, pre-ordering, loyalty and voucher schemes.
Referencing McCurrach's MyStore+ app, Jeffery said the app "closed the loop" from suppliers to retailers to customers and back to suppliers. He said Queuecheetah would let retailers quickly communicate deals that brands passed onto them and then, via its comprehensive reporting features, allow sales data to be fed back to the brands.
Jeffery said the platform was easy to implement and only needed a retailer's Merchant ID to link up with. It can be deployed on a six-month trial basis and a flat monthly fee is charged.
Queuecheetah isn't for everyone though. Jeffery laughingly recounted a meeting with one retailer who said: "I like queues, they make me look busy."