After a relatively slow year in terms of NPD and new activity, the energy drinks category is rapidly making up for it in 2021.
---
The year 2020 will go down in retaining history as a year like no other with the pandemic affecting every aspect of the local retailing sector. This included dramatic changes to the ways many customers shop, a shift that has particularly dramatic effects in a key category like energy drinks.
"The current situation has, as in so many other categories, changed the way some sports and energy drink consumers shop, with many continuing to work from home, says Matt Gouldsmith, Channel Director Wholesale at Suntory Beverage & Food GB&I. "However, many core occasions within the category remain the same – with some shoppers looking for an all-day energy uplift and others a gentler lift when they need it.
"Scottish retailers should stock a range of options to enable shoppers to find the right drink for them throughout this year. Energy and sports drinks account for 30% [IRI, Nov 2020] of total soft drinks sales in convenience, so it's an important segment of any retailers' chiller, with drinks satisfying different shopper needs.
"By blocking sports and energy by need state – starting with stimulants, flowing into sports, then energy and finally natural energy, customers will be able to easily find the right drink for the right occasion."
In terms of growth drivers, it's important to remember shoppers want variety when buying sports and energy drinks.
"We are investing in ambitious innovations across our leading portfolio to drive sales for Scottish retailers by giving consumers a choice of drinks in exciting flavours to meet a range of performance and energy needs," says Gouldsmith.
And Suntory is not alone in driving the NPD agenda.
Major shifting consumption patterns have been reflected in a spate of interesting and innovative new product launches and initiatives this year from many of the major manufacturers. Last year was a relatively slow year in terms of NPD as retailers, wholesalers and suppliers focused on getting (and keeping) the basics in place to get stock onto shelves, but the manufacturers are making up for it this year.
With consumer trends changing so fast, it's no surprise that new products have been created to tap into the latest purchasing patterns.
Key trends to be aware of include:
Growing demand for lower-sugar drinks
An increased focus on health and wellbeing
The important role of flavours
The growth of take-home packs
More focus on PMPs and value in general
SLR takes a look at some of the best energy NPD in recent months…
Red Bull Summer Edition – Cactus Fruit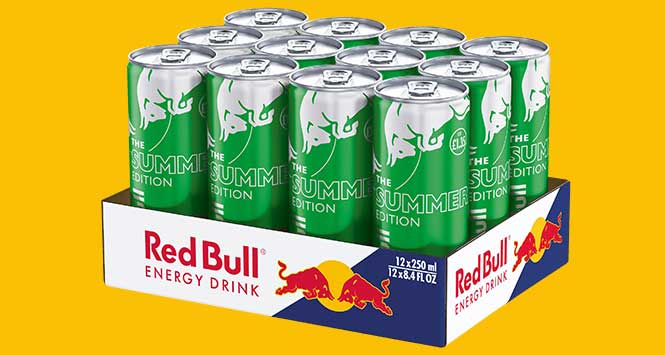 Category captain Red Bull launches the latest in its seasonal Editions series this month with the unveiling of this year's Red Bull Summer Edition in a cactus fruit flavour.
Priced at £1.35, the latest flavour delivers all of the functional benefits of Red Bull Energy Drink along with an invigorating burst of berry that blooms into an exotic fruit and violet flower taste.
With Red Bull Editions growing at 32.6% in value last year [Nielsen, Feb 2021], now is the perfect time for retailers to stock up on new flavours to maximise sales over summer.
Red Bull Summer Edition in 2020 proved so popular with shoppers that it has now become a permanent SKU known as the Red Edition. Following this success, Red Bull hopes the new cactus fruit Summer Edition will continue to drive category growth while satisfying energy drink consumers who would try a tropical fruit flavour.
Shoppers are buying Red Bull Editions more frequently with average frequency double its rate a year ago [Kantar, Dec 2020].
To help drive overall category growth, the launch is supported with 360 in-store marketing investment and is available in eye-catching 250 ml green cans for purchase from various retail locations across the UK.
Red Bull's Bestway tool
Red Bull has launched an online tool through Bestway Wholesale to help retailers maximise energy drink sales by stocking the most profitable soft drinks in-store.
The partnership sees a new digital consultancy tool created to enabl retailers to receive tailored advice on how to maximise soft drinks sales in-store.
The online platform is quick and easy to use and takes retailers through a simple step-by-step consultancy process, first asking for the store's geographic location, followed by the chiller size – either via pre-suggested measurements or bespoke entry, followed by submitting the number of facings per branded SKU. The tool then calculates the best SKU ratio, delivering a personalised, downloadable planogram.
The tool is available to stores in Scotland and aims to help retailers remove soft drinks from their chillers that aren't performing as well in the store's local area, and replace with more popular SKUs to maximise profit and sales by advising which facings should be decreased or upweighted. The tool also allows retailers to simply access the suggested replacement SKUs through Bestway online, delivering a seamless purchasing transaction from start to finish.
In addition to offering bespoke ranging advice, the platform offers category insight and information, via a downloadable education resource; 'Three Steps to Sale Success'.
The Category Tool will roll out across additional wholesale partners across 2021.
Find out more about the Soft Drinks Category Tool.
Rubicon Raw Energy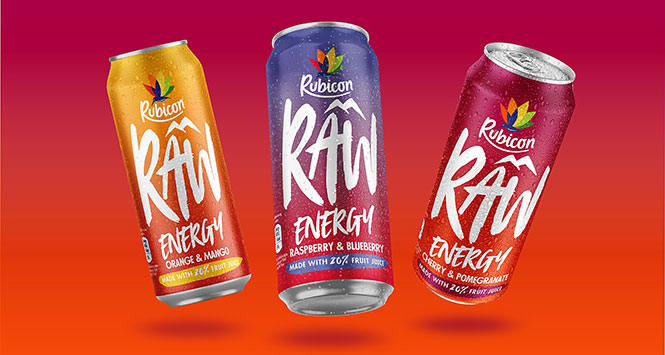 Home-grown giant Barr Soft Drinks has launched a Big Can Energy drink under its Rubicon brand. Rubicon Raw was built on a foundation of consumer insight and the company believes it offers something truly new and different to today's energy drinks market.
Rubicon Raw is made with 20% real fruit juice, which together with caffeine from green coffee beans and B-vitamins provides a big energy hit that is full of flavour.
"We've launched Rubicon Raw to meet the needs of today's developing Energy consumers," says Adrian Troy, Marketing Director at Barr Soft Drinks. "We have invested heavily throughout the development of Rubicon Raw to understand the Energy consumer better, and what's relevant in their lives today. They adopted the category as young adults, but many have matured and evolved as consumers since then, and they're calling out for something new.
"The average age of an energy drinker is older than one might think at 31, and their needs are moving on. They are life maximisers, people who want to get the most out of life. Energy drinks fuel that lifestyle."
The Rubicon Raw range comprises three variants – Raspberry and Blueberry, Orange and Mango and Cherry and Pomegranate, with natural flavours and no artificial colours.
The launch will be supported by a £1.5m consumer, social and shopper marketing campaign designed to raise awareness and encourage trial.
In line with Barr Soft Drink's commitment to environmental sustainability, the Rubicon Raw outer case will be wrapped in 100% recycled film, which has more than half the carbon footprint of its virgin plastic equivalent.
The levy free 500ml Rubicon Raw range is available in plain pack (RSP £1.29) and a £1.29 PMP with a range of in-store and in-depot POS to signpost the category and engage shoppers at the fixture.
Monster Mule, Ultra Fiesta and Juiced Monarch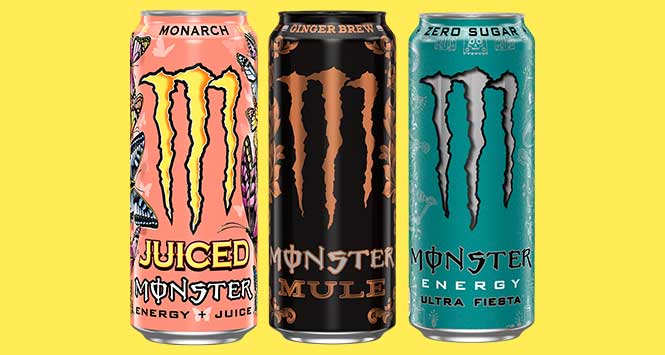 Coca-Cola Enterprises has already unveiled three new Monster lines this year:
Monster Mule
An energy twist on the famous Moscow Mule cocktail, Monster Mule is the first ginger-flavoured energy drink in GB. The new 500ml variant contains 32mg of caffeine per 100ml and delivers a satisfying taste of spicy ginger with a hint of lime.
Monster Ultra Fiesta
Monster Ultra Fiesta blends a juicy mango flavour with the renowned Monster energy blend, giving consumers a tasty energy boost with no calories and no sugar. The light and refreshing tropical variant will help retailers tap into consumers' continued awareness of their calorie and sugar intake.
Monster Juiced Monarch
Bringing together a mix of peach and nectarine, Monster Juiced Monarch combines real fruit juice with Monster's unique energy blend. Named after the Monarch butterfly, the new variant comes in eye-catching packaging with street culture-inspired butterfly designs.
Ranging and merchandising advice from Coca-Cola European Partners
Core Best Sellers & Larger Packs: Allocate the most space to best-sellers including double facings where needed – to avoid running out of stocks during peak times of the day. Ensure you increase space for larger packs for at-home sharing occasions.
Low & No Sugar Options: Stock a wide range of low and no-sugar variants. Position these alongside great tasting original alternatives, so it's easy for shoppers to choose the one they want.
Cross category seasonal displays: 41% of Soft Drink shoppers are on a Food to Go Mission. Place soft drinks alongside complementary categories like snacks to drive linked purchases and use clear pricing and promotions to grab shoppers' attention
Space & Promotions: Group key soft drinks segments like Energy together to make the fixture easy to shop and consider stocking price-marked packs as they offer visible value, reassuring shoppers that they can get the products they want, at an affordable price.
Simon Harrison, Vice President, Commercial Development at CCEP GB, says: "72% of energy sector growth over the last year has come from new products [Nielsen, Dec 2020]. Much of this is thanks to the huge success of Monster's new variants which contributed to over half of this. We know there's big demand in the market for new and exciting flavours, including in the low calorie energy segment. We're confident that our latest launches, supported by impactful marketing campaigns that the Monster brand is known for, will appeal to new and existing energy drinkers and will drive sustained growth throughout this year."
To help retailers determine which segments and variants to stock, how many of them, and how to bring the category to life in-store, Monster and its distributor Coca-Cola European Partners have launched a new retailer support platform: SalesSupercharged.co.uk.
Visit salessupercharged.co.uk for more tips, trends, inspiration, equipment info and POS – and the chance to win free stuff!
Monster's top tips for supercharged sales
Stay cool
Shoppers are more likely to buy an energy drink for immediate consumption if it's chilled. Make sure they have easy access to cold cans.
Get your range right
It's important to stock products in all the main energy segments. Using sales data is a good way to identify which lines can be removed to make space for new launches.
Keep it clear
Help shoppers navigate the fixture by grouping brands within each sub-sector. If you can, signpost your Traditional, Zero Sugar, Flavoured and Performance Energy offerings.
Allocate secondary space
Energy drinks are big drivers of impulse sales and need to be visible throughout your store. Monster-branded coolers and display units are a great way to maximise standout.
Get behind promotions
Bring the category to life by offering exciting promotions that tap into your shoppers' interests. Who doesn't want to win a money-can't-buy Monster prize?
Know your shoppers
Price-marked packs can reassure shoppers that they can get the products they want, at an affordable price. And don't forget to allocate space to take-home packs, especially at the moment.
Lucozade Tropical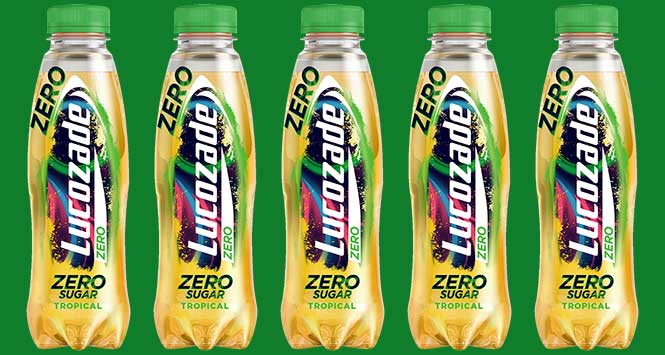 In February, Lucozade added a twist to retailers' shelves with the launch of a brand-new drink: Lucozade Zero Tropical. Available in 500ml bottles and 4x380ml multipacks, Lucozade Zero Tropical is the Lucozade brand's first ever flavour exclusive to the Lucozade Zero range.
To support the launch, a comprehensive marketing campaign including outdoor advertising, PR, digital and social media activity goes live in the summer.
Low and no sugar soft drinks present a huge opportunity for retailers – making up more than half of total soft drink volumes sold.
Over the past few years, shoppers' spending on zero and low-sugar drinks has increased by around a third, showing just how important it is for retailers to pay attention to this new zero-sugar energy brand flavour.