Getting your breakfast offer right in-store can seem like a complicated process with fast-evolving consumer demands. However, getting back to basics by building a strong core range is a quick and easy way to ensure that you get your share of sales. Here's how….
---
The traditional breakfast fixture is one of those areas of the store that doesn't often get a lot of attention from retailers. Recent interest in the category has centred around the breakfast-on-the-go opportunity – yet core cereals remains a vitally important element of most stores' offer.
It's easy to get caught up in the latest NPD and the increasing focus on healthier products but the fact remains that when it comes to cereals, the key brands are relatively easy to identify – they've been big sellers for a long time and customers put their trust them. To put that another way, if you get the basic core range sorted you're well on your way to a profitable fixture that will deliver footfall and sales.
According to breakfast experts Kellogg's: "The success of any cereal product you sell is ultimately decided by whether your customers need it or not. Every customer has a different need so your range should cater for their needs. This means a successful range should offer variety so customers can find the product they want and in turn make you a healthy profit."
Clearly, a successful fixture should look visually appealing but should also be convenient for your customers. To make sure shoppers can find what they're looking for, it's always a good idea to site the biggest brands at eye level, making them easy to find and recognise.
To achieve an easy-to-navigate fixture create 'segment blocks' where similar types of cereal are grouped together.
An example of a strong planogram is featured below, but this should be tailored to more accurately meet the needs of your specific customer base using your own EPoS data. Use it as a starting point, however, and you won't be far away from an efficient fixture with a high rate of sale for every product listed.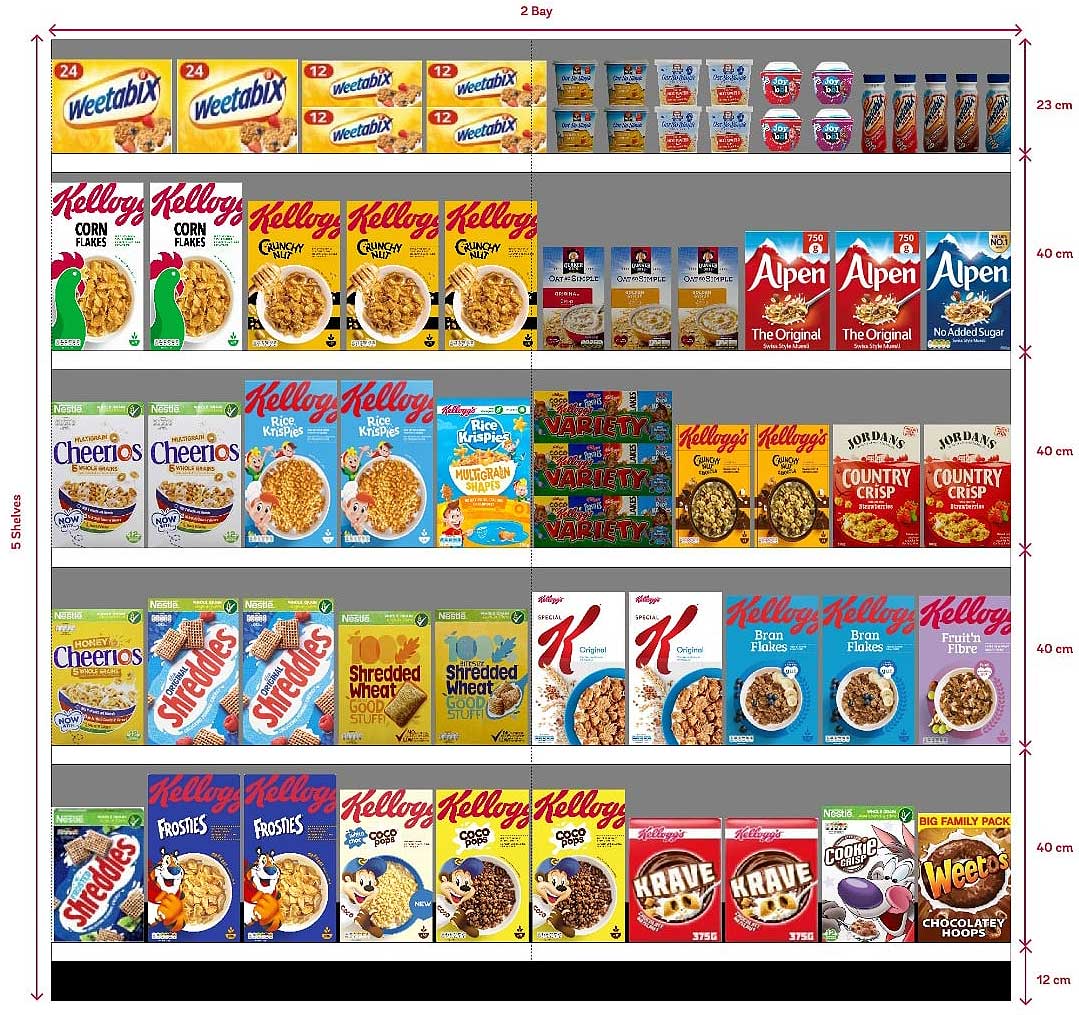 On-the-go
"Breakfast is a key occasion for convenience retailers," says Susan Nash, Trade Communications Manager at Mondelez International. "And out-of-home breakfasts are currently seeing double digit growth [Kantar]. Retailers have a great opportunity to drive sales by offering convenient formats which cater to consumers' busy lives."
To capitalise on this opportunity, Nash recommends retailers stock up on belVita Breakfast which is available in convenient single packs in several variants: belVita Strawberry Duo Crunch, belVita Honey & Nut, belVita Crunchy Hazelnut and Soft Bakes Choc Chip.
"With one of the highest repeat rates in the entire biscuits category at 60% [Kantar, Aug 2018]], belVita has continued to lead the healthy biscuits and breakfast biscuits segment through continued investment in new products and large-scale marketing campaigns," she says.
This includes the company's latest innovation, belVita Seeds and Berries, which comes in two flavours: Raspberry & Chia Seeds, and Blueberry & Flax Seeds. These are available in six-pack boxes with three biscuits per pack. The brand has also recently launched its first-ever reduced sugar variant belVita Chocolate Chip with 30% less sugar.
Cereal thrillers
The list of some of the best-selling cereals in the UK will be familiar to all – but do you have every line on your fixture?
Bran Flakes
Coco Pops
Corn Flakes
Crunchy Nut
Crunchy Nut Granola Chocolate & Hazelnut
Frosties
Fruit 'n Fibre
Krave Chocolate Hazelnut
Rice Krispies
Special K Original
Kellogg's Variety
Rice Krispies Multigrain