The biggest attraction of the big night in occasion is the opportunity for retailers to build big basket spends – and a little effort and thought can go a long way.
---
At the heart of it, the big night in occasion is a wonderful opportunity for retailers to help customers make the big basket spends that they came to the shop to do. Whether they're shopping for family or friends coming round to watch the latest Old Firm stramash or granny's 70th birthday, the chances are that they are less concerned about what they append and more concerned about looking like a good host.
That presents a rare opportunity for retailers to build big baskets by making purchases easy, quick and logical for shoppers to make. Something as simple as building a dedicated big night in fixture can help achieve that, or even just taking time to ensure that your adjacencies make sense. Are your sharing bag snacks next to your 2 litre soft drinks? Do you have some larger format confectionery nearby, and how far away is all that from the beers, ciders and wines? Make it easy and the big baskets will follow.
Clearly, one way to cater for the big night in is to be prepared. Granted, there are a lot of big nights in that you might not know about – big Stewart's graduation party or Mrs McIvor's knitting bee – but there are still a lot that you can plan for. School holidays, bank holidays and major sporting and cultural events can all be catered for and all it takes is a little effort and maybe a little thought around in-store theatre or POS.
Top tips for retailers from Mondelez
Confectionery is one of biggest food and drink categories in convenience and the category is the most impulsive, so availability and display are really important. Follow the basics below to maximise sales in the category and capture the attention of big night in shoppers.
Focus on the bestselling lines
Have a range that covers all need states: self-eat, sharing and gifting confectionery
Use manufacturers' point of sale material where available
Make the most of brand investment – have displays ahead of advertising or media investment
Don't forget the basics; keep displays fully stocked and tidy
Consider a specific Big Night In cross-category display
Visit deliciousdisplay.co.uk for more information
The categories that you should focus on are all fairly obvious but the general principle is bigger pack formats and a lots of little additional tempters to try to add a few impulse sales on top of the pizzas, cases of beer and take home packs of soft drinks that the customer came in for.
By far the easiest way to ensure that you are always prepared for a big night in shopper is to have a dedicated big night in fixture, says Amy Burgess, Senior Trade Communications Manager at Coca-Cola European Partners (CCEP). She says: It's all about merchandising for bigger basket spends. Designating a space in-store for the 'Big Night In' occasion can add a layer of convenience for consumers, whilst also encouraging impulse purchases that can lead to incremental growth.
"Retailers can also cross-promote soft drinks alongside other products is an evening 'meal deal' to increase overall basket spend. This sees a soft drink, such as bottles of Coca-Cola zero sugar or Appletiser, offered alongside starters, mains and desserts for a discounted set price, helping to improve the perception of value for people enjoying a meal at home or hosting a dinner party."
Once you've got the merchandising solution in place, the only thing left to do is choose and range and the communicate it effectively to your customers. To help you do just that, we've taken a look at some of the most important categories and products to help you set your big night in sales alight….
Coca-Cola European Partners

Healthier drinking
Amy Burgess, CCEP's Senior Trade Communications Manager, highlights the societal shift towards low- and no-alcohol options as people become more calorie conscious. "Figures from the Office of National Statistics show that 20% of adults in the UK do not drink alcohol at all, so it is more important than ever to offer a range of great-tasting, premium soft drink alternatives like Appletiser," she says.
"As well as delivering on taste and refreshment, adult soft drinks offer consumers a sophisticated alternative to alcohol that they are happy to consume while others may be drinking beer, wine or cocktails. For teetotallers, Appletiser can present consumers with a more exciting change from their day-to-day soft drink choice for a special occasion, or an interesting base to a mocktail alternative.
"Healthy options have undoubtedly gained mainstream appeal, with 90% of consumers saying that they're influenced by health when shopping [Kantar]. Therefore it is important for retailers to ensure they have a range of healthy drink options available, such as Diet Coke, the number one sugar free cola [Nielsen, Dec 2018] in GB, and Coca-Cola zero sugar, the fastest growing light cola brand [Nielsen, Dec 2018]."
As more consumers look to make positive changes in their lifestyles, sugar content has become a major factor in their choices.
"Last year we invested heavily in our low and zero sugar variants, with £25m spent on Diet Coke and Coca-Cola zero sugar alone," says Burgess. "We have followed this up by introducing a range of innovative low and no sugar variants across our portfolio in 2019, including Fanta Zero Grape, Capri-Sun Cherry, Diet Coke Twisted Strawberry and Coca-Cola zero sugar Raspberry."
Mixers
Whether it's a 'date night', 'family film night' or a dinner party, stocking a range of mixers such as the Coca-Cola portfolio or Schweppes Classic tonic will help boost sales. "Mixers are growing in popularity [Nielsen, Dec 2018], whether consumed with or without alcohol," says Burgess.
Must Stocks & NPD
"Consumers are becoming more adventurous than ever and are looking to experiment with new and exciting variants of their favourite soft drinks," says Burgess. "To tap into this, we recently unveiled two new light cola flavours. Diet Coke Twisted Strawberry has a tangy and exotic taste, and Coca-Cola zero sugar Raspberry offers consumers a palette-pleasing fruity flavour.
"A staggering 7.4 million households in GB buy flavoured colas. This equates to an increase of 1.7million buyers over the last year adding +30% growth to flavoured colas in 2018 [Kantar, Dec 2018], demonstrating the clear opportunity for more flavour variety.
"The flavoured carbonate segment is now worth £494m, and our Fanta brand is worth £184.8m [Nielsen, Sep 2018], with a value share of 23.7% [Nielsen, Jul 2018]. To help retailers make the most of this, we have evolved our portfolio with Fanta Grape Zero. Combining the popularity of Fanta and growing demand for both flavoured and low sugar carbonates, Fanta Grape Zero presents a fantastic opportunity for retailers to maximise their soft drinks sales.
"Fanta Grape Zero will be available in a 330ml can and a 500ml PET bottle for instant consumption occasions, and 4x330ml can multipack and 2L PET bottle for future consumption."
Capri-Sun
CCEP has also unveiled a new ad campaign for Capri-Sun original to highlight that the brand contains no preservatives, colours or artificial sweeteners, making it a great-tasting option for parents buying a juice drink for the whole family.
The new ad runs until the autumn as part of an integrated campaign to help retailers increase sales of the brand, which is the largest kids juice drink in GB, 48.1% bigger than the nearest branded competitor [Nielsen, Dec 2018].
Simon Harrison, Vice President, Commercial Development at Coca-Cola European Partners GB, said: "We know that parents are increasingly scrutinising the food and drink choices they make for their families and are choosing products that are perceived to be more natural. The new TV advert highlights that Capri-Sun original is 'filter free' and contains no artificial sweeteners, colours or preservatives whilst maintaining the fun and light-hearted nature that the brand is famous for.
"With more than 1.2 million people tagging #nofilter in 2015, and this number increasing year on year, the campaign is set to resonate with consumers."
Mondelez International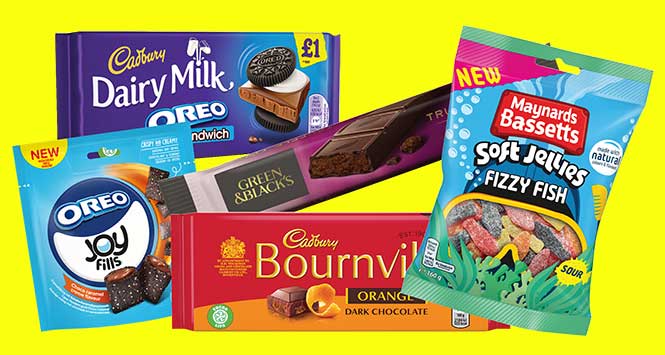 "Chocolate is still the number one choice for those settling down for a night in with friends and loved ones, followed by candy, biscuits and crisps – so there are plenty of opportunities for cross category selling to create the perfect night in offer with chocolate at the centre," says Susan Nash, Trade Communications Manager at Mondelez International.
What's more, 52% of all confectionery occasions take place with other people present, so having a range of sharing formats is key to maximising this opportunity.
Chocolate
Chocolate sharing formats, like bags and tablets, are key and bags are the fastest growing standard chocolate segment [Nielsen, Oct 2018]. As category leader, Mondelez is helping drive growth through its Cadbury and Green & Black's brands.
New size £1 promotional price-marked packs were introduced to its chocolate bags range, helping retailers to improve price perception among their shoppers and help drive sales. The new £1 (RSP) 95g promotional price-marked packs are available across some of its bestselling bags. These include: Cadbury Dairy Milk Giant Buttons, Cadbury Dairy Milk Caramel Nibbles, Cadbury Twirl Bites, Cadbury Bitsa Wispa and Terry's Chocolate Orange Minis.
Premium
The premium market is the fast-growing chocolate segment that is incremental and bringing in new, higher value shoppers. To capitalise on this popularity, Green and Black's, which is growing at 11.1% [Nielsen, May 2018], launched two new singles bars, Green & Black's Truffle and Green & Black's Praline. As well as capturing the fast-growing premium singles market these launches meet the needs of consumers looking for a luxurious new way to unwind.
The tablets segment is also growing and Mondelez built on the success of Cadbury Dairy Milk Oreo in tablets with the launch of Cadbury Dairy Milk Oreo Sandwich.
Research has identified that as we go through different life-stages, our tastebuds change with some consumers increasingly look for a richer tasting chocolate with a higher cocoa percentage vs milk chocolate. Cadbury Darkmilk was been launched to meet this consumer demand. Made with 40% cocoa, this new tablet is like no other and launched with two variants – Cadbury Darkmilk Original and Cadbury Darkmilk Almond. In January this year a third variant was added: Cadbury Darkmilk Salted Caramel.
January also saw the return of an old favourite, Cadbury Bournville Orange. First launched in 1927, the bar is now a permanent offering for the brand to tap into the trend for orange chocolate and is available as a PMP which will ensure stand-out on shelf and boost customer trust.
Candy
Maynards Bassetts recently announced its first ever sour Soft Jelly product – Soft Jellies Fizzy Fish. The product is the second in the range of the Soft Jellies of the brand, after Soft Jellies Wild Safari was launched in 2018.
The new product is designed in the shape of fish to tap into consumers' playful sides. Each bag contains a selection of flavours including consumer favourites orange, strawberry, blackcurrant and lime – all of which are made with natural colours and flavours.
Kopparberg
Sales growth
Kopparberg has been flying over the last 12 months in Scotland, growing at 32% in the convenience sector versus total fruit cider which has itself been growing at 20% [IRI, Feb 2019]. Not only that, the convenience channel is outperforming the multiples.
MUP has helped close the price gap between the two channels. But convenience retailers have also improved at ranging key brands which has reinvigorated growth within the channel, with consumers buying into multipacks more and more.
Last summer Kopparberg was clearly seen as a go-to fruit cider for drinking occasions at home, with the bulk of category growth coming from large multipacks and the alcohol-free range.
Alcohol-free
Whilst consumers will often choose to drink alcohol for most big nights in, changing consumer behaviours around drinking less alcohol and the ongoing need for a designated driver means alcohol- free, adult drinks are playing a bigger role than ever. Kopparberg has become the second biggest alcohol-free brand in the UK and the biggest within cider. Growing at 63% [IRI, Nov 2018], Kopparberg Alcohol-Free is a great addition to any fixture.
Multipacks
Large multipacks (10 or more) have delivered the most growth in the market and with MUP aligning pricing more across brands, many consumers have traded into Kopparberg. Large fridge packs are perfect for both planned and impromptu summer drinks and prominent merchandising of the big hitters, at key trading periods can really take advantage of this.
AG Barr
Critical role of soft drinks
Adrian Troy, Marketing Director at Barr Soft Drinks, urges Scotland's local retailers to put soft drinks at the heart of their big night in efforts. He comments: "Scotland's £284m convenience soft drinks category [IRI, Dec 2018] continues to be one of the most profitable categories for convenience retailers growing at 11% and the second highest bought category in Scottish convenience, after newspapers [HIM CTP, 2017]."
Troy advises that its critical for Scottish retailers to ensure that they get the balance of categories right in their chillers, with the three biggest key drivers being Sports & Energy, Flavoured Carbs and Water.
"Energy drinks account for 1 in 3 drink now products, with big can energy driving a significant amount of this volume and growing at 15%," he says. "Within this, flavours offer the choice that shoppers are looking for and Rockstar is Scotland's No.1 Big Can Flavoured Energy Drink, currently growing at 6% in Scotland Convenience [IRI, Dec 2018], and the top 2 fastest selling flavoured big cans are Rockstar flavours – Punched Guava (No.1) and Xdurance (No.2)".
Flavoured carbonates account for over one in five soft drinks products sold, highlighting the importance of Irn-Bru's role in-store when it comes to the big night in. The brand continues to flourish and is growing at 11% with annual sales of over £85m in Scotland [IRI, Dec 2018].
Barr Soft Drinks is also advising retailers about the importance of offering shoppers all three variants of the brand prominently to attract shoppers to the fixture. Irn-Bru sugar-free is Scotland's leading low calorie flavoured carbonate while Irn-Bru XTRA has generated over £22m worth of additional sales for Scottish retailers since launch.
Troy says recent data shows that by giving the total IRN-BRU brand more prominence in your store, all three variants will benefit and drive your total category sales.
Meeting shopper needs
With major lifestyle changes happening across the UK, this is impacting how soft drinks are consumed. It's challenging for retailers to be an expert on every category in their store but Barr Soft Drinks' category vision can help retailers to understand their shoppers at local level to increase sales, particularly during the big night in occasion.
The vision focuses on three key drivers the company believes will be major contributors to category growth in convenience retailing. The three drivers – Health and Wellbeing, Taste & Fun and Lifestyle & Culture – reflect changing consumer lifestyles, influences and needs in relation to buying and consuming soft drinks.
These three category drivers have been translated into six specific shopper need states which cover all the major soft drinks' consumption occasions. This forms a chiller planogram which enables retailers to merchandise their fixture to really engage shoppers.
The six consumer need states are:
Healthy Refreshment – Water and water-plus products perform an important, functional role
Tasty Hydration – Low calorie products with the health benefits of water and the great taste of a carbonate
Everyday Enjoyment – The backbone of the fixture needs a good range of great-tasting choices
Adult Social – Indulgent treats and options for those that avoid alcohol
Connecting Cultures – Vibrant section to tap into growing demand for exotic flavours
On The Go – Nearly 1 in 3 purchases is an energy drink so this section needs to offer the right range of products and flavour choices
The relative size of each section and which products a retailer should stock within each section will vary dependent on geographical location and shopper profile. Retailers can use Barr's regional planograms based on their shoppers' need states to ensure they are offering the local range their shoppers want.
Merchandising the chiller in a clear and engaging way with Barr's bespoke POS has delivered an average sales uplift of 18%.