For almost two decades, Bestway's Retail Development Programme has been helping give independent retailers all the tools they need to operate more profitable businesses.
---
Now in its 19th year, the Bestway Retail Development Programme is an initiative designed to educate independent retailers with up-to-date information from leading FMCG suppliers and specialist independent retail business Bestway.
The original objective of the programme remains just as true today as it has always been: to help independent retailers operate a more profitable business. Part of this is about improving efficiency, category management, merchandising in store, space management, stock rotation and implementing a promotional programme in the store. All the things a progressive business needs to do, with guidance from leading suppliers.
A truly hands-on initiative, retailers attend a one-day seminar, a half day trade show and then have four to six months to make changes to their store if they want to be eligible to enter the awards element of the programme. Awards are given to 18 retailers and are awarded by in-store category and for community retailer, retailer by region including one category specifically for a Scottish retailer and for overall retailer of the year.
The programme is unique within the industry, believes Bestway, and best-one is the only symbol group to offer such an educational programme to its members. Broader than this, the programme is open to all Xtra Local retail club members as well as all retailers shopping in the Batleys cash and carry depots too.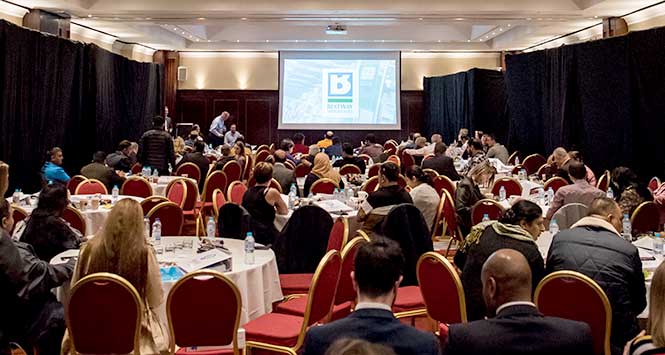 This year's Scottish seminar and trade show will take place on 25 and 26 April at the Hilton Glasgow Hotel, where over 40 well known suppliers will join with Bestway to present category advice and show-stopping deals for retailers to stock up on, to support profit growth in-store.
Industry leading category-advice
Over 40 leading suppliers will come together and present advice on which products to stock, what new products are being launched this year, and what are the key marketing campaigns and opportunities to drive sales for each brand in 2020.
Evening entertainment and free night away
Part of the programme includes retailers staying overnight at the Hilton Glasgow, with an opportunity to network with other leading independent retailers, suppliers and Bestway Wholesale over evening entertainment and dinner.
Trade show deals and face to face interaction
On day two of the programme, retailers will have the opportunity to speak face to face with each supplier who presented at their trade show stand. Additionally, local suppliers will attend the show to present their products too. This is a great opportunity for retailers to talk specifically about their store and for them to see the new products first-hand, as well as place orders on special trade show deals.
Prestigious awards with cash prizes
Retailers who enrol in the Bestway Retail Development Programme can enter themselves into the awards; deadlines for which close on 31 August. There are many categories to choose from, including categories by product area within store such as beers wine and spirits, baby food, pet food, chilled goods, snacks, plus the opportunity to enter 'Community Retailer of the Year' for stores who can demonstrate how they have supported their local community. The total prize fund is worth £50,000 and not only is there a cash prize and trophy, winning retailers will also likely benefit from improved sales following the changes they made in their store.
Last year's Scottish winners
Husband and wife retailer duo, Donna and Bruce Morgan, who run independent shop Brownlies best-one on the High Street in Biggar, Lanarkshire, were announced as the winners of not one, but two awards for their exceptional business achievements at last year's Bestway Retail Development Awards.
Donna and Bruce were announced the winners of the 'Scottish' and 'Wines and Spirits' categories on Thursday 17 October 2019, and were awarded with a cheque prize and a best-one voucher, at the London Marriott Hotel, Mayfair, London.
Recognised for their outstanding achievements in the past year Donna and Bruce were presented with their prize by Andy Cresswell, Chief Retail Officer at Bestway Retail, in front of a 400-strong audience of independent retailers, fellow members of the best-one Symbol Group and Bestway Wholesale's Xtra Local Retail club, as well as key industry suppliers who have supported the Awards.
---
Bestway Scottish seminar and trade show: 25 and 26 April, Hilton Hotel, Glasgow