Unlock sweeter sales in your store

The UK confectionery market is worth over £4.8bn and growing. Candy confectionery is rising in value, and is now worth more than £1.2bn, accounting for 24% of all confectionery sales.
UK candy confectionery category
52% Candy bags
20% Candy singles
10% Mint singles
9% Medicated confectionery
3% Cartons
6% Multipacks
A sweet sensation
Like other confectionery, candy confectionery is highly impulsive, so to maximise sales confectionery needs to be seen. So give consumers every chance of seeing it in-store.
Market trends
Sharing is a key trend for sugar confectionery. Mondelēz International expects sharing to be every bit as important to the success of the confectionery category as it has over the last 12 months with innovation being a key driver.
Susan Nash, Trade Communications Manager at Mondelēz International, comments: "The most exciting new products in confectionery have been all about blowing apart category boundaries and bringing together different flavours, textures and brands, which drive new consumers to the category. These innovations have been driving the market, adding value and bringing new consumers into the category.
"Combining such popular brands offers an exciting opportunity for retailers to help boost sales and capitalise on the phenomenal reputation of each brand individually by opening up a much larger market."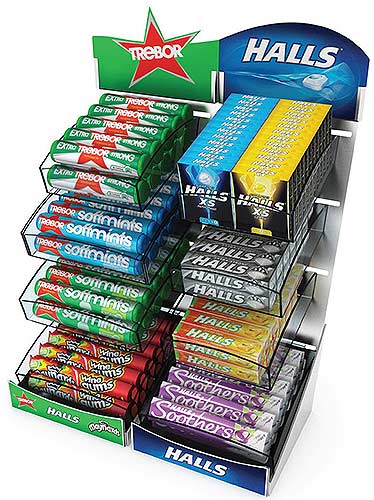 Are you getting enough from your bags fixture?
Bags account for the greatest percentage value in candy confectionery and are growing so it's important to get bags right! 
Top tips
Here are our top tips to making sure you get the most out of your confectionery product range:
Stock the best sellers
Use secondary sites to ensure consumers see products
Stock new lines and make the most of PMPs and promotions – all our bestsellers are available as PMPs
To maximise impulsivity, we recommend that candy confectionery is placed within your main fixture and secondary sites
Display products in the right place – Locate best sellers between 1m and 1.4m high and merchandise candy bags by sub category for example 'traditional' together such as Bassetts and 'indulgent' together e.g. Cadbury Eclairs
Maximise media investment
For more advice on merchandising and how you can grow your sales, visit Dave, our virtual representative, at www.deliciousdisplay.co.uk.