The sweet taste of success

Confectionery is not only the most valuable category in your store, it is also the most impulsive category. This means it can help you unlock more sales and therefore worth spending your time planning where and what to stock.
We recommend focusing on 2 key areas in your store:
Main Fixture
Secondary Displays
We also recommend that your range covers all need states: e.g. self eat, sharing and gifting.
Confectionery Top Tips
Focus on best-selling lines
Offer a range that covers all need states: e.g. self eat, sharing and gifting
Place best sellers in best selling area
Only dual face very top sellers, where space allows
Use manufacturer point of sales material
Make the most of brand investment – have displays in-store when consumer will be most aware of products
Keep shelves fully stocked
Keep shelves tidy to help consumers scan the fixture
Make pricing clear
Maximise use of promotional stock
Top sellers:
Make sure you stock the right products that your customer will love.
Our top selling countlines:

Our top selling bags:

Our top selling blocks:

Our top selling pocket candy:

Our top selling gifting and sharing products:

For more helpful tips and advice on confectionery and all other categories just register online at www.deliciousdisplay.co.uk.
Planogram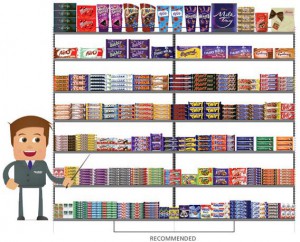 Independent stores 2 metre 7 fixture illustrated.
For planograms specific to your store size please visit www.deliciousdisplay.co.uk for more options.