Light up your e-cigarette sales with the award-winning taste of blu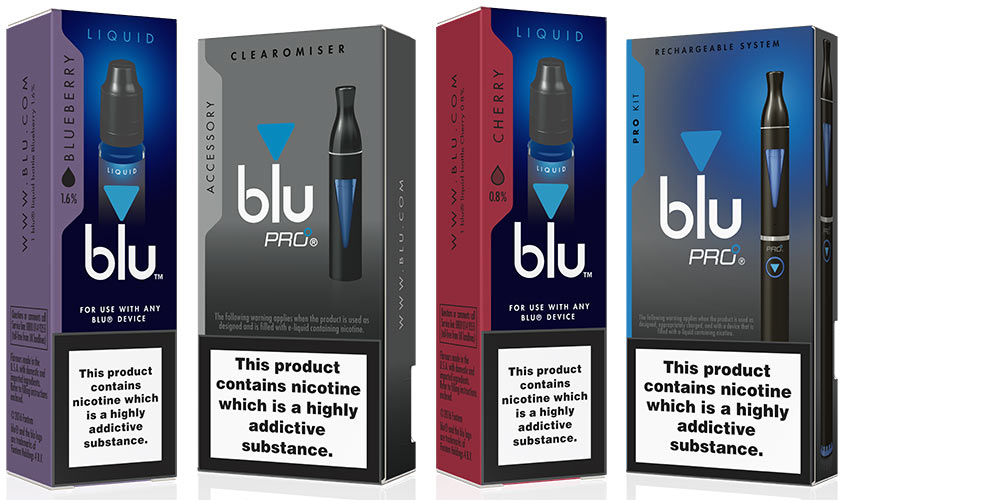 Growing at rate of +13% in retail, the total e-cigarette market is now worth over £400m (retail, online & vapeshops) and as the trend continues for people to move away from tobacco cigarettes, the e-cigarette category presents a lucrative opportunity for retailers.
54% of retailers in Scotland have yet to sell e-cigarettes – but this is slowly changing. Now is the perfect opportunity for retailers to take advantage of one of the fastest growing FMCG sectors.
Shining a light on e-cigarette merchandising
1) Stock the right brands to drive sales:
Make sure you're stocking 2-3 of the top five brands in the convenience channel, which are: blu, E-Lites, Nicolites, Vivid and MV
Almost 30% of consumers said they would choose to shop elsewhere if their first choice e-cigarette brand was not available in-store .
blu is the 2nd biggest and one of the fastest growing e-cigarette brands within the top five which together, represent 73% of the market
2) Stock a variety of products to cover all vaping needs:
Shoppers trying e-cigarettes for the first time may go for ready-to-use disposable or rechargeable starter kits, with a choice of flavours such as classic tobacco and menthol
Regular and more experienced vapers usually favour a refillable, rechargeable vaporizer such as the blu Pro Kit which provides a satisfying throat hit and long battery life, with a range of award-winning flavours including bluBERRY and Strawberry Mint
 3) Merchandise e-cigarettes next to the tobacco gantry to ensure visibility:
Three out of five vapers are dual users, using both e-cigarettes and traditional cigarettes, and prefer to see e-cigarettes placed near tobacco products
4) Use a freestanding unit at the till point to create stand out:
If you have space, a freestanding unit placed near to the till will grab customers' attention
The blu units offer attractive margins, with up to 70% PoR including free stock
5) Know your e-cigarette products:
Talk to your shoppers and guide them through your product offering to find the best vaping solution for them. Your shoppers will come back and be happier to buy again and again
The rechargeable kits such as the blu Starter Kits are easy to use with cartridges available in a variety of award winning flavours including menthol and cherry – simply twist on and go
Refillable and e-liquid formats are the fastest growing due to the value savings, greater flavour range and increased product performance they offer
blu has a knowledgeable shopper marketing team, able to offer e-cigarette and e-liquid advice for retailers
blu's Jargon Busters
Disposables
Perfect for trying out e-cigarettes for the first time or perhaps on a night out. There's no need to charge or refill, just enjoy until empty then dispose.
Rechargeables
E-cigarettes that customers charge by USB with twist on cartridge refill flavours to enjoy again and again. Just like the blu Starter Kit Cartridge Refills – come in a range of flavours and nicotine strengths to use with rechargeable e-cigarettes. Each cartridge lasts around 300 puffs or 1.5 packs of cigarettes. blu offers a range of flavours in 12mg and 18mg nicotine strengths.
Vaporizers
Made up of two parts (a battery and clearomiser), vaporizers like the blu Pro Kit offer a more satisfying throat hit than e-cigarettes.
Clearomisers
The clear tank bit of the vaporizer that customers fill up with e-liquid. With blu's Smooth Flow Technology, customers enjoy a superior, smooth vape every time. One fill of a blu clearomiser lasts around 300 puffs E-liquids are available in a choice of flavours and nicotine strengths – this is the liquid that customers fill their vaporizers with. Each bottle offers around 1,500 puffs. blu has 5 great flavours in 18mg nicotine strength.
Stock up now
blu (UK) is continuing a nationwide push to support retailers; having already dispatched over 14,000 Point of Sale display kits which include a freestanding unit for the till point, staff and consumer education material and a mixture of PoS material. The range of PoS, which highlights the award-winning taste of blu e-cigarettes, has been designed to promote the entire product range and flavours including Classic Tobacco, Menthol and bluBERRY.
To find out more about stocking blu electronic cigarettes – or for e-cigarette category advice – contact your Imperial Tobacco Rep or our in-house experts on 0800 014 93 55.